Some days it seems like everyone you know has a canyoneering story or an epic backpacking adventure. Your brother, your best friend, your significant other can't seem to get enough of an adrenaline rush. That's not really your thing—then again, it could be fun to step outside your comfort zone, even just a little.
So what should you put on your to-do list when your idea of adventure is less than epic? An adventure can be anything you've never done before, anything that excites you or challenges you even in a small way. They say that attitude is the difference between an ordeal and an adventure, so check out these 11 Zion adventures for the not-so-adventurous and find the one that's right for you!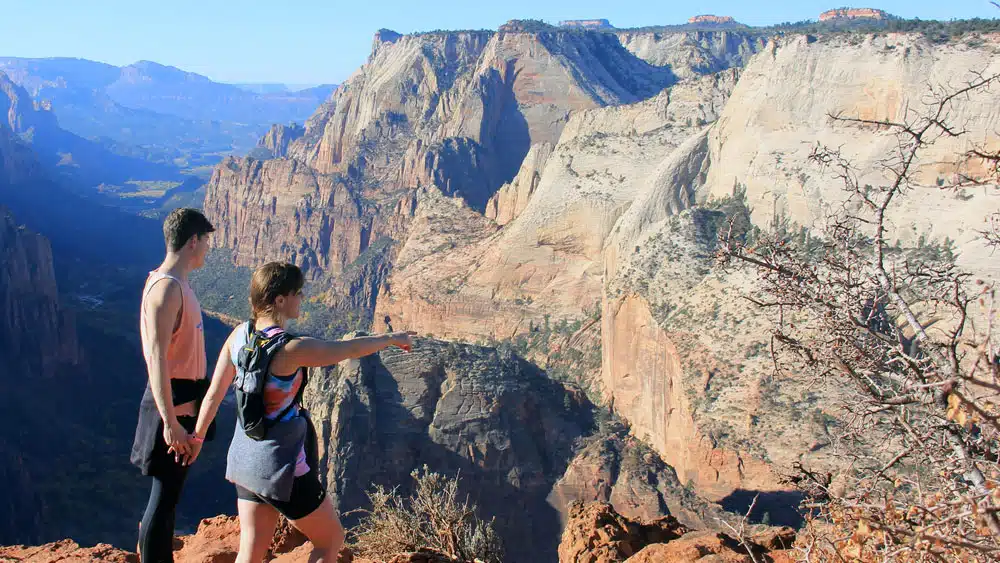 ON DRY LAND
1. Take a hike.
An adventure doesn't have to be scary. Sometimes it just needs to lead you somewhere beautiful. Check out the hike to Observation Point across Zion Ponderosa property, and save yourself the 2,000-foot elevation gain from the canyon floor. Guided hikes in and around Zion National Park are also available, so you don't have to go it alone.
2. ATV Tours
Sit back and enjoy the ride on a guided side-by-side jeep tour around Zion Ponderosa to magnificent Jolly Gulch or Pine Knoll. Rent one to drive on your own if you're feeling brave!
3. Glamping
Not everyone is meant for the great outdoors, but glamping is a great introduction to spending a night under the stars. Zion Ponderosa glamping tents are furnished and have electricity and wifi!

GET YOUR FEET WET
4. The Narrows hike
When it's 100 degrees in Zion, The Narrows are a favorite hike. Cool off in the cool Virgin River by hiking the first two miles when the water levels are low enough, or simply make the Riverside Walk hike to the mouth of river and splash around. Either way, it's a sight to see and definitely checks a box on your bucket list of Zion adventures.
5. Cool off in a natural pool
We know all the secret spots in the slot canyons, whether you want to stand under a small waterfall or take a refreshing leap into adventure. Just let our guides know, and we'll take care of the rest!

ALONG FOR THE RIDE
6. Wagon Ride
Experience a sense of the Old West with a wagon ride across Zion Ponderosa's beautiful terrain. As you bump along the trail, drink in the views of East Zion, then enjoy an authentic Dutch oven dinner.
7. Jeep Tours
The only thing more beautiful than Zion is Zion at sunset. Join a group for a guided sunset Jeep tour and enjoy scenic beauty (and ice cream!) as you sit back and enjoy the ride.

SOMETHING NEW
8. Horseback riding
Our horses are chosen and trained to match your experience and comfort level. Kids age 8 and under can try a wrangler-led horseback ride.
9. Shotgun range
Located a safe distance from the resort, our shotgun range provides fun and thrills for experienced hunters as well as those new to the sport.
10. Zip line
Fly across Zion Ponderosa on our popular zip line. Participants start by climbing stairs to the top of our rec barn, where they'll be equipped with a safety harness and helmet. We hook you up and then you are in for the ride-of-your-life!
11. Climbing wall
Take your sense of adventure to new heights with a run up our climbing wall. You'll be harnessed in for safety. Who knows, this just may be the first step to a future canyoneering adventure!
There will always be someone more adventurous than you – and that's okay! The important thing is picking a Zion adventure that's right for you!
Click here to book recreation reservations online.