Baby, it's cold outside but a little chill in the air or snow on the ground doesn't have to derail your Zion National Park winter getaway plans. Winter glamping can be just as fun as camping outdoors any other time of year, with the bonus of having the luxuries and conveniences of a hotel room.
Glamping in winter means a warm, cozy place to rest your head after a day of exploring and adventure, while still being able to sleep under the stars. If you're the type of traveler seeking creature comforts, then glamping is for you.
Glamping Tents
Zion Ponderosa deluxe glamping tents feature a queen bed with warm blankets and linens, plus three twin beds, so they're perfect for families and couples. A heater inside ensures your comfort during chilly nights. Add a deck plus outdoor grill and table and you've got all the conveniences needed for a cozy winter night under the stars.
Beyond Tents
While glamping under canvas is the typical way to glam up your camping experience, we have a few other fun lodging options for glampers.
Conestoga Wagons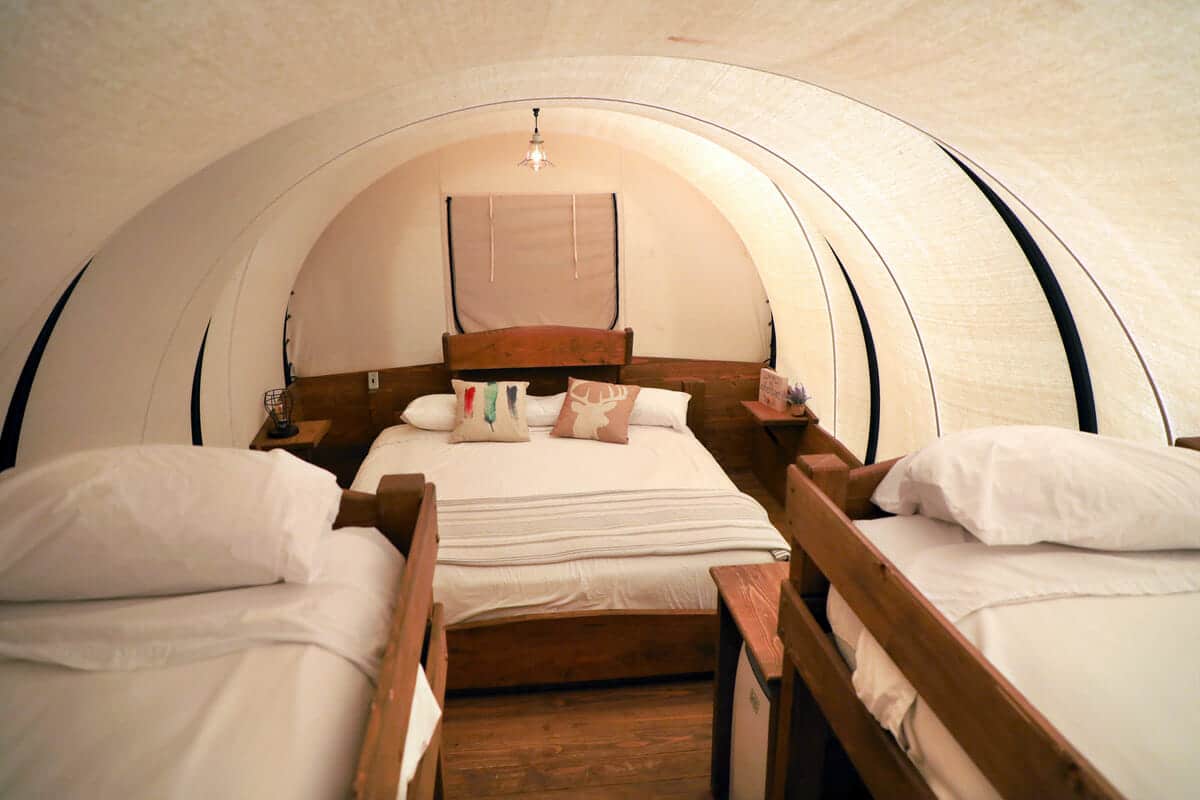 Based on authentic 19th-century pioneer wagons, our luxury Conestoga wagons add a fun flair to glamping. Zion Ponderosa Conestoga wagons sleep six in one king bed and two twin-over-twin bunk beds. Equipped with heaters and wifi, they're a fun family glamping experience. Restrooms and showers are located nearby.
Cowboy Cabins
You'll recognize Cowboy Cabins by their green roof. While they don't have all the bells and whistles of a Cabin Suite, you'll find plenty of room for relaxing at the end of your day of adventures and comfy beds that will keep you off the ground.
Cabin Suites
Zion Ponderosa Cabin Suites take comfort to the next level with en suite bathrooms and a few different sleeping configurations to fit up to six people plus a small kitchen area. They are perfect for singles, couples and small families. Enjoy the natural beauty of East Zion from your own private cabin suite!
Winter specials
One of the perks of glamping in the off-season is discounted rates. Book a Zion Ponderosa glamping getaway in a Deluxe Cabin, Conestoga Wagon, Cabin Suite or Cowboy Cabin through March 11, 2021 and save up to 50% on two nights for two people plus two Checkerboard Mesa Jeep tours!* Click here to learn more.
Please note: Jeep tours and other adventures, activities and amenities are weather permitting.
Zion Ponderosa Deluxe Glamping Tents, Conestoga Wagons, Cowboy Cabins and Cabin Suites are available to book year-round. Regular glamping and camping sites become available in March. Plan your 2021 Zion getaway.
A few extra tips for winter glamping:
• Layer, layer, layer – This is great advice for any outdoor adventures and activities but something to keep in mind when you're sitting outside at night enjoying those Milky Way views.
• Bring snow boots or grips for snowy walks to the restroom. Don't forget to bring a flashlight or wear a headlamp so you can see where you're going. Nights are darker and longer in winter!
• There are few things better than a hearty meal on a winter day. Think chilis and nourishing breakfasts to warm your soul and fill your belly. Don't forget the S'mores!
Main photo by @catyfry/@shopoutoftowners on Instagram