Living in a big city comes with many benefits, including vibrant culture, high-end dining and more. You're likely used to the daily traffic, crowded transportation system and exciting shopping scene that comes with urban living. At some point, though, everyone needs a relaxing getaway.
If you're looking for an escape from a bustling city like Los Angeles or Las Vegas, a road trip to Zion National Park may be just the answer. 
You may be surprised to find out just how fun––and easy––it can be to take a road trip outside the city to the great outdoors. From iconic views to unique trails, Zion National Park offers the perfect solace and adventure.
Check out our travel guide 'From Los Angeles/Las Vegas to Zion National Park' for tips on planning your road trip.
Zion National Park Lodging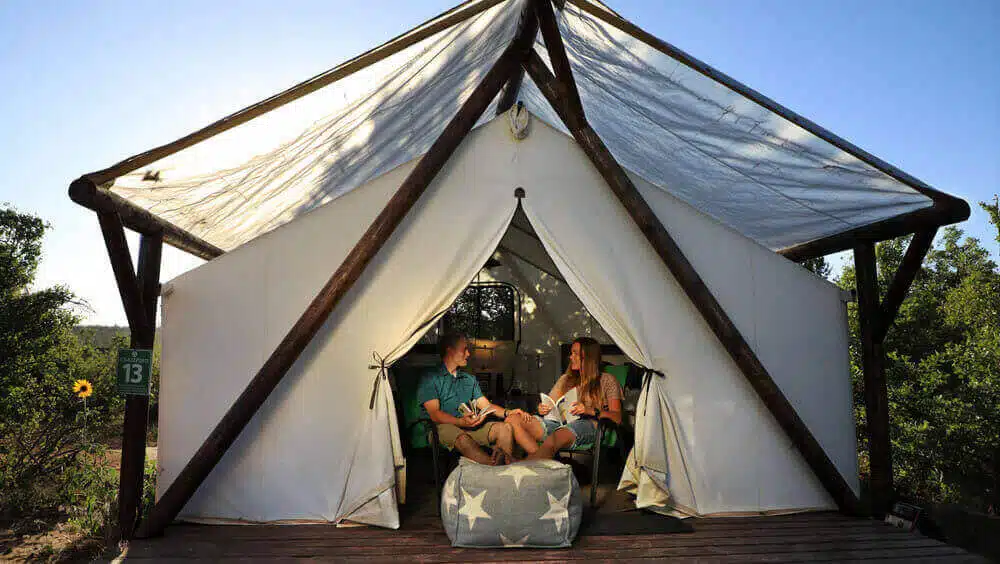 You don't have to leave all the creature comforts of city life behind to sleep in nature. Zion Ponderosa offers an upscale version of camping known as glamping, which offers a more luxurious sleeping set-up than your typical tent-to-ground situation. Glamping allows you to camp comfortably and experience the outdoors without having to make preparations. At the same time, you still get to breathe fresh air and get immersed in the beauty of nature.
If you want even more comfort, then cabin suites are a great option as well. With this, you essentially get a place of your own, much like booking a hotel room. However, the difference is that cabins can give you peace and quiet, and you have the comfort of having the entire place for yourself. Think of it as your home away from home, surrounded by natural beauty. Want even more room to spread out, or traveling with a large group? Private vacation homes are available to accommodate groups of all sizes. 
Dining in Zion
Wondering what to eat during your escape to East Zion? Zion Ponderosa offers a variety of dining options, including a coffee bar if you're not quite ready to pack a percolator for the campfire. In summer, enjoy poolside dining. And Ray's Restaurant is open nearly year-round. An authentic western experience is not to be missed, with Grandma Ruth's Country Dinner featuring hearty home cooking and live entertainment. 
Things to Do in Zion
Whether you're headed to Zion National Park for adventure, relaxation or a bit of both, there's a variety of recreation and activities at Zion Ponderosa to make the most of your outdoor getaway. Here are some ideas that you can include in your trip:
1. East Zion Jeep Tour
See Zion's stunning backcountry with an East Zion Adventures off-road jeep tour. As you ride through the rugged jeep trails near Zion National Park, you'll explore Zion's backcountry without being surrounded by a bunch of tourists. Learn some local history while taking in the breathtaking views that you couldn't see any other way.
2. Stargazing
Zion's night skies are undoubtedly some of the most breathtaking you will come across, so do not miss out on the opportunity to see the millions of stars that fill the night sky. Far away from air and light pollution, Zion Ponderosa's high-elevation stargazing is some of the best. Check out our unforgettable guided stargazing experience. 
3. Horseback Riding
You want to see, feel and breathe in the beauty of Zion…but maybe not on foot. We got you—or better yet, our magnificent horses do. East Zion is home to some of the most scenic horseback riding trails in the West. Our friendly horses are trained to safely take you along a variety of Zion horseback riding trails while providing an experience that is relaxing, adventurous and awe-inspiring all at the same time. Check out our trail ride options, from beginner and beyond. 
4. Sunset Yoga
Summer nights are made for sunset yoga. Zion Ponderosa's Saturday night yoga class takes places on the plateau overlooking Zion National Park and is a great way to relax the body and the mind. You may have a local yoga studio in your city, but you've never experienced yoga in a setting like this. 
5. Canyoneering
Go big or go home––but why not try a once-in-a-lifetime canyoneering experience before you do. Take a UTV adventure to a walk-in slot canyon and explore on foot, or go all out on an all-day guided canyoneering adventure with 100-foot rappels. 
If you're ready to get out of the city and into the great outdoors, Zion Ponderosa offers an outdoor experience enjoyable for everyone. So download our travel guide from Los Angeles/Las Vegas to Zion National Park, hop in the car for a road trip, and we'll see you soon!