It's been a wild ride these past couple of years. That's why your 2023 things to do in Zion National Park should be on YOUR terms. Get ready to ring in the new year—and a new you—with 22 Zion activities for 2023!
Before we get started, just a reminder that we almost always have special offers going on here at Zion Ponderosa Ranch Resort so you can save money while you take part in some of the best things to do in Zion National Park. Our deals combine lodging with East Zion Adventures guided tours, helping you save money on your dream Zion getaway. Let's go!
1. See Zion From the Top of the World
A must do in Zion National Park is starting the year with a Jeep tour to a view so breathtaking you really will feel like you're on top of the world.
2. Horseback Ride to a Slot Canyon
One of the best things to do in Zion National Park, our White Mountain Horseback Ride combines two of our most popular adventures—horseback riding and canyoneering—into one incredible experience.
3. Say Yes to Six Rappels
Take an off-road excursion into the heart of Zion National Park's backcountry, followed by the thrilling canyoneering adventure known as Powell's Way. 
4. Stone Hollow
Six rappels not enough for you? How about 10? Plan on a full-day Zion activity with this Stone Hollow canyoneering adventure.  
5. UTV to a Slot Canyon
Our Elkheart Slot Canyon and UTV Adventure is beginner-friendly and considered a must do in Zion National Park with its short hikes and three fun rappels.
6. Rappelling Lessons
Not quite ready for a canyoneering adventure yet? Learn to rappel before descending into Zion's amazing slot canyons.
7. See the Zion Cliffs at Sunset 
Sit back and enjoy the ride on a guided Jeep tour as you gain elevation and take in the views of Zion National Park and the surrounding canyons.
8. Visit Zion, Bryce, and Grand Canyon North Rim
Three national parks in one trip? Yes, please! Zion Ponderosa is the perfect base camp for exploring Zion National Park, Bryce Canyon National Park, and the Grand Canyon North Rim. Unpack once and stay a while.
9. Choose An Adventure Package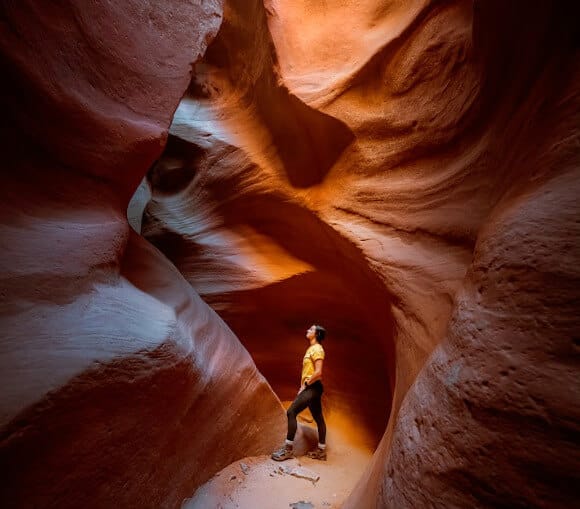 Jeep tours, horseback riding, canyoneering, zip-lining, and more. Book two East Zion Adventures, and get one free. Call (435) 648-2712 to book. See available adventures.
10. Share a Vacation Home, Share an Adventure
Save money on your next Zion getaway by sharing a vacation home at Zion Ponderosa Ranch Resort with friends or family. Then share an adventure with one of our guides that you'll never forget. UTVs, slot canyons, canyoneering, horseback riding, jeeping, and more. Learn more. 
11. Climb Angels Landing
Take part in one of the best things to do in Zion National Park and conquer the dizzying heights of Angels Landing over switchbacks and the narrow sandstone trail lined with chain handrails. Don't forget to request a permit for 2023. Read the Angels Landing guide here.
12. Hike the Narrows
The Narrows is one of the best things to do in Zion and one of the most spectacular hikes you'll ever experience! Wade into the mouth of the Virgin River from Riverside Walk, hike the entire 16-mile distance to Orderville, or go out and back as far as you want. Get the guide to hiking the Narrows.
13. See the best view in Utah
Backpacker magazine calls Observation Point the best view in Utah. A trek across Zion Ponderosa property saves you from the steep incline so you have energy for even more Zion activities!
14. Snowshoe to Cable Mountain
Cable Mountain is one of Zion's best-kept secrets. In winter, snowshoe right from the front door of your Zion Ponderosa vacation home.
15. Go glamping
Comfy beds and creature comforts to convert even die-hard hotel lovers to the glamping life. 
16. Plan your dream wedding
There's room for the entire extended family to celebrate under one roof when you host your wedding at a Zion Ponderosa luxury vacation home. 
17. Go camping
Gather up the kiddos and spend the weekend camping under the Zion night sky. Only two hours from Vegas or a half-day drive from SoCal!
18. Stargazing
Stargaze at the crystal-clear night sky to see constellations and the Milky Way like never before.  
19. Plan a family vacation
Zion Ponderosa Ranch Resort was created around family and making memories. Stay in your choice of seven different lodging types, including glamping tents, Conestoga wagons, cabins, and more. 
20. Zip Line
Zip-lining is one of the best things to do in Zion National Park. Thrill-seekers of all ages love zipping across Zion Ponderosa from the 45-foot climbing wall.
21. Hit the trails 
Never been horseback riding before? Pine Grove is ideal for beginners.
22. Open up to new possibilities in 2023
Whatever level of adventure you're seeking, Zion Ponderosa has you covered with Jeep tours, canyoneering, horseback riding, and more amazing things to do in Zion National Park. It's never too late—or too soon—to book your Zion getaway!