Horseback rides, slot canyon adventures, sunset Jeep tours—there's a reason we're in the business of making memories that will last a lifetime. Plus, East Zion is the quieter side of Zion National Park, with fewer crowds, amazing hikes and views, and proximity to three national parks and more side trips than you could imagine. The list goes on and on, but we're confident that you won't regret making Zion Ponderosa the home base for your southern Utah getaway.
1. Slot Canyon Adventures
The slot canyons of southern Utah will completely transport you to another world, and our family-friendly slot canyon hikes are the perfect addition to your East Zion vacation. We guide canyoneering adventures of varying lengths and difficulties, for all skill levels. Favorites include:
Elkheart Canyon and UTV Adventure: This excursion is popular for its short approach/exit hikes, three fun rappels, and deep slot canyon sections. 
Coral Sands Guided Canyoneering: This 4-6 hour, beginner-friendly slot canyon experience has five total rappels, the highest one being 70 feet tall. It's surely an adventure you won't forget!
Stone Hollow: Long rappels can be nerve-wracking, but they add to the adventure and you just might fall in love with the sport. A 100-foot rappel is the crowning feature of this jewel of an adventure. 
Learn more and book an East Zion Adventures slot canyon tour. 
2. Jeep Tours
We have many jeep tours options for you to choose from that vary in terrain, length, and views. Want to end your day of exploration by watching the sunset with loved ones? We have a jeep tour for that. Want to overlook the winding canyons of Zion from an incredible vantage point? We have a jeep tour for that, too! The best way to see what all the hype is about is to join one! Here are a few highlights to factor in while planning your Zion Ponderosa vacation:
Zion Cliffs Sunset Jeep tour: Hoping to catch as many sunsets as possible this summer? Check "watch a sunset in Zion" off your bucket list with this amazing Jeep tour. 
Checkerboard Overlook: Experience views of a few of Zion's most awesome rock formations  from the top down. 
Top of the World: Take in East Zion's most spectacular views like from a vantage point of 8,100 feet in elevation. 
3. Horseback Rides
There's no better way to see the colorful cliffs of East Zion. Riding into a red rock canyon on horseback is what southwest dreams are made of—so you won't want to miss our White Mountain Horseback tour. And if horseback is your preferred mode of transportation, be sure to join one of our sunset horseback rides. (This is a big reason we suggest staying for four or more nights—this way you can enjoy sunset on horseback, on foot, by Jeep, and right from your Zion Ponderosa lodging!)
4. Belly of the Dragon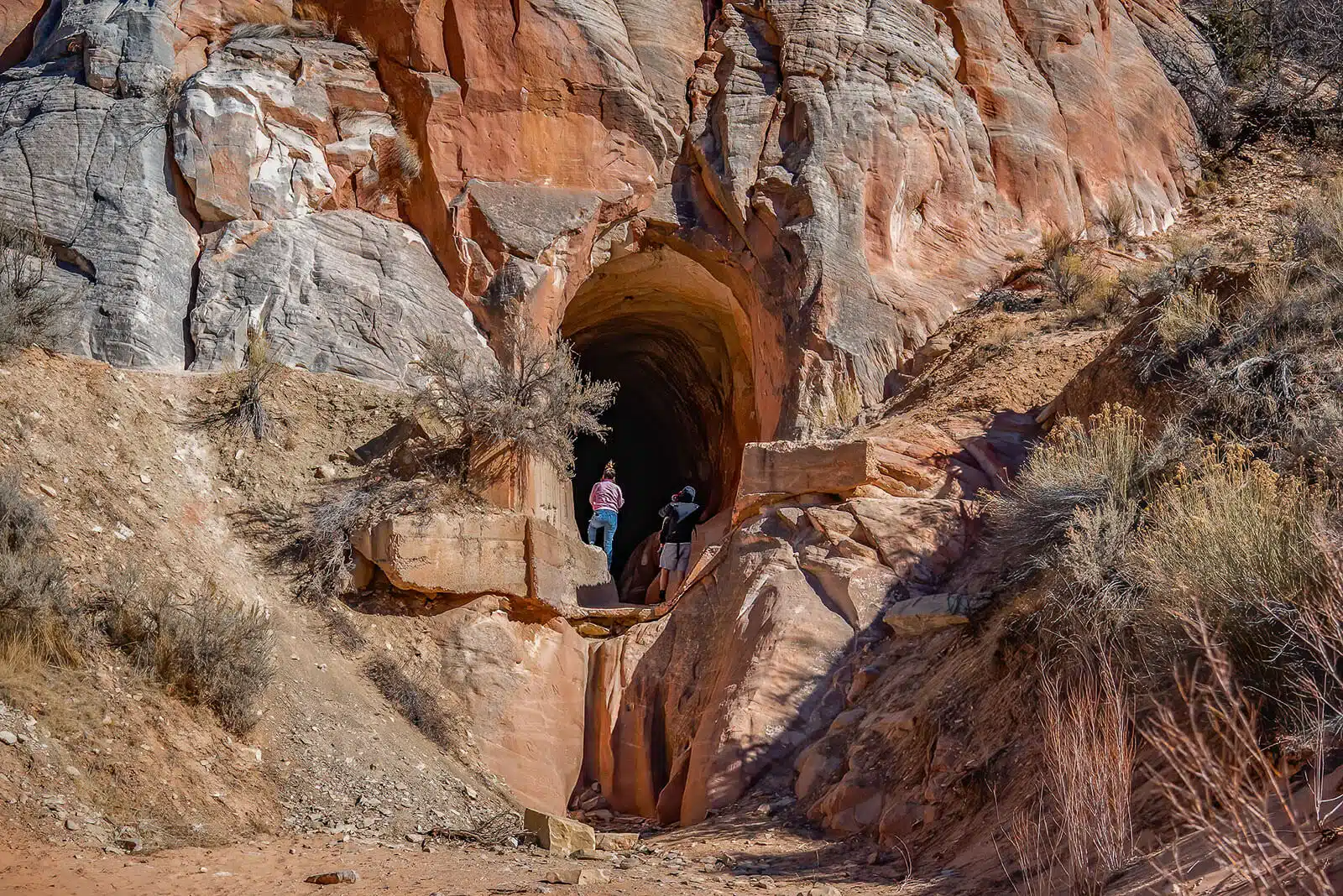 We're typically not one to spill secrets, but this is one of those must-see sights that everyone seems to know about. A short walk through a manmade tunnel is the highlight of this family-friendly trail known by locals as Belly of the Dragon. Located just a mile south of Mt. Carmel Junction and originally created as a water drainage under Highway 89, the water flow has carved a uniquely rippled sandstone tunnel. Visit Zion Adventure Photog's blog to learn more about this quick and fun adventure! 
5. Moqui Sand Caves
If you like roadside attractions, you'll also want to check out Moqui Sand Caves. Like Belly of the Dragon, the forces of nature combine with man-made activity to create this unique feature, although in this case the purpose was mining activity. Moqui Sand Caves are a roadside attraction off Highway 89 accessible via a short hike. From the parking area, it's just a short .25-mile hike to the caves.
Bonus Side Trips!
When you make Zion Ponderosa your base camp for your East Zion National Park vacation, you have amazing access to Zion National Park, of course, as well as Bryce Canyon National Park, Grand Canyon North Rim, Grand Staircase Escalante National Monument, Coral Pink Sand Dunes, Cedar Breaks and more!