Assisted Zion National Park Activities
---
---
With an overwhelming amount of Zion National Park activities to choose from, it can be hard to decide what you want to do while you are in Zion. At Zion Ponderosa, we want to make your trip easy to plan while helping you get the best experience possible which is why we provide a range of assisted Zion activities both in the park and at our resort for guests to enjoy.
---
Our Full List Of Zion National Park Activities
Our Assisted Zion Activities
---
Along with our guided and unguided Zion National Park activities, we also offer assisted activities so you can enjoy the park at your own pace with some help from our staff.
---
Best prices during off-season through March 3, 2022.
---
Star Gazing
What better way is there to end the day than with star gazing at Zion National Park.
Our knowledgeable guides will help teach you about constellations as you sit under the clear skies in the beautiful Zion outdoors.


Back Title
This is where the text for the back of your card should go.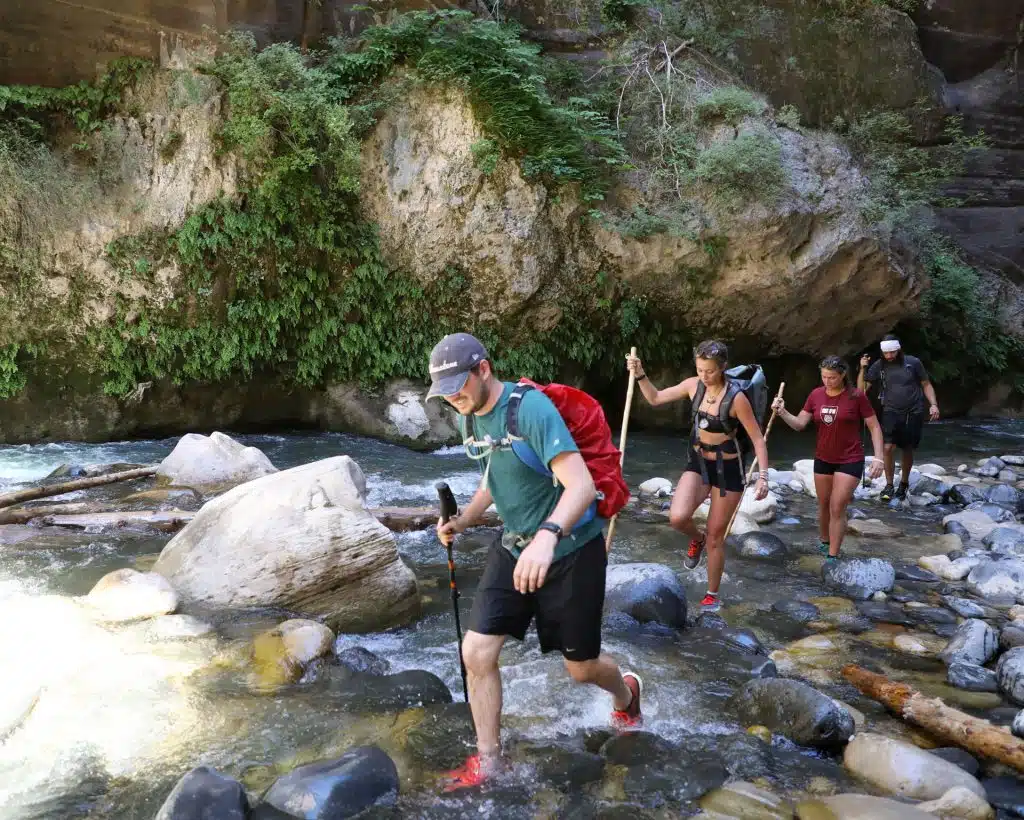 Zion Hiking Shuttles
Zion Ponderosa is fortunate enough to share several miles of common fence with Zion National Park which is why we provide access to several Zion hiking trailheads right from our resort with our hiking shuttles. After your hike, our Zion hiking shuttles will also pick you up right from the trail to take you back to the resort.
Back Title
This is where the text for the back of your card should go.
---
---
---
More Zion Assisted Activities...
---
Our Assisted Zion National Park Activities don't end when you leave the park. At Zion Ponderosa we offer a range of assisted activities at our resort to help you enjoy your time outside of the park.
---
Climbing Wall
Climbing is one of the most popular Zion National Park activities and for good reason. With stunning scenery and a true one-of-a-kind experience, it is easy to see why climbing in Zion is so popular. Our climbing wall is a great place to practice your skills before you go climbing in Zion or to simply enjoy with your family and friends. Learn More!
Shotgun Range
Located a safe distance from the resort, our shotgun range provides an exciting zion outdoor environment for hunting enthusiasts and people who have never picked up a gun alike to practice their aim and learn about safety. Learn More
Paintball
Our 5-acre paintball course is a great activity to enjoy with your family and friends while you are at our resort. Our outdoor course provides plenty of natural foliage for protection as well as man-made obstacles so you can sneak up on your opponents. We provide guests with a long sleeve shirt, masks, markers, and paint so you will be ready for your game. Learn More!
Virtual Reality
Looking for an escape from the hot Zion sun for a while. Be sure to check out our virtual reality experiences which will transport you around the state of Utah. Immerse yourself in Utah's stunning scenery and the Zion outdoors with Soaring Southern Utah or try Montezuma's Treasure Ride and buckle up for a wild minecart adventure through old Zion mines. Learn More!
Country Dinner
After a long day in the park, come enjoy an evening filled with live bluegrass music and a classic hearty country dinner. Sit back and relax as you and the whole family are entertained with traditional songs and stories while you enjoy a traditional western dinner. Learn More!
---
At Zion Ponderosa we are committed to helping you have the best experience possible which is why we offer a wide range of activities for our guests. Our full range of Zion National Park activities is designed to help you get the most out of your stay both while in the park and while at our resort.
---
---
---
Our Full List Of Zion National Park Activities
---
---
---
Please note that many of the RESORT ACTIVITIES at Zion Ponderosa are staffed and operated by East Zion Adventures, a DBA for High Country Leason, LC. Zion Ponderosa guests participating in these activities will sign a separate waiver and release form prior to participation. Winter Months: During this time-frame recreation services are sometimes limited by weather conditions. Call for details.
---
---
Looking For a Place to Stay Near Zion National Park?
Zion Ponderosa also offers excellent lodging for your trip.
Explore Lodging