Zion National Park is renowned for its incredible hiking trails. From The Narrows to Angel's Landing, hiking is arguably the biggest draw to the park.
Another activity provides an even more up-close-and-personal experience in the park – canyoneering.
Canyoneering in Zion National Park
Canyoneering in Zion is something you'll never forget, simply because the canyons and sheer rock walls are some of the most breathtaking in the entire world. The canyons in Zion National Park are screaming for some rappelling action, and our guides are top-notch and ready to help everyone from beginners to seasoned canyoneering experts.
For Beginner Canyoneers – Birch Hollow
Even a big rappel like Birch Hollow, pictured above, is possible for beginning canyoneers. Birch Hollow is one of the more popular canyoneering routes in Zion, as it takes you right down into a tributary to Orderville Canyon – which then feeds right into The Narrows. This gives you the option to either hike back up Orderville Canyon and return quickly to your vehicle, or add another 6 hours to your day and hike down The Narrows to the Temple of Sinawava.
For beginners looking for easy Zion canyoneering tours, Birch Hollow is one of the best bets you can make.
For Experienced Canyoneers – Heaps Canyon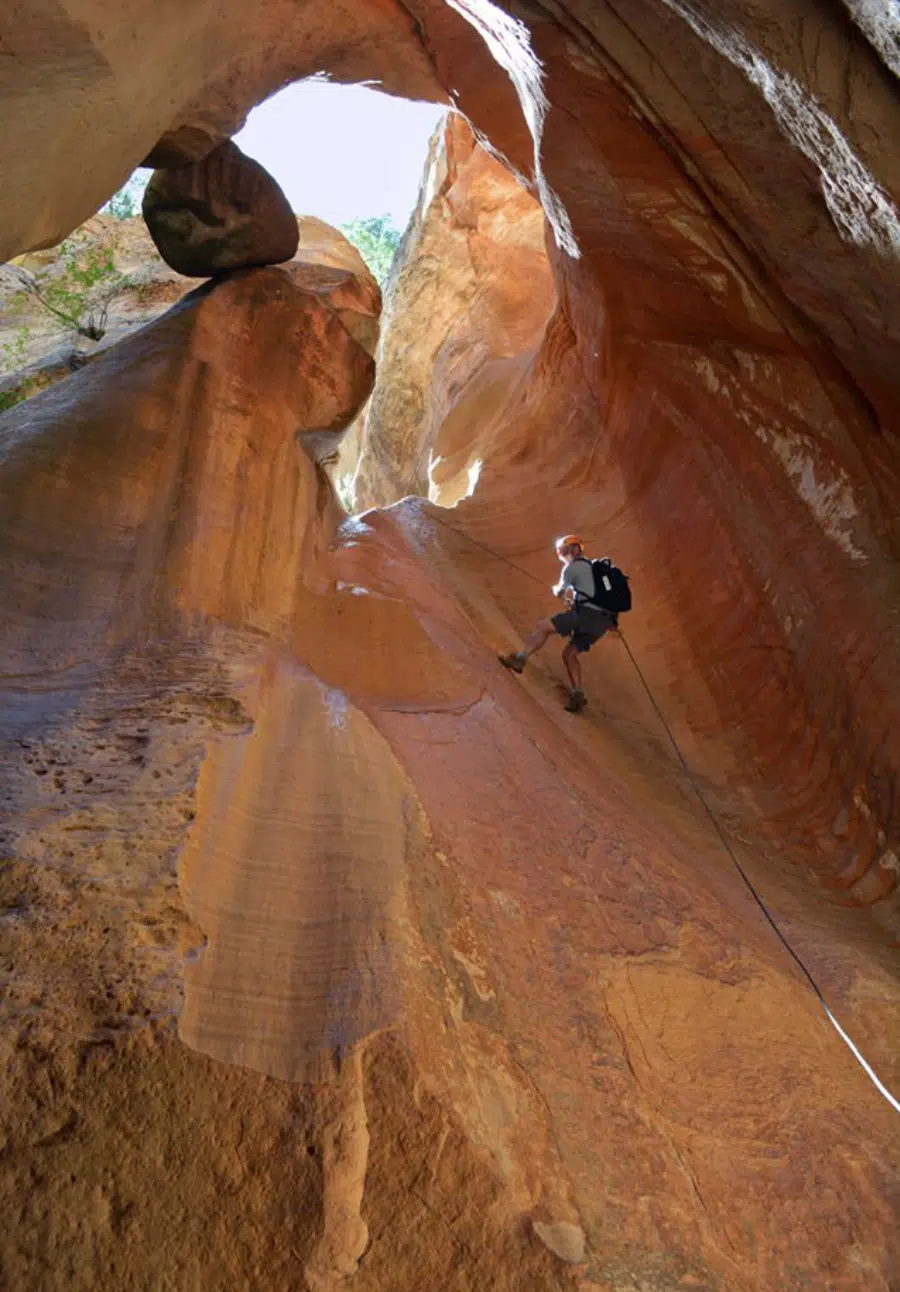 If you're experienced and ready to tackle what's arguably the most intense canyoneering experience in Zion, then call up a guide and get ready for Heaps Canyon.
This canyon is carved right into the rock of Zion National Park, and features multiple rappels over 120 feet long – including a major 300-foot rappel at the end.
It takes anywhere from 12 – 20 hours to complete, and you'll need a permit to hike this since it's located within the park. That's another reason we highly recommend a canyoneering guide for this particular canyon.
From expert routes to your first foray into the sport, canyoneering in Southern Utah is an experience you'll remember forever. If you're ready to take that kind of adventure for yourself, get in touch with us today to schedule your Zion canyoneering tour.