RAY'S RESTAURANT
---
---
---
---
---
---
---
Dine-in or Orders to-go.
---
---
---
---
Guests rave about our skillet-baked chocolate chip cookie, ice cream, whipped cream, chocolate sauce.
---
---
Ray believed that great home-cooked food could bring people together. We serve family favorite recipes made with fresh local ingredients. The atmosphere and hearty food make Ray's the perfect place to relax and enjoy time together.
---
HOURS
- Breakfast
   Check at resort for seasonal hours
- Lunch
   Check at resort for seasonal hours
- Dinner
   Check at resort for seasonal hours
- Beer/Wine Menu - Coming Soon.
- Pizza (Blue/Red Bordered N.Y.)  
   Closed for the winter season.
- Catering info. - see below.
Notes:
- Catering is available throughout spring, summer, and fall
- Order meals to-go (pick-up only)
- Wine and Beer is available for sale in the main lodge/restaurant
- Reservations for parties of 8 or more are recommended
- Locals receive 20% off anything at Ray's (excludes alcohol) but must bring a valid drivers license/ID
- Jan/Feb: Limited dining services are available for individual guests, and full service available to pre-scheduled catered groups. Call for details.
Breakfast
This is a hot breakfast that is self-served, buffet style, and is included for those staying in Conestoga Wagons, Glamping, Western Wagons, Cowboy Cabins, and Cabin Suites. Children (Ages 3-11) $5.95. Adults (Ages 12+) $9.95. Kids (Under 3) Free.
---
---
---
---
Narrows Coffee Bar
Located inside Ray's Restaurant, the Narrows serves plenty of tasty treats to keep you energized on your adventures around the park. Swing by and pick up a freshly brewed coffee, specialty drink, snacks, pastries, or a boxed lunch for a grab and go meal!
Hours - Spring/Fall Season - 7:30 A.M. – 9:00 P.M .
---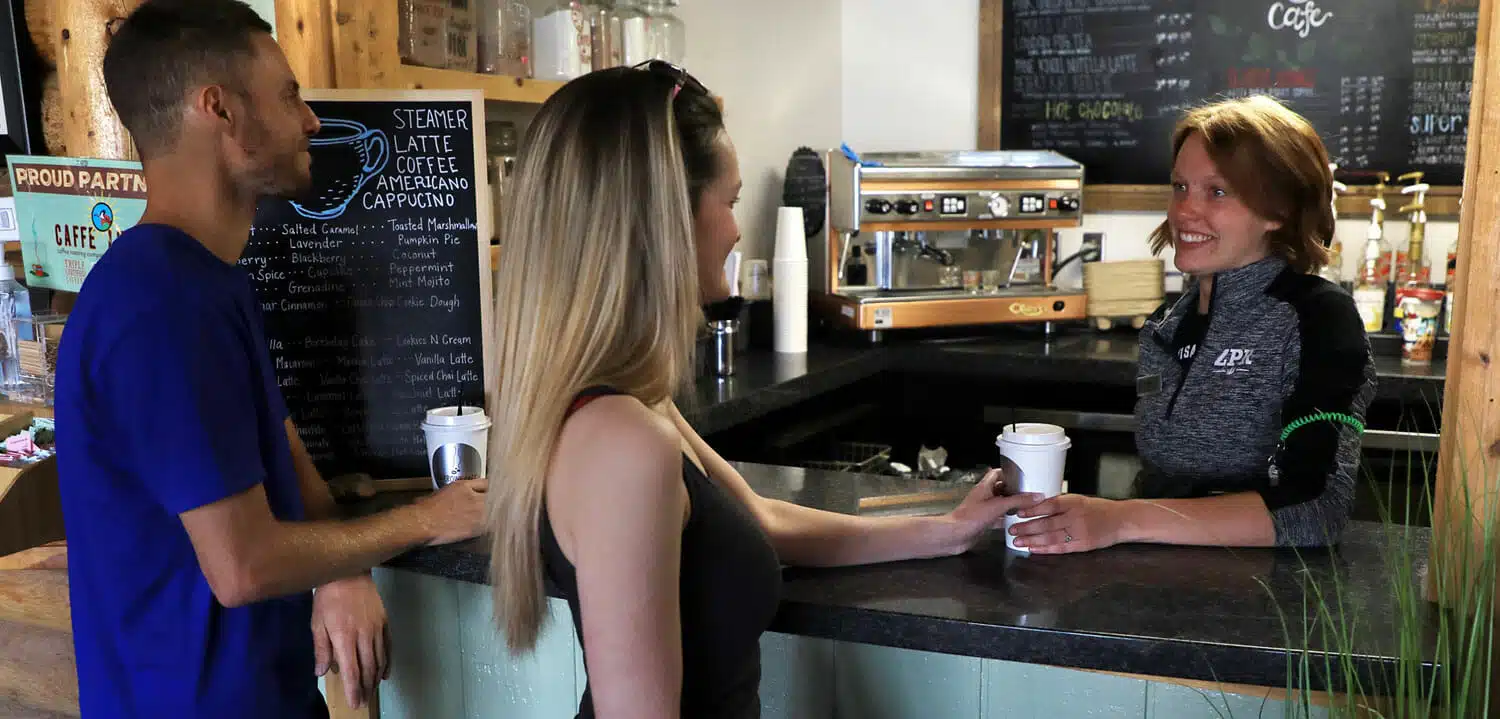 ---
---
---
---
Poolside Snack Bar
(Available in summer season)
Check poolside for details and availability.
---
---
---
---
Grandma Ruth's Country Dinner
(Summer Season)
Taste the wild west at an outdoor dining location where you enjoy a delicious Western-Style dinner.  Learn more...
---
---
---
---
Catering Services
Do you have a special occasion or group event? We offer a wide variety of menu options for all types and sizes of groups. We offer customizable menus for all types of occasions. Take a look at our catering policies and menu and feel free to contact Kourtney our Food and Beverage Manager to book your catering event!
Please Note: Zion Ponderosa Ranch Resort is the sole provider of catering services for those staying in lodging owned or managed by the resort. Outside catering services are not permitted.
What Our Guests Say:
"For the last two years as part of a university course on Zion National Park, I have brought students to the Zion Ponderosa Resort for lodging and meals.... The meals at Zion Ponderosa have been the real highlight of our stays. I have also very much appreciated the personalized service our groups have received ... and I recommend stopping by for dinner even if you don't stay the night. - Sam Schroyer - University of Utah
"One of the best surprises was our welcome dinner at the Blue Belly Grill--the food was absolutely outstanding! Chef and staff really outdid themselves . . . everything was so great. We had no idea we'd find such amazing food." - Bunches Family
"Heard it was the best! That was right! WOW! The BEST of the Best!!! I love it all!!! My wife loved the Pork Chop and I loved the Fish. Thank you so very much. Fantastic Customer Service. Really felt right at home." - Will
"We were expecting beautiful scenery and a quiet clean cabin... We were at the resort for three meals and the cuisine was exceptional. Anyone who enjoys a culinary experience as well as an escape to the outdoors will find the Zion Ponderosa Ranch Resort a memorable experience." - Susan & Ron