How Big Is Zion National Park?
Zion National Park encompasses an area of 229 square miles (593.1 km) and offers a spectacular landscape of sandstone cliffs, deep canyons and expansive plateaus. Zion National Park is a vast wilderness of rock formations that includes the world's largest arch - Kolob Arch - with a span of 310 feet (94.5 m).
What Animals Live in Zion National Park?
Zion Park offers abundant wildlife with animals such as mule deer, bobcats, mountain lions, and desert bighorn sheep. The deer are frequently seen, while other larger animals are more difficult to view. Larger birds such as golden eagles, wild turkeys, ravens and turkey vultures are also fairly common. Mukuntuweap National Monument was proclaimed on July 31, 1909; and then incorporated in Zion National Monument March 18, 1918; and finally established as a National Park on Nov. 19, 1919.
ZION NATIONAL PARK - TRAVEL INFORMATION
What are Zion National Parks Hours of Operation?
During the summer Zion National Park visitor centers are open each day from 8:00 a.m. to 7:00 p.m.  During spring, fall and winter the center hours are shortened. Some of the visitor centers are closed on various federal holidays. You may contact the park at their 24-hour phone for updates - 435-772-3256.
What is the Best Way to Get to Zion National Park?
Flying
St. George, Utah offers the closest airport to Zion National Park (46 miles (74.1 km) from the park). Las Vegas International Airport (3-hours) and Salt Lake City International Airport (4-hours) are excellent gateway airports to begin your trip to Zion National Park.
Driving
Zion National Park is accessible from Interstate 15 and from Scenic Highway 89. Click here to see a map and more details. I-15 is west of Zion National Park and connects with scenic highway 9. State road 17 also connects from I-15 to scenic highway 9. On the east side of Zion National Park scenic highway 89 connects with scenic highway 9. The Zion Canyon Visitor Center is a short distance from the Park's southwest entrance near the town of Springdale. A visitor center and western access to the Kolob Finger Canyons is found on I-15, exit 40 and close to the town of New Harmony.
---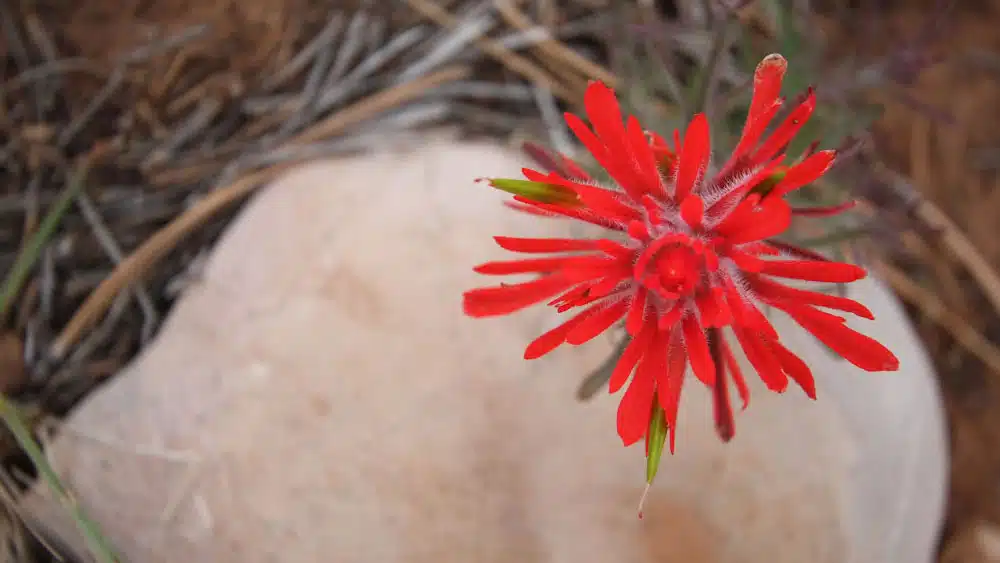 ---
Zion National Park Weather
Depending on the time of year you may need to be prepared for a range of weather conditions. In the lower sections of the park you can expect warmer temperatures than in the higher elevations. Zion Ponderosa is 2,500 feet higher than the valley floor of Zion National Park and is therefore, much cooler in the summer months. Summer days can be warm with temperatures on the valley floor ranging from 95+ degrees F. Overnight lows are generally comfortable (65-70 degrees F.)
Spring and Fall
During these seasons the weather at Zion National Park can be a little unpredictable. Stormy, wet days may occur however, this can be one of the best times to view waterfalls within Zion National Park. During periods of rain, use caution in narrow canyons where flooding may occur. Precipitation is frequently most common in March and September. Afternoon thunderstorms may be more common from mid-July through mid-September. Wildflowers generally are in bloom from April through June.
Fall days in Zion National Park are usually clear and mild. Usually beginning in September and peaking in October or early November, autumn colors are spectacular in and around the park.
Learn More About Zion Flora
Winter
Wintersin Zion National Park are generally mild and most days are comfortable on the valley floor with temperatures reaching 60 degrees F.; and nights averaging in the 40's. Winter storms bring rain or light snow to Zion Canyon, but some heavier snow to the higher elevations. When necessary, the roads are cleared of snow. Winter is an ideal time for hiking when Zion National Park is very peaceful.
Learn More About Winter In Zion
---
Zion National Park Accessibility
---
Accessibility
For those with special needs the visitor centers and the Lodge within the park are fully accessible. Some campsites in the South Campground are reserved for people with disabilities. Three trails within Zion National Park are accessible. The Riverside Walk (1-mile, 1.6 km) that begins at the north end of Zion Canyon is paved and accessible with assistance. Opened in 1995, the 2-mile Pa'rus Trail is also accessible.
Main Canyon Access
March through November is generally the time when Zion Canyon Scenic Drive is only accessible by shuttle bus while the rest of the park is open year-round to private vehicles. Check park schedules to confirm shuttle dates.
---
Plan your next trip to Zion National Park with Zion Ponderosa
Adventures in Zion National Park
---
---