Zion National Park & Other Attractions
Half-day and day trips from Zion Ponderosa
Zion National Park is in a region that features America's highest concentration of natural scenic wonders. Below you'll see information and brief itineraries on these other great attractions. It will quickly become apparent that you'll need at least one week to begin to experience the splendor of this region.
BRYCE CANYON
Bryce Canyon is just 75 minutes from Zion Ponderosa and is one of the great scenic wonders of the world. From Zion Ponderosa, travel down the North Fork road and turn left on Scenic Highway 9. Follow this road for 12 miles to Scenic Highway 89 and turn left. Go north approximately 40 miles and then turn right on National Scenic Byway 12. Travel 15 miles on this road and turn south on highway 63. Travel just three miles to the park entrance.
---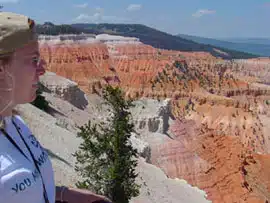 ---
CEDAR BREAKS
This area is just north of Zion Ponderosa but the best way to travel (paved road) is on highway 89 and go north approximately 25 miles, then turn left on Scenic Highway 14. You'll follow 14 to Highway 148 and then to 143 and then back on 89 to Zion Ponderosa. The highlights to see are Duck Creek Village, Cascade Falls, Navajo Lake, Cedar Breaks National Monument, Panguitch Lake, Panguitch Town. Panguitch means "Big-Fish" in the Paiute Native American Language.
---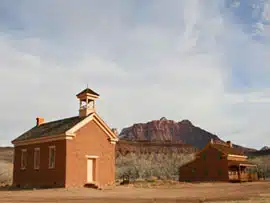 ---
GRAFTON GHOST TOWN
In the early 1860's Mormon settlers established themselves along the banks of the Virgin River. Not only did the river cause the settlers problems but local trouble with Native Americans was also an issue. Visit the old graveyard to see "Killed by Indians" on some of the markers. See the remaining buildings such as the old school-house. Go through Zion N.P., Springdale and into Rockville. In Rockville turn left on Bridge Road and go west (right) three miles on a dirt road to Grafton Ghost Town.
---
---
GRAND CANYON NORTH RIM
The north rim of the Grand Canyon offers spectacular scenic views. From Zion Ponderosa it is a two-hour drive on Highway 89. You'll travel through Kanab, and up onto the Kaibab Plateau and through the Kaibab forest. Highway 89 becomes highway 67 in Arizona. You'll be at 9,000 feet when you arrive at the north rim. This side of the canyon is 1,000 feet higher than the south rim and is generally open from May 15 to October 15 each year. Check weather conditions in advance.
---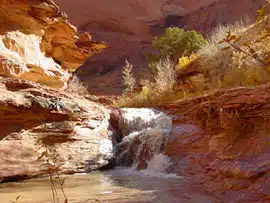 ---
THE GRAND STAIRCASE
This national monument begins about 30 minutes from Zion Ponderosa. The roads that enter this area are well-graded dirt roads and are generally passable by any type of vehicle (weather permitting). Check weather conditions and bring a detailed map, plenty of water and make a day of it in the back-country. Travel east to Highway 89, north (left) to the town of Glendale. On this road you can go north to Kodachrome Basin and Bryce Canyon or south to Johnson Canyon and Kanab.
---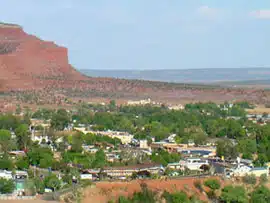 ---
KANAB, UTAH
This town was and is still known by many as "Little Hollywood". In the 1940's and 50's over 100 western movies were filmed in the area. Some of the biggest stars of the west stayed in Kanab while starring in their movies. Today you can tour places such as Frontier Movie Town and Denny's Wigwam that showcase remnants of the western movie days. Kanab has some fun shops and restaurants and can be the focus of your half-day or day trip or just a stop along the way. (35 miles)
---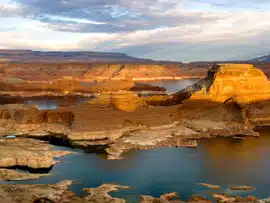 ---
LAKE POWELL
This massive man-made lake was created in the 1960's when a dam was placed on the Colorado River in a narrow canyon. The Colorado River has backed up into the surrounding finger canyons and has created over 2,000 miles of coast-line. You can rent your own boat or join a scheduled boating tour on the lake. Touring Lake Powell is somewhat like being in Zion National Park but on a boat. Travel south to Kanab and the east to Wahweap Marina (105 miles).
---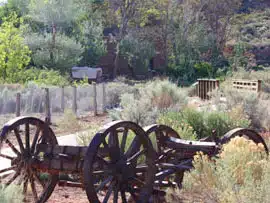 ---
PIPE SPRING NATIONAL MONUMENT
This historic fort west of the town of Fredonia, Arizona (15 miles) sits on the Kaibab Paiute Reservation. In the 1870's Mormon pioneer settlers built this fort, called Winsor Castle. Visitors can tour the fort and learn about life along the famous Arizona Strip. A visitor information center provides details about the Paiute Native Americans that inhabited the area and the pioneers that came to settle in the region. From Zion Ponderosa go to south to Fredonia and turn right (west) on highway 389.
---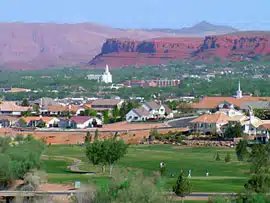 ---
ST. GEORGE, UTAH
This community sits at the southwest corner of the state of Utah and offers various activities that may be of interest to our guests. After traveling through the park to Springdale, St. George is another 45 miles. In St. George you'll find unique shops and various types of entertainment and some excellent golf courses..
At Zion Ponderosa Ranch Resort you'll experience the finest accommodations, adventurous recreation, excellent dining and a caring staff. We offer mountain vacation home rentals, cabins and camping at the top of Zion National Park. From here you can explore the world's greatest concentration on natural scenic wonders.
"We enjoyed our stay. The recreational activities were great…" — Angie, NC
"The accommodations were perfect and met our every need." — Gaye, NV