Zion National Park has been referred to as a botanic wonder. On Zion's desert floors you'll find a variety of cactus, brush and bushes, on canyon walls you'll find mossy hanging gardens, and on the canyon floors, walls and plateaus you'll find a wide range of bushes and trees. With elevations ranging nearly 5,000 feet, indeed, Zion National Park offers a remarkable cross section of plant life.
The Virgin River offers a cooler, damp place for willow, cottonwood, box elder and ash trees. These groves of trees give provide an array of color for each season. The vibrant pastels of spring's blossoms and budding new leaves are normally visible from mid-March until mid-May. In summer the leaves in Zion National Park darken and then in fall the park is filled with brilliant leaves of orange, gold, yellow and red. The fall colors can be seen in the lower elevations of the park as late as November. In winter the bloom of the annual plants fades away but this brings more emphasis to the perennials and to the red and white hues of the canyon walls.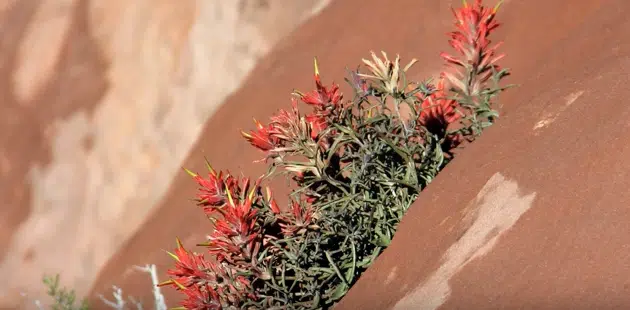 Zion National Park is filled with wildflowers during the spring and early summer seasons. These flowers are scattered throughout the meadows of the valley floor.
Flower types found in Zion National Park include:
Chorispora
Columbine
Indian paintbrush
Orchid
Sand buttercup
Sego Lily
Monkey Flowers …and many others.
Many plant blooms only open in the cool of the evening. Sacred datura, primrose, spiderwort and four o'clock are some of the flowers that bloom under the stars.
Pinion pine, juniper, manzanita and scrub oak trees are seen along the edges of canyon walls and on the sides of steep sandstone cliffs. Wind and rain carry leaves, wood debris and soil into the crags of rocks and this provides a nurturing environment for roots to grab hold. Yucca, cactus, and sagebrush all thrive in Zion National Park and provide a sheltered haven for small birds and animals.
Water seeps down through the sandstone at Zion National Park and where the rock is most dense (layers), the water is forced out of the rock onto canyon walls. This creates an environment conducive to ferns and mosses. Many of these can be seen along the trails of Emerald Pools, The Narrows or Weeping Rock. Slow and constant flows of water have created pockets for marshes and this gives life to wild grasses and cattails.
There are more than 800 native plant species that are found in Zion National Park.