---
---
ZION NATIONAL PARK INFORMATION
Below is a map of the main canyon of Zion National Park. A similar (but larger and more detailed) printed map may be acquired when you enter any gate of the park or at the Zion National Park Visitor Center.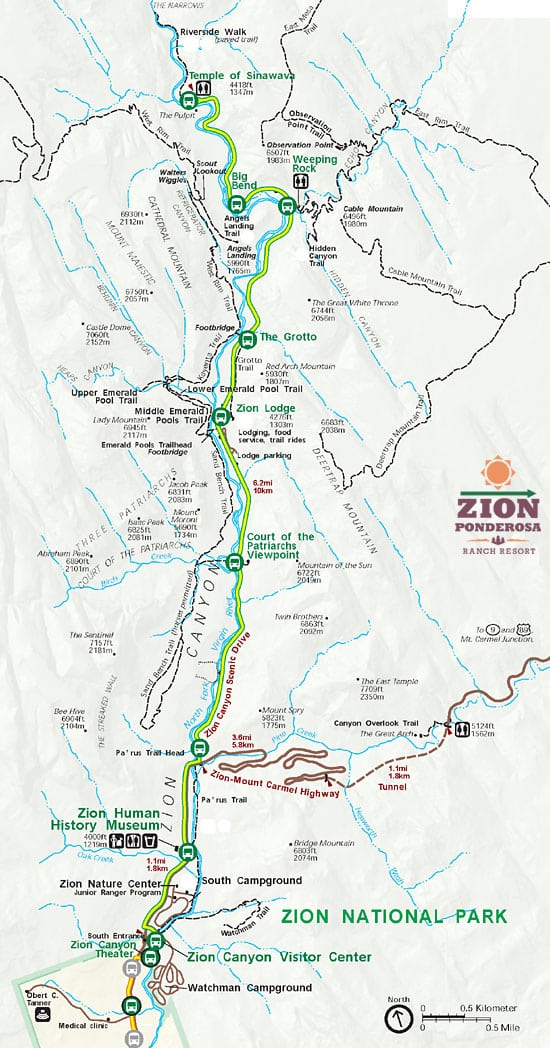 View a PDF version of this map.
Zion National Park Preparations:
Zion National Park information to help you enjoy your experience in the park.
Trails:
There are many trails to hike in this main canyon area. The first marked trail that you will come to, after leaving Zion Ponderosa is called the Canyon Overlook. Parking for this trail is at the top of the tunnel. Park your car and cross the road for this short but spectacular walk to a point where you can view down into the main canyon. (1/2 mile each direction) Other popular trails are Emerald Pools, Weeping Rock, Temple of Sinewava. See these on the map and learn more about these trails from the printed materials you receive at the gate of the park.
Proper Preparations:
Enjoy your experience in Zion Park.
Water / Food:
Waist-packs, day-packs and water bottles are available at the Zion Ponderosa store in the lodge. You may want to carry a lunch and/or snacks with you if you plan to spend more than a few hours in the park.
Dress in layers:
Depending on the time of year, you may want to have additional layers of clothing to take off or put-on.
Footwear: Take a comfortable pair of shoes and carry some band-aids or mole-skin to protect against blisters. If you're going to walk in water (river) you may want a change of socks and/or shoes.
Hats and Sunscreen:
It's always good to have a hat to give protection from the sun, but at the least use some sunscreen and bring some along.
Photographs: Definitely take your camera and/or video recording device. The views are always good and you may also see some wildlife.
Meals / Fuel:
To save time and for your comfort in the park we recommend that you take a lunch and snacks with you. Ask at our front desk for information about advance preparation of lunches. If desired or needed there are restaurants, shops and fuel stations in Springdale. There is also a restaurant and shop at the lodge inside the park.
Travel Route:
From Zion Ponderosa travel five miles down the north fork road and turn right to go (2 miles) to the park. Enter the east gate and travel along scenic highway 9 to Springdale. From November to March you may take your private vehicle up the main canyon, otherwise (April to October) take your car into Springdale, park it and jump on the shuttle.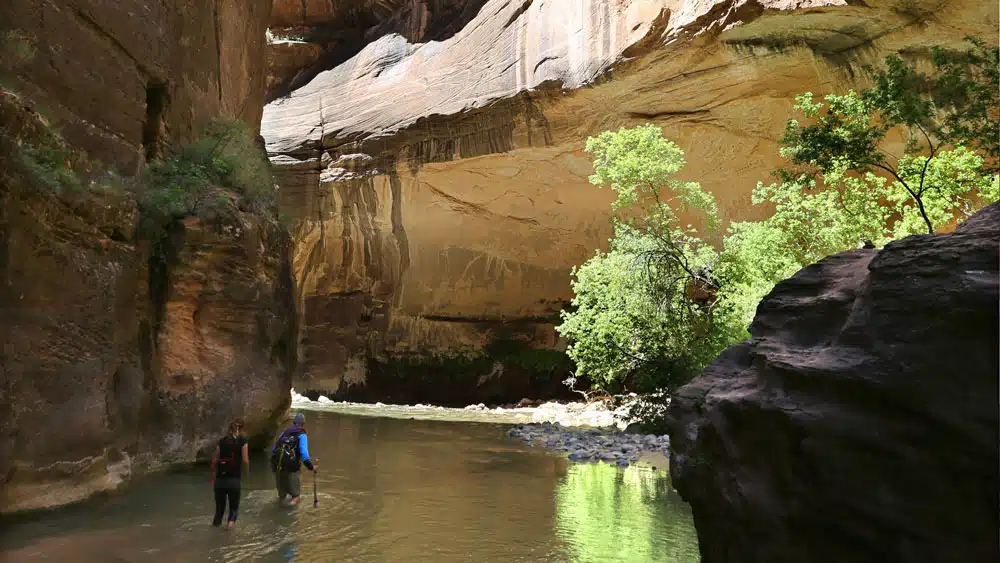 Other Activities at Zion Ponderosa
There are countless things to do at Zion National Park due to its size. From hiking, restaurants, guided tours, and more there is plenty of room for exploration. The fun doesn't have to stop when you leave the park however. Zion Ponderosa Resort offers a wide range of
activities near Zion
to make your trip truly unforgettable for the whole family. Contact us today for more park information and to plan your perfect trip to Zion National Park.