The Zion Ponderosa Pool is a two tier, gravity edge swimming pool. Owner Steve Neeleman refers to the pool as the "crown jewel" of the resort. It has two hot tubs, two water slides, and easy access to bathrooms and showers that are located nearby. If you are looking to just relax by the pool while your children swim and play marco polo, then you can do just that with poolside chair massages given by our licensed massage therapists or with a poolside polish with our nail technician. You can try to schedule your time so that you are able to watch the sunset from the pool which can be a truly romantic experience for a couple.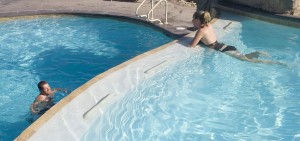 Food and drinks are also available for purchase at the pool from 12 pm – 9 pm. Our menu items include but are not limited to burgers, bratwursts, chicken sandwiches, hot wings, quesadillas, and pizzas. Alcohol, including the local Zion Canyon Beer, is also served in the pool area with the purchase of a prepared food item according to the guidelines of Utah's liquor laws. You can have a very relaxed meal with your entire family right there at the pool with a less expensive and simpler menu. There is something there for every member of the family.
Whether you are a guest at the resort or just want to pass by for the day from Kanab or Orderville, you can enjoy what we have to offer at our "crown jewel" that is the Zion Ponderosa Pool.