One really great thing about Zion Ponderosa Ranch Resort is the variety of lodging near Zion options. From camping to cabin suites and luxury vacation homes, we have lodging to suit your experience.
Vacation Homes
Our cabin suites and cowboy cabins fill up fast, especially in summer, so vacation homes are a great option for large families, and especially families vacationing together. They are spacious and private, so you'll each have your own space, with plenty of common areas for the entire family to enjoy. We have more than two dozen vacation homes that can sleep from eight to 40 guests, depending on the size of the home you choose.  When you split the cost of a vacation home between families, they are a great value for the incredible space you'll be getting!
For example, The Patriarch is one of our most spacious homes, with seven bedrooms, eight bathrooms and 6,252 square feet of living space…it's perfect for a family reunion! Kids will love sharing bunkrooms with the cousins, while parents can enjoy their own private and spacious bedrooms. On a smaller scale, Casa de Canyon sleeps up to 10 people in three bedrooms, and has a gas fireplace, outdoor hot tub, foosball table, gas grill and large outdoor deck with patio furniture to enjoy and relax every moment.
All of our homes are beautifully appointed and maintained, with views and a variety of amenities, depending on the vacation home you choose. Most of our mountain homes are located in the Zion Ridge area of our resort, just a short distance from the main area. Plan to stay four to six nights, so you can unpack once and truly enjoy your luxury vacation home rental, and everything the Zion area has to offer.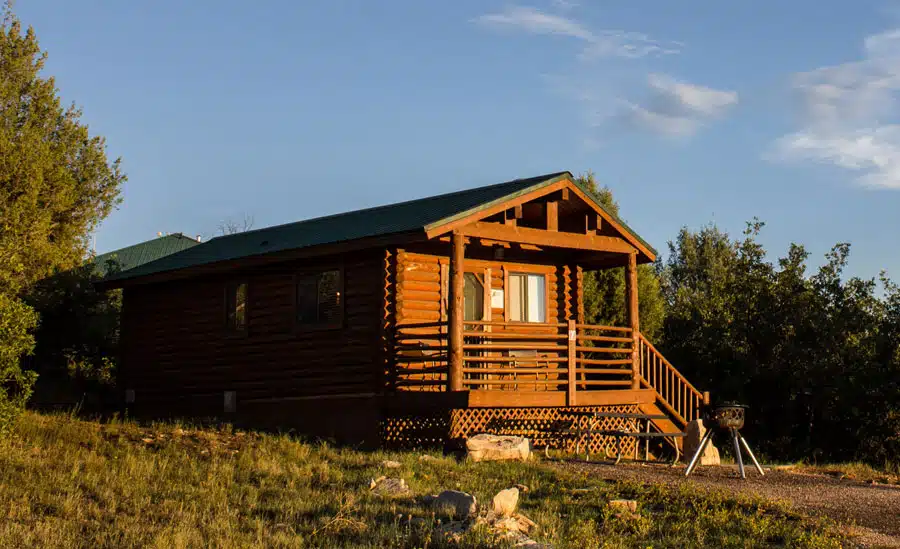 Cowboy Cabins and Cabin Suites
Elevate your getaway in one of Zion Ponderosa's Cabin Suites. Each Cabin Suite has a private bedroom, a private bathroom, and a small living and dining area with kitchenette. Zion cabin rentals are perfect for couples and families, and can sleep up to six guests. Cozy, one-room Cowboy Cabins put a roof over your head without having to pitch a tent. Take in the beauty of Zion from your private front porch and enjoy cowboy cookin' with the conveniently located charcoal grills. Whichever you choose, Zion Ponderosa's cabins provide a private, ranch-style experience that you won't find at an ordinary hotel or motel. Plus, guests have full use of all resort facilities, including the two-tiered gravity edge swimming pool, hot tub, open-use activities,  spa and a variety of dining options.
Tents and Western Wagons
If you enjoy sleeping under the southern Utah stars, roughin' it Zion Ponderosa style is the way to go. Travel light and leave your tent at home — rent a tent from us or spend the night in one of our unique Western Wagons (kids love these!). Each wagon sleeps up to four in one queen bed and two twin beds (linens included). Tent camping and Western Wagon rentals include the use of Wi-Fi, shower/restroom facilities, pool, hot tub, and other open-use resort facilities. If you're traveling with your own wheels, Zion Ponderosa Ranch Resort has some of the closest full hook-up RV camping to the East Entrance of Zion National Park. Book here.