When Zion National Park was established—first as Mukuntuweap National Monument in 1909 and then officially as Zion National Park in 1919—there was just one problem: people had to get there. It was remote, and the trip to Zion required traveling along old, rugged wagon roads.  By 1917, automobiles were able to roughly reach Zion Canyon, but there had to be a better way.
Construction of the Zion-Mount Carmel tunnel began in 1927, with the goal of providing access to the east side of Zion National Park, as well as create easier access to Bryce Canyon and the Grand Canyon. This revolutionary construction project to create the longest non-urban tunnel in the U.S. at the time was one of the great engineering feats of the day. The task was undertaken by the Nevada Construction Company, which used mining methods rather than traditional tunneling procedures, to create the Zion-Mt. Carmel tunnel. It took three years to complete the project at a cost of nearly $2 million (about $26 million today). The tunnel was dedicated on July 4, 1930.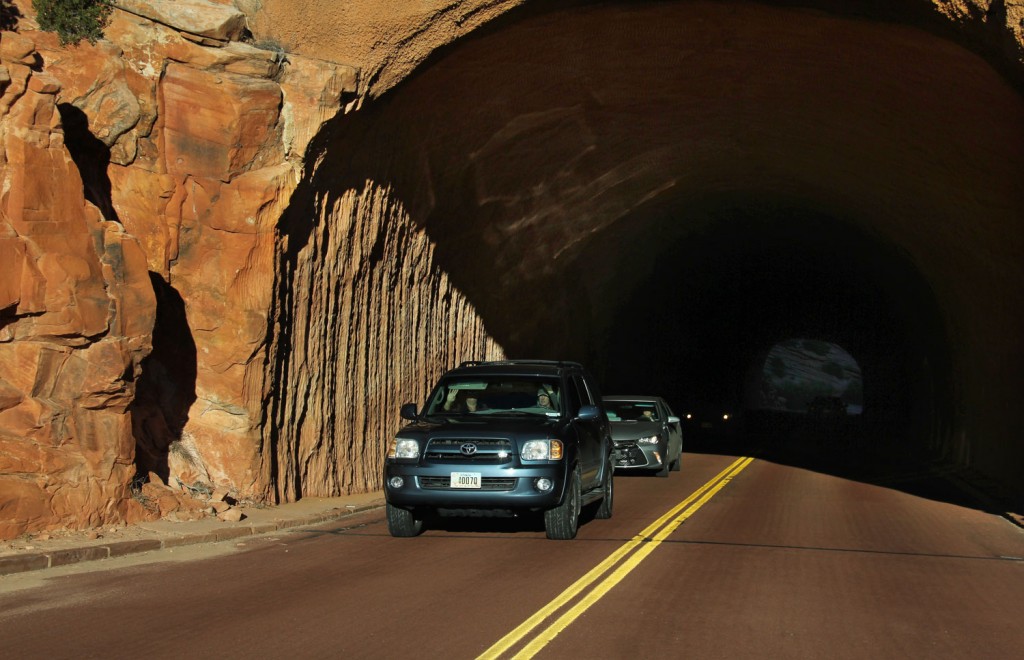 The Zion-Mount Carmel tunnel follows Pine Creek Canyon wall, and runs from the east entrance of Zion to the Mount Carmel Junction with U.S. 89. Six large windows cut into the sandstone cliffs offer glimpses of spectacular Zion scenery as visitors drive through the tunnel. This also provides light and ventilation inside the tunnel. A collapse of a sandstone pillar in Gallery #3 of the tunnel in 1958 closed the tunnel for several weeks. Today, the tunnel is reinforced with concrete ribs to give support to the sandstone structure, and the tunnel is monitored electronically 24/7.
Size limits on vehicles traveling through the tunnel addressed safety concerns from the 1980s, as tourism picked up and large RVs and tour buses struggled to pass safely through the tunnel without crossing the center line. Beginning in 2011, oversize vehicles larger than 7'10" wide and/or 11'4" high are required to purchase a $15 tunnel permit to travel through during posted hours. The tunnel permit allows park rangers to convert the tunnel temporarily to one-way traffic. See the National Park Service website for additional information on restricted vehicles.
The Zion-Mount Carmel tunnel is easily reached from Zion Ponderosa Ranch Resort, and provides easy access to the eastern entrance of Zion National Park. Please remember to drive safely, do not stop in the tunnel, and obey all traffic directions from park rangers. Enjoy your drive through this historic tunnel, and your time in Zion National Park!