March and early April mark the beginning of spring thaw as winter melts away and Zion springs back to life. Soon waterfalls will begin to flow and the Virgin River will rush with spring runoff, cottonwood trees will bloom with soft tufts of cottony blossoms, and wildflowers will burst onto the scene in splashes of vivid color. Add in the possibility of newborn wildlife sightings and cool hiking weather, and you're ready for early spring in Zion.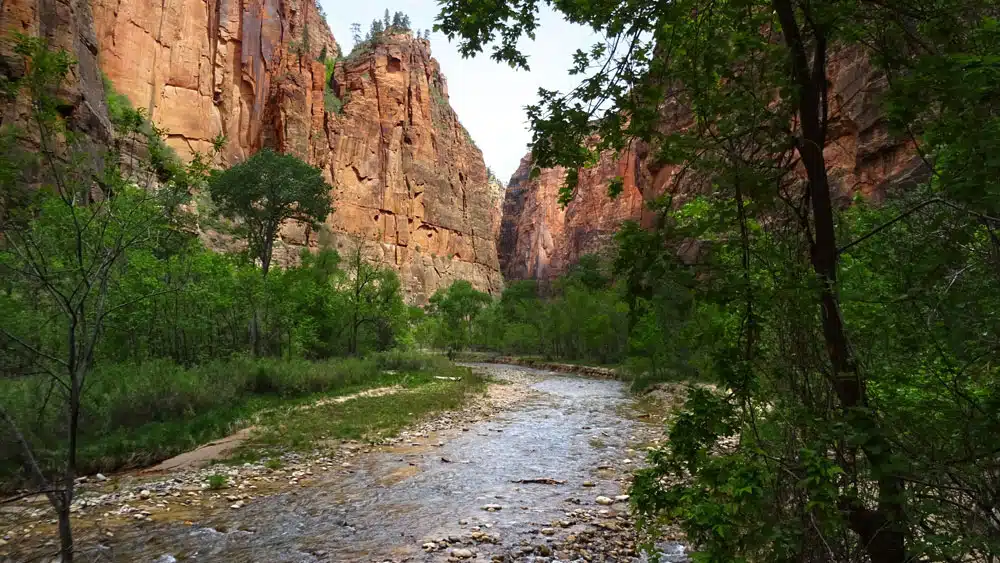 MAGNIFICENT WATERFALLS
Zion's waterfalls are a magnificent sight—and seasonal, so catch them while you can. Melting snow and early spring rains create the perfect conditions for waterfalls to flow from the top of the plateau over the high canyon walls. The water funnels through slot canyons and cracks, rushing down to the valley floor, where it eventually flows into the Virgin River, through The Narrows, and out of the park, ending at the Colorado River.
While you enjoy these beautiful waterfalls, remember that the fast rushing water has no other outlet other than raging into Zion's many slot canyons. And once the grand spring runoff begins in early April, the Virgin River's water levels can rise rapidly, making The Narrows unhikeable until summer. While flash flooding is a rare occurrence, it's not something you want to experience while inside a slot canyon, so be sure to check conditions with park rangers and stay out of slot canyons during wet weather.

SPRING HIKING
While slot canyon hiking isn't the best idea during snowmelt, Zion National Park has plenty of spring hiking opportunities. From short, family-friendly walks like Riverside Walk, to more strenuous hikes like Angel's Landing, spring hikers can make every moment count in Zion. Zion Ponderosa now offers guided hikes in Zion National Park.
Learn more about Hiking Adventures near Zion National Park

MARCH SHOWERS BRING APRIL FLOWERS
Things start to bloom earlier than the old adage here in southern Utah. Wildflowers such as desert marigold, slickrock paintbrush, and western Columbine can begin blooming at lower elevations as early as mid to late March. As spring rain imparts a brilliant, verdant green across Zion, wildflowers continue to burst on the scene with dramatic splashes of color in contrast to the red rock backdrop. Zion's famous hanging gardens along shaded trails to Weeping Rock and Emerald Pools, reveal lush, spring green ferns and wildflowers which last into the summer.

WILDLIFE
Spring is all about growth and new beginnings. Baby animals of all species will soon begin to spring to life around Zion National Park. Zion has a wonderful diversity of mammals, birds, and reptiles. And while newborn sightings can be rare until later in spring, keep your eyes peeled for baby bighorn sheep, mule deer and wild turkeys in Zion Canyon.
____________
Early spring can mean rainy days, cool weather, warmer temps; it really varies. The best way to prepare for spring in Zion National Park is with layers and light rain jackets. At 6,500 feet, Zion Ponderosa is 2,500 feet higher than Zion's canyon floor, so expect slightly cooler temperatures at the ranch resort than on the canyon floor. Planning on staying with us this spring?