Your days at Zion Ponderosa Ranch Resort will be packed with activities and adventures. You need to stay fueled and nourished. Even on your down days, you still gotta eat. Fortunately, there are a lot of mouthwatering options at Zion Ponderosa.
Feast your eyes on this:

Ray's Restaurant serves up breakfast, lunch, dinner and dessert seven days a week. Ray believed that great home-cooked food could bring people together, so we serve family favorites made with fresh, local ingredients, and elevated to another level.
Up first, breakfast! Fuel up for the day with our jam-packed breakfast buffet featuring scrambled eggs, bacon or sausage, oatmeal, waffles, fresh fruit, yogurt, granola, cereal and assorted bagels and donuts. The breakfast buffet is included for all Zion Ponderosa guests staying in Cabin Suites, Cowboy Cabins, and Western Wagons. Other guests can enjoy the breakfast buffet for just $8.49 per person ($4.49/child). Complementary beverages include fresh brewed Café Ibis coffee, juice, and local Utah milk.


Located inside Ray's Restaurant, The Narrows Coffee Bar serves up plenty of tasty drinks to keep you energized on your adventures around Zion. Stop by on your way to Zion National Park to wake up with a freshly brewed Café Ibis coffee, or enjoy specialty hot and frozen drinks. The Narrows is also the place to quench your thirst with Utah favorites such as Muddy Dr. Pepper or Ponderosa Punch; enjoy snacks and pastries; or grab a boxed lunch to go.
For lunch, enjoy a variety of burger options fresh off the grill; ranch favorites such as sweet breaded Canyon Chicken, topped with provolone, stuck between garlic toast and served with house chips and a pickle; a grilled Monte Cristo featuring honey ham and Swiss cheese; or a grown-up grilled cheese hearty enough to satisfy any cowboy. Lunch options for vegetarians include Ray's balsamic glazed Portobello mushroom sandwich, seared to perfection, a delicious black bean burger topped with lettuce and tomato, or a luscious Mediterranean wrap stuffed with leafy greens, olives, mozzarella, and drizzled with a balsamic glaze. We also have a brand new pizza oven.


At Ray's Restaurant we serve up hearty food and a warm, comfortable atmosphere. What's on the dinner menu? How about local favorites like Brushy Cove Utah trout pan friend in butter and served on a bed of wild rice; Ray's rib-eye seared to perfection; flame-grilled, marinated chicken breast; or spaghetti and buffalo meatballs drenched in zesty red sauce. For the kiddie cowboys, the lunch and dinner menus feature kid-friendly fare such as pasta, chicken tenders and mac 'n cheese.

Speaking of mac and cheese—our claim to fame is Jolley's mac and cheese—homemade and loaded with smoky cheese, bacon, and steak. Yep, you read that right. We're confident when the dinner bell rings on Zion Ponderosa, you'll definitely come running. (Okay, we don't really have a dinner bell, but dinner is served from 6 – 9 p.m. daily during peak season).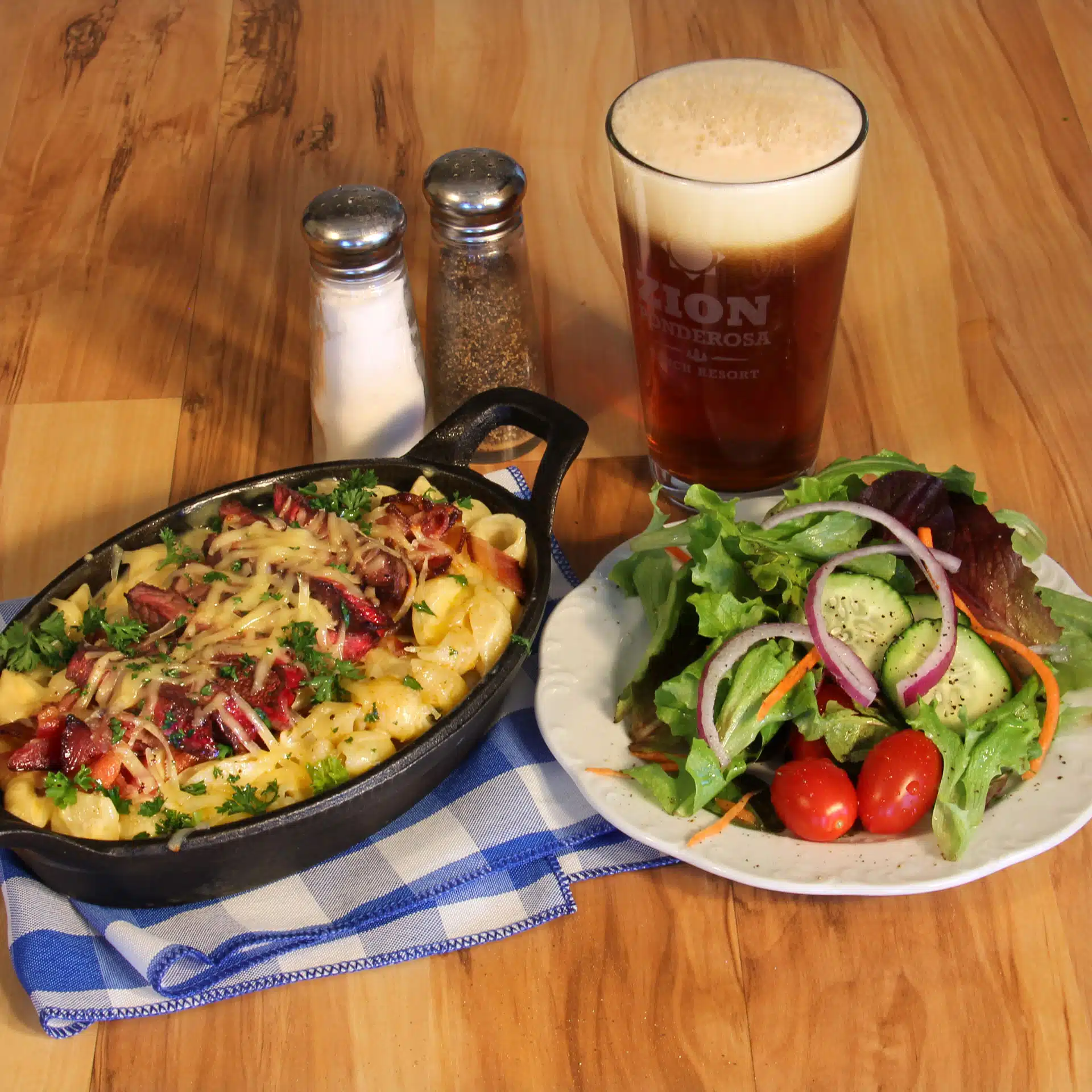 So much deliciousness, but you might want to save room for dessert. Because we have this: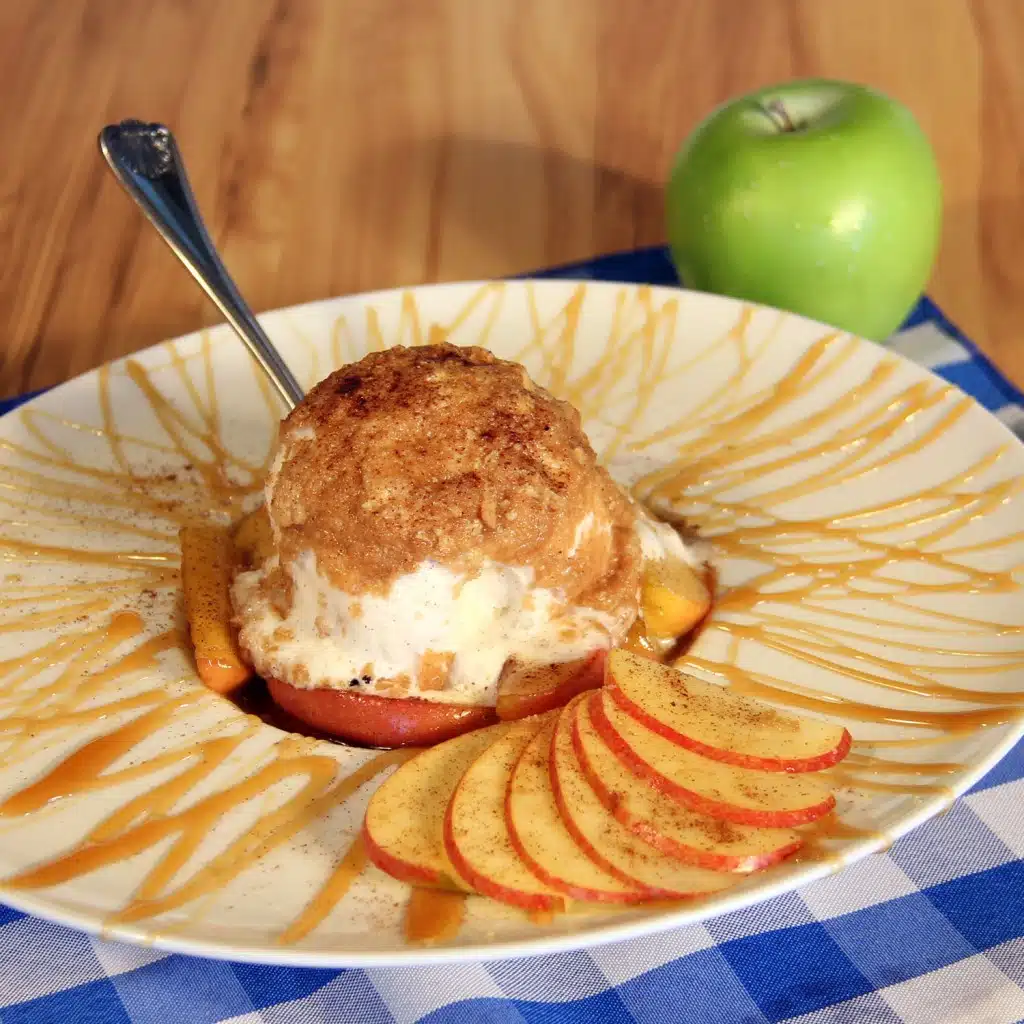 Dutch apple fried ice cream, anyone? This house favorite is a Zion Ponderosa Ranch Resort original recipe featuring  a warm layer of sweet baked apples topped with deep-fried, cinnamon encrusted ice cream, and topped with caramel. Yum!


Did you know you could add a Dining Plan to your Zion Ponderosa Ranch Resort stay? Meal plans are just $43.00 per day per person and include breakfast, lunch, and dinner.