Southern Utah is a world-renowned destination – and for good reason. It contains some of the world's most breathtaking, incredible, one-of-a-kind scenery. Just as New Zealand is unique in its seamless transition between sweeping mountains and thick rain forest, southern Utah does the same, from rolling desert to sheer sandstone cliffs and the world's most impressive collection of arches.
There's so much to see and do in southern Utah it'd likely take a lifetime of exploration to do the area any justice – which is why you need a bucket list of the places to visit. Yes, this list contains some of the big tourist attractions, but it also holds a few hidden gems most people don't get to see.
The Narrows
Known for its cliffs that tower 1,000 feet over the river bottom, and the emerald hues of the Virgin River, The Narrows may be the most popular hike in Zion National Park. Over 4.3 million people visited the park in 2016, cementing its status as a bucket-list attraction. In fact, in a year marked by record attendance at national parks across the country, Zion ranked fifth in 2016.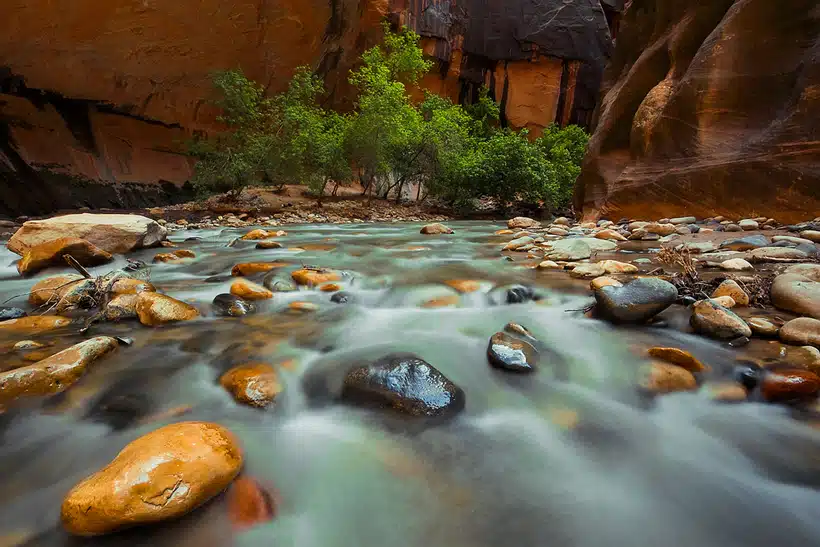 Photo: Andre Schwabe
The Narrows hike can be done as a day hike, half-day, or multi-day trip depending on how much of this incredible slot canyon you want to explore. For a day hike, most groups start at the Temple of Sinawava in Zion, then hike five miles upriver to Big Spring. It's decidedly strenuous, but during the ten-mile round-trip hike you'll see more breathtaking scenery than you've likely seen your entire life.
The other popular option is to hike downriver, from Chamberlain's Ranch. This hike requires a permit, lasts sixteen miles, and generally takes two days to complete.
If you're after real adventure, though, you should take a look at Orderville Canyon, a sister slot canyon to The Narrows that's arguably even more beautiful than The Narrows. Due to its more technical hiking conditions, Orderville Canyon doesn't see nearly the same attention as The Narrows.
Orderville Canyon requires a permit as well, though this hike is only eleven miles and usually accomplished in a single day. (Mention guided canyoneering/hiking with Zion Ponderosa?)
Bryce Canyon
Bryce Canyon National Park is a stunning collection of "hoodoos," which are odd-shaped rock pillars standing after the forces of erosion have done their work. The collection of hoodoos in Bryce Canyon is the largest in the world, making for one of the most jaw-droppingly beautiful sights in southern Utah.
Just 1.5 hours north of Zion Ponderosa Ranch, Bryce Canyon's main attraction is hiking through the stone pillars of the park. From family-friendly hikes like Queens Garden – which takes hikers on the easiest route to the canyons filled with hoodoos – to the Peek-A-Boo Loop, Bryce Canyon has hikes that fit everyone's skill levels.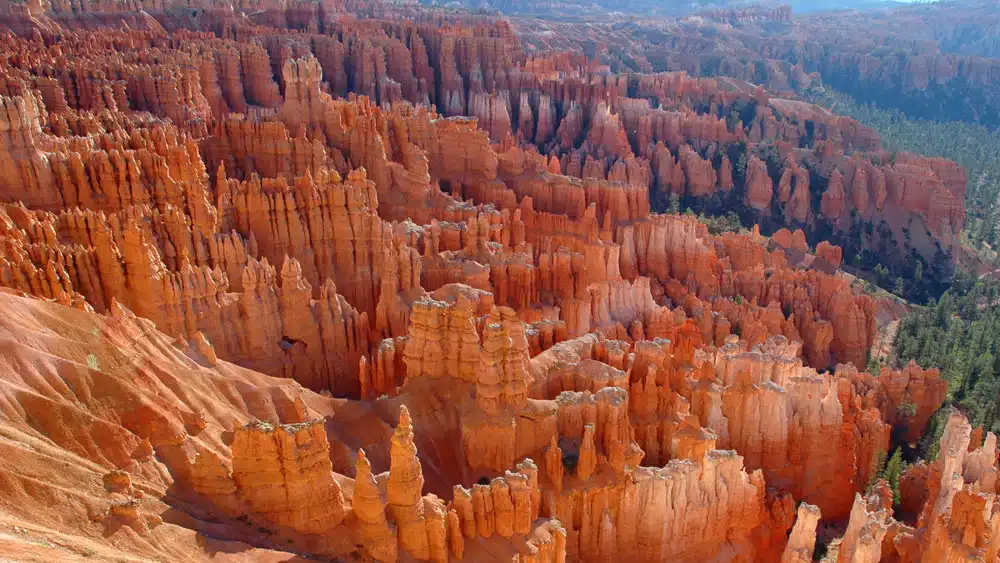 Bryce Canyon is a popular area for stargazers as well since there's so little light pollution in this area of Utah.
Observation Point
We'll head back to Zion National Park for this hike. Observation Point is most easily accessed directly from Zion Ponderosa Ranch Resort, with road access to the trail-head open year-round.
Beginning at the Eastern Rim Trail, hikers will bypass a lot of the uphill work put in place by the switchbacks inside the canyon. Starting from Zion Ponderosa, you work your way around the rim of the canyon until arriving at arguably the most photographed vista in the entire park.
This is a classic Zion hike, and if you're in love with the sheer walls, monoliths, and outstanding one-of-a-kind beauty the park offers, this hike lets you take it all in at once.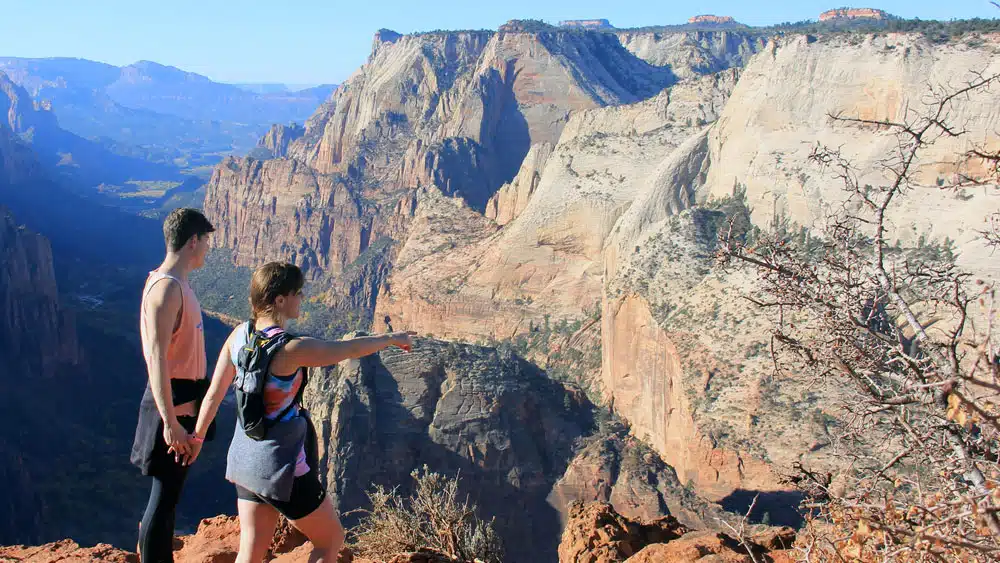 Observation Point may be the most iconic sight in the entirety of Zion National Park, and for the bucket-list adventurer, it's a can't-miss sight. The hike can take up as much time as you'd like, and the access from Zion Ponderosa offers better views immediately along the East Rim, instead of forcing you to climb the steep switchbacks within the park.
Cedar Breaks National Monument
Cedar Breaks National Monument is the crown jewel of the Grand Staircase-Escalante National Monument. Standing at over 10,000 feet above sea level, Cedar Breaks give you a view into a half-mile deep geologic amphitheater. The red cliffs and thick, luscious pines give this area a unique blend of Utah's alpine and desert settings.
It's another popular hiking destination – similar to Bryce Canyon – but the wildflowers are a lesser-known aspect of Cedar Breaks that's worth going to see.
Cedar Breaks also one-ups Bryce Canyon via its designation as an International Dark Sky Park. This is a go-to destination for stargazers, and in the winter the nearby Brian Head Ski Resort provides some of the best skiing in the entire state.
Great fly fishing isn't too far from Cedar Breaks, either. Navajo Lake and Panguitch Reservoir are known for their large trout, and both are set in stunning alpine settings that the whole family will enjoy.
Coral Pink Sand Dunes State Park
If you're looking for some ATV action, you should try the Coral Pink Sand Dunes State Park. As the name suggests, the red sand here takes on a coral pink hue at times, and provide a ton of room for off-highway vehicle recreation. Sand dunes are a popular place to ride dirt bikes and four-wheelers, and each time you visit this state park the experience will be different. Winds will move the sand dunes up to 50 feet in a single year.
While off-highway vehicle recreation is obviously the most popular activity in the park, hiking and sightseeing options are plentiful.
If you visit during winter, you may get lucky and see some of the ponds that the colder weather creates. These ponds are known to support salamanders and toads, so for the wildlife enthusiast, this can be a fun detour to a lesser-crowded area in southern Utah.
Southern Utah is one of the world's gems for adventurers. Whether you're an outdoor enthusiast or simply want to visit an area of the country that's entirely different from anywhere else, Southern Utah has it all.
And when you come visit, you may find your own bucket list differs from ours. Southern Utah holds so many surprises your bucket list may just never end.