Many people coming to stay at Zion Ponderosa Ranch Resort have the opportunity to enjoy the scenic diversity of this region. If you've spent time on our website, you know that our ranch sits right on the border of Zion National Park. The good news is that you don't have to choose between Zion National Park or Bryce Canyon. Bryce Canyon National Park is just 75 minutes from Zion Ponderosa—so it's the perfect half-day or full-day excursion while staying with us.
Differences between Bryce Canyon and Zion National Parks
One of the major differences between Bryce Canyon and Zion is that Bryce is at a much higher elevation—primarily between 8,000 and 9,000 feet in elevation, while the most accessible parts of Zion are within the 4,000 to 6,500 feet elevation range. Anciently, this entire region was once the bottom of a great lake. Zion represents layers of sediment that were deposited in the lake much earlier than Bryce Canyon. The layers of sediment that comprise Bryce Canyon National Park are predominantly limestone, while Zion is mostly sandstone. Visually and geographically, the landscape of each park is completely unique.
Bryce Canyon and Zion Canyon geology
The harder limestone in  Bryce Canyon is eroded by water entering the cracks of the stone and then freezing and breaking. This creates hard chunks, or small boulders, that break and fall away. Zion is eroded in a much smoother fashion by flowing water or by wind. In both cases, it is rare to ever see the erosion effects actually occurring.
Flash floods in Zion National Park offer one time when you can see erosion in full swing.  They happen when rain comes heavily in one area for several hours and the water gathers on Zion's upper reaches and flows into narrow slot canyons. Within a matter of minutes, the quickly accumulating water can rise to levels of over 40 feet insde a slot canyon. Although flash floods are rare, it's definitely one time when you will not want to be nearby. At Bryce Canyon, you'll find that melting snow and heavy rains have less of an immediate impact.
Is Zion National Park or Bryce Canyon better?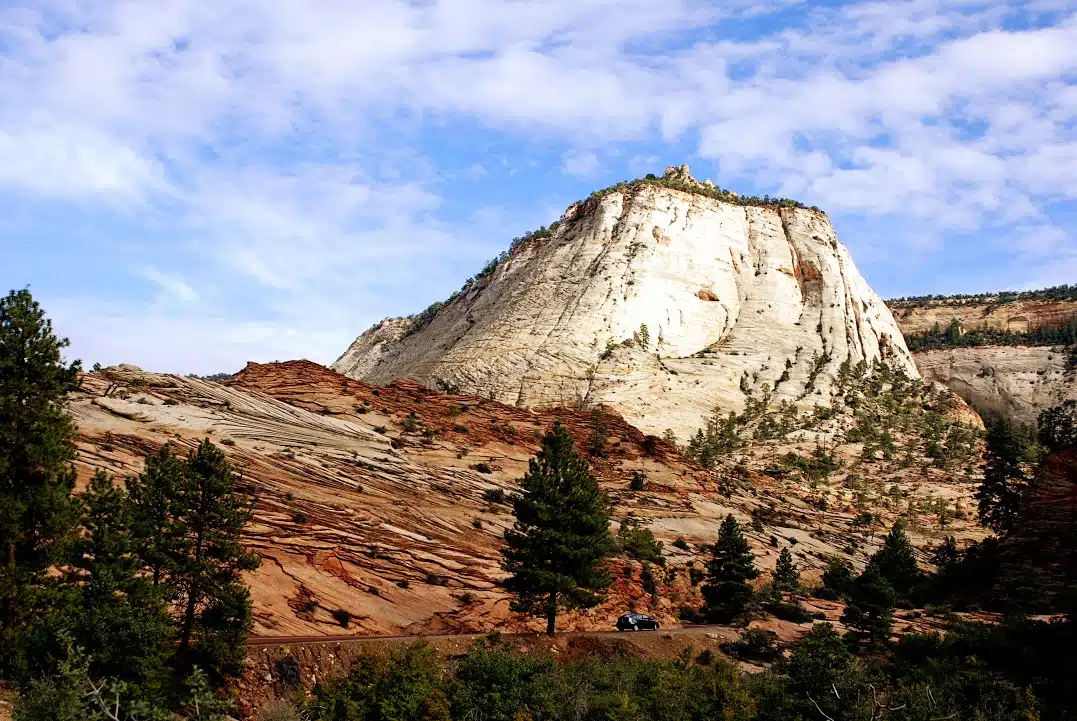 Not better: just different. Bryce Canyon is actually a series of rock amphitheaters on the eastern edge of a large plateau. Visitors can drive along the rim and stop at many points along the 20-mile road that traverses the Bryce Canyon plateau area. You may also walk down inside the amphitheaters among the rock formations called Hoodoos. Wildlife such as deer, porcupines, coyotes, mountain lions (cougars), and many types of birds inhabit this region. It is not uncommon to see mule deer on your visit to Bryce Canyon.
How to get to Bryce Canyon
From Zion Ponderosa, drive about five miles southeast on Northfork Road. Turn left at Highway 9 and follow this 14 miles to Mt. Carmel Junction. Turn left on Highway 89 and go north approximately 35 miles to Scenic Highway 12. Turn right and follow this through Red Canyon and onto the plateau (approximately 10 miles). Turn left at Highway 63 (watch for signs), then head south for two miles to the Bryce Canyon National Park entrance.
Click here for a 5-day itinerary for visiting Zion National Park or Bryce Canyon.