There are a lot of maps of Zion National Park online, but none give you a complete story on how to properly experience the wonders of this area.
Zion National Park offers a rich history filled by ancient native people, Spanish conquistadors and pioneers.  Steep sandstone cliffs tease photographers and avid rock climbers alike with spectacular view of white and red stone against brilliant blue skies.
At Zion, hikers enjoy a wide range of trails.  These hikes can be as serious as battling upstream Zion's Virgin River or as simple as a short walk on a paved trail.  Each new turn offers an array of plants and animals that are just one part of this enchanting landscape.
As a guest of Zion Ponderosa Resort, we want you to have the experience of your life! In order to do so, you need to have an understanding of where everything is at. In this post, we will tell you about some of the best attractions at Zion and how you can get to them.
But first, let's go over a few need-to-know facts about the park.
Things You Should Know
Zion National Park has two entrances – Kolob Canyon and Zion Canyon.  Kolob Canyon is located at the north end of the park; Zion Canyon is located at the south end of the park.
The Zion Canyon entrance is the entrance closest to Zion Ponderosa Ranch Resort.  The Zion Ponderosa Ranch Resort is located just on the other side of Zion National Park through the Zion Canyon entrance.
How to get to Zion Ponderosa Ranch & Resort
While Zion National Park will allow you to drive through the park via UT-9, public vehicles are not allowed to drive directly to most trailheads.  By regulating transportation, Zion National Park is able to better preserve this beautiful park and protect its amazing wildlife.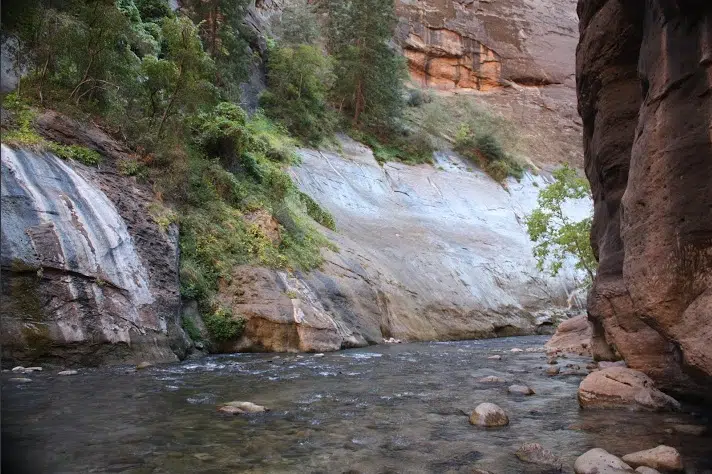 To enjoy the park, visitors staying at Zion Ponderosa Resort will need to park at the Zion Canyon Visitor Center (an immediate right turn after entering the park from the Zion Canyon entrance) or just down the road at the Zion Human History Museum (your first left after you enter the park from the Zion Canyon entrance).
To reach the Zion Canyon Visitor Center from Zion Ponderosa Resort you will need to travel from the east gate entrance of the park and continue on UT-9 until you reach the Zion Canyon entrance.  But don't worry, the drive is short and stunning!
Once you get into Zion, there is no shortage of places to go and sights to see. Below, you can take a look at the Top 10 Most Popular Hikes at Zion National Park, 5 Hikes Off the Beaten Path, Horse Trails, Canyoneering Adventures, and Gear & Guide information.
10 Most Popular Hikes at Zion National Park
 From the East Gate (closest to Zion Ponderosa)
From the Zion Canyon Visitor Center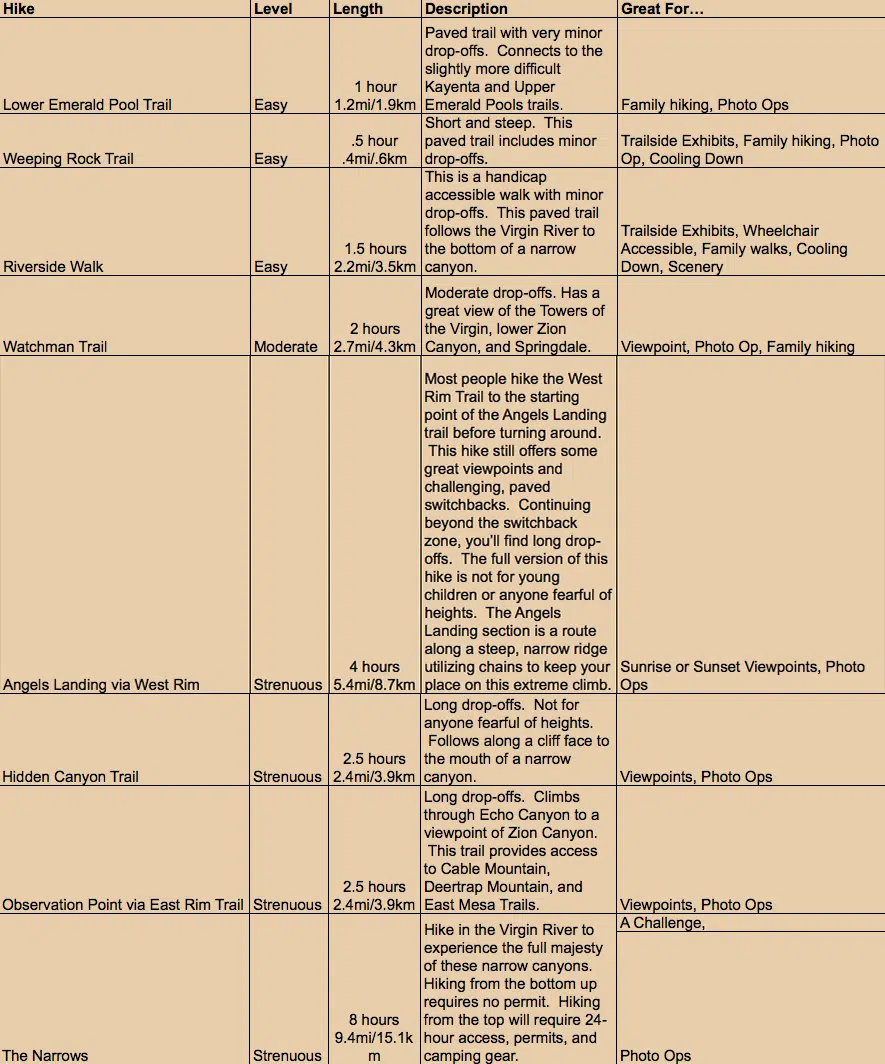 From the Kolob Canyons Visitor Center
5 Hikes Off the Beaten Path at Zion National Park
Horse Trails at Zion National Park
Top Canyoneering Adventures at Zion National Park
Left Fork (The Subway) Top-Down Route
Start at Wildcat Canyon Trailhead for the most difficult canyoneering route or start at Russell Gulch for a slightly technical hike. This route involves several short rappels and several cold swims. It is a 9.5 mile hike that takes between 6 and 10 hours.
The Das Boot Challenge
This half-mile section of the Left Fork (Subway) trail, just upstream from the standard Top-Down Route requires technical canyoneering skills that involve several swims, rappels, down-climbs, and exposure to year-round cold water.  This is not suitable for hikers.
The Hammerhead
This route has six rappels that connect the West Rim trail with the Right Fork.  This climb is a bit wet and very technical.  The Standard route is a 60-foot/20 meter climb.  The Hammerhead route is a 165-foot/50 meter climb.  The Direct route is an 80-foot/25 meter climb.
Guides and Gear
For the adventurous hiker planning to go off the beaten path, gear is essential!  Whether you're planning to hike The Subway or The Narrows, or you want to rent a rappelling harness and take a canyoneering class, these outdoor companies are at your service.
Zion Adventure Company offers Canyoneering and Climbing Courses, private guides, and rental packages for hiking the Zion Narrows.
Zion Outfitter offers bike rentals, river tubing rentals, and gear for hiking the Narrows at Zion.
Conclusion
As Utah's first established national park, Zion hosts nearly 3 million climbers, hikers, backpackers, and campers each year.  Visitors to Zion have a wide range of skills from those who come to relax and take in the views to technical canyoneers and climbers.