At Zion Ponderosa we get visitors from all over the United States! From New York, Virginia and LA, to Provo and Salt Lake City, we've hosted them all!
Our Ranch Resort
has the highest concentration of natural scenic wonders. Combine our scenic wonders with breathtaking views, and several different
fun activities
, and you have yourself the greatest destination for the summer.
Welcome to a great National Park experience!
Take a 360 panorama tour of Zion Ponderosa.
Box on right nav. will expand view to full page.
---
Be Here in Utah Today!
Zion Ponderosa Resort sits at 6,500' above sea level. Our 4,000 acre ranch and resort is part of a large forested plateau that borders the eastern edge of Zion National Park and just a short drive from Bryce Canyon National Park. Click here to see an aerial view of Zion Ponderosa and Zion National Park.
---
3 Hours from Las Vegas, 4.5 hours from Salt Lake City, 1.75 hours from St. George.
---
---
Alternate southern route around Zion National Park. Good for after hours travel for RV's, or for those who wish to circumvent the park.
An alternate southern route around Zion National Park. Suitable for after-hours travel for RVs or those who wish to circumvent the park.
Passing through Zion Tunnel: When traveling from Springdale to Zion Ponderosa, through the park, anticipate daytime waits to go through the mile-long tunnel.
Alternate Route: There is an option of traveling a southern route through and area called Kane Beds, or through Kanab, Utah, which routes you around Springdale and Zion National Park, rather than going through.
> > (View longer route through Kanab)
> > (View shorter route through Kane Beds)
See our directions section below for other route information.
Zion National Park and Bryce Canyon National Park
are located in the Western United States, in the southwest part of the state of Utah. Zion National Park is Utah's oldest national park and one of the most popular parks in the country. The red and white sandstone formations within Zion National Park stretch thousands of feet above the valley floor and offer magnificent views. It's no mistake that Zion Ponderosa Ranch Resort is located amidst America's highest concentration of natural scenic wonders.
Bryce Canyon (75 minutes)
Cedar Breaks National Monument (65 minutes)
Coral Pink Sand Dunes (25 minutes)
Grand Canyon North Rim (2 hours)
Grand Staircase National Monument (20 minutes)
Lake Powell (1 hour, 45 minutes)
Pipe Spring National Monument (45 minutes)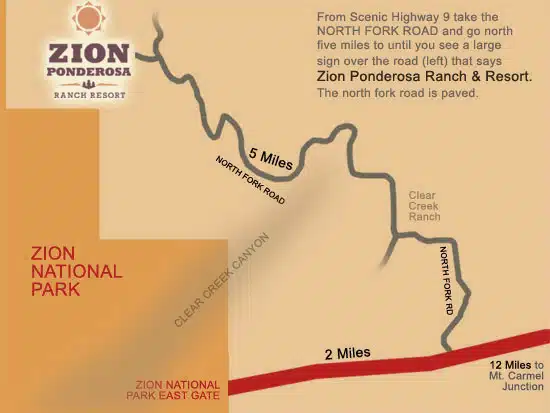 Property Map - close-up view of main lodging and activity areas.
GPS - Please note that we are located near the border of Zion National Park, but our mailing address is a P.O. Box in Orderville, Utah which is several miles away. However, for your vehicle or personal GPS - entering the following address should provide a correct destination point:
"Twin Knolls Rd, Orderville, UT 84758"
Please note that the North Fork road that leads to our location is a fine paved road, and we are blessed to be in a pristine and somewhat remote area.
GPS Coordinates for the Ranch - N 37 16.271 W 112 52.532