"I have traveled to over 40 countries…and this was by far
the best trip I have been on." 

* * *

"The most beautiful and spiritually renewing setting."

* * *

 "I would recommend Zion Ponderosa Ranch Resort to anyone looking for adventure and self awareness. One of my best experiences ever!"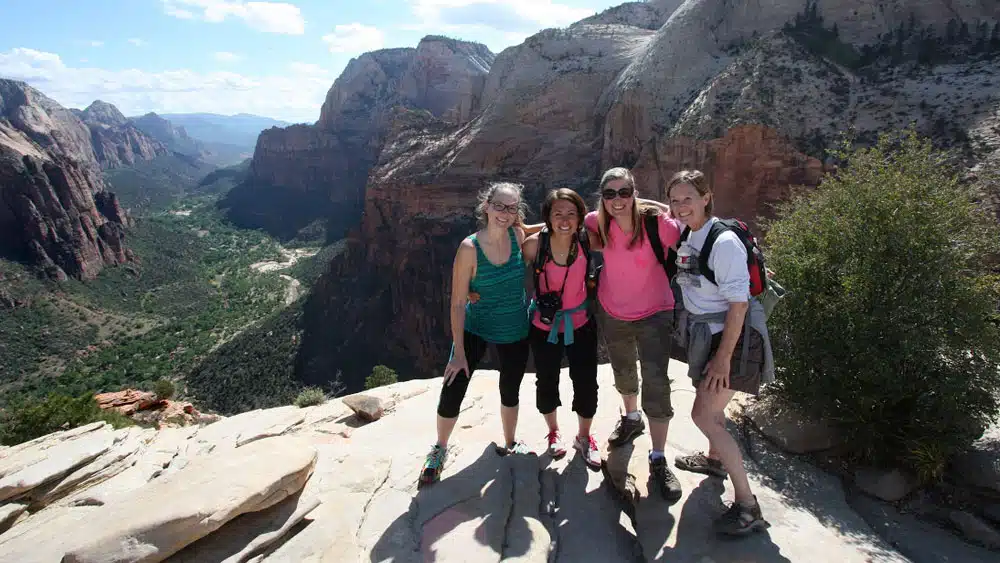 Welcome to Zion Ponderosa's Women's Adventure Retreat, an active, outdoor adventure bordering Utah's Zion National Park. Guests loved this life-impacting adventure retreat so much this past spring that we're bringing it back this fall! The fall Women's Adventure Retreat will take place October 4-10, 2015.
Surround yourself with the tranquility of Zion while experiencing the adventure of a lifetime at Utah's premier destination for outdoor adventure. Here on Zion Ponderosa's 4,000 private acres, you'll be surrounded by the grandeur and excitement of the eastern edge of Zion while you experience happiness, health and wellness, increase your motivation—and maybe even try some adventures you never thought you would!
* * *
"I had so many opportunities to try activities that I had never tried before…
and the location near the beauty of Zion National Park made this retreat one of the best and most unforgettable vacations I've ever had!"
* * *
The Women's Adventure Retreat is jam-packed with jaw-dropping adventures, beginning with a scenic helicopter tour overlooking Zion National Park. Guests can experience a guided canyoneering adventure into one of Zion's beautiful slot canyons, race across our forested grounds on a thrilling Jeep or ATV adventure, and take a guided horseback ride across our private ranch resort, and even choose to start each day with a breathtakingly beautiful hike. Each day's schedule is centered around a different adventure but flexible and catered to your skill level so you can enjoy your retreat any way you choose.
* * *

"This place and my week here were literally a dream come true. I re-found my zest for life and found myself again."

* * *
Adventure Retreat guests come from around the world! This past spring, women traveled from Utah, Arizona, California, New York, Tennessee, Maryland, Oregon and as far away as Australia. Group sizes aren't too large, so you can really spend some time bonding whether you come with friends and family or on your own.
When asked if there was anything we could do to improve the retreat, one recent guest said:
"Make the length of the retreat longer.
Might I suggest a length of FOREVER." 🙂
 * * *
While we can't make the Women's Adventure Retreat last forever, we can promise you this:
"This is one of those trips that you'll remember the rest of your life!"
 * * *
Click here to book your October 2015 Women's Adventure Retreat!