Whether you're in charge of planning a fun family get-together for Thanksgiving or you want to surprise your special someone with a trip to one of the world's most scenic parks as a Christmas gift, the grandeur of Zion National Park in the winter is nearly impossible to beat.  
When you couple that with the amenities provided and celebrations hosted here at Zion Ponderosa, you have the perfect holiday destination.
But don't just take our word for it. Instead, look at the various deals and activities offered during winter in Zion.
Annual Thanksgiving Feast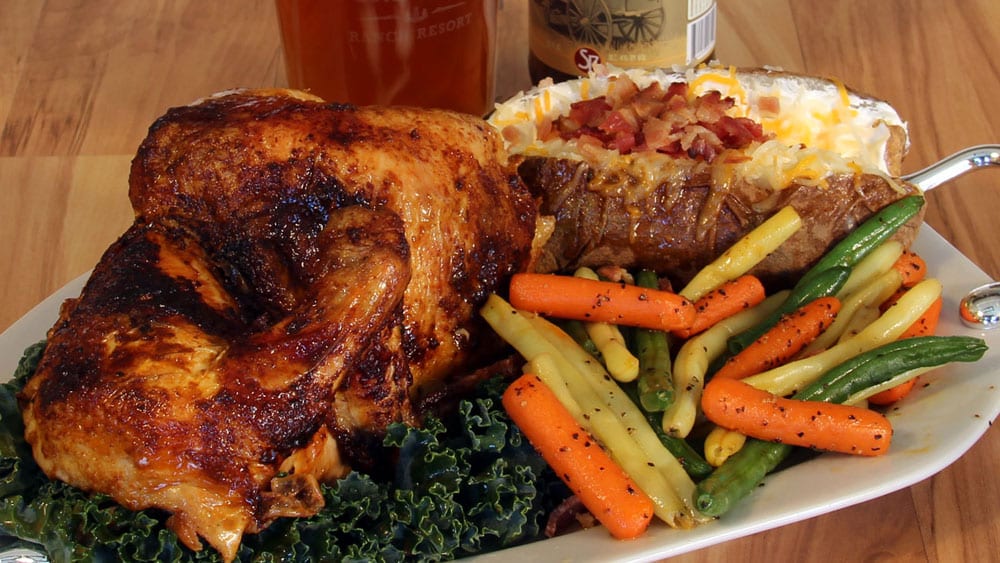 The holiday season here at Zion Ponderosa kicks off with our annual Thanksgiving Feast on Thursday, November 24th. With dinners starting at 1, 3, and 5pm, it's not hard to find a time that'll accommodate your family.
The stand-out feature of this feast is the menu. Our world-class chef spares no expense in preparing the turkey, au jus prime rib, and glazed spiral ham. You can top off that succulent meat with all the traditional Thanksgiving sides like rolls, mashed potatoes and gravy, and wild rice stuffing.
The best part is that you don't have to lift a finger to cook or serve food; it's all done for you so you can kick back, enjoy the food, and spend more quality time with friends and family.
The entire menu can be viewed here, and you'll want to call 435-648-2700 to reserve seats now.
Incredible Deals on Lodging
Lodging near Zion National Park is always in high demand during the peak season, which is understandable. That's also a great reason to plan your travel to Zion for the winter season. Instead of just looking for a room that's available, you'll have your pick of places to stay — at rates that just can't be beat.
Our luxury vacation homes make for an incredible vacation experience any time of the year, but there's something extra-special about warming up next to a fire after a day of snowshoeing the East Rim or watching the wildlife make its way through the snow-dusted landscape. You won't have to break the bank for this experience either, since you get 2 nights at our offseason rate with a 3rd night at 50% off.
A deal like that will make a great stocking stuffer for your significant other and give the two of you some much-needed alone time. You can see the rest of the off-season deals we offer here.
A Zion Most Visitors Don't See
The weather in Zion National Park is known for being quick to change and hard to predict. That wild, untamed nature of the area is part of Zion's allure, but peak-season weather doesn't deliver what winter does.
When you travel to Zion in the winter you get to see a side of the park most visitors never glimpse. The contrast of the white snow against the red rocks of the canyon is majestic enough to take anyone's breath away.
And you get to see it all from the comfort of your own car. During the winter, you can drive the roads inside the park that are reserved for shuttle buses during the warmer months of the year. You'll likely be one of a few — if not the only — cars in the park.
In addition to the scenic drive, many hiking trails are open in the winter. The Watchman trail is a popular winter one, and even Angel's Landing is open. However, a lot of trails can be icy so you'll want to check the weather and watch where you step before spending a crisp day enjoying winter in the desert.
Winter in Zion is an experience you'll never forget. Whether you're celebrating the holidays with family or friends, you'll have the your lives in one of the most scenic places on Earth.