Zion National Park attracts three million visitors each year, but when winter weather rolls through, you'd hardly know that Zion is Utah's most popular national park. Winter in Zion National Park is mild, with daytime temperatures reaching 50° on average throughout December, January, and February. Night temperatures drop to 25°, but finding indoor housing can allow park visitors to experience the beauty and solitude of Zion during the day, without the crowds and heat of peak summer season. Zion offers fresh air, scenery, and exciting outdoor adventures, creating the perfect escape from the winter blues. Here are five enjoyable activities to do in Zion National Park during the winter months.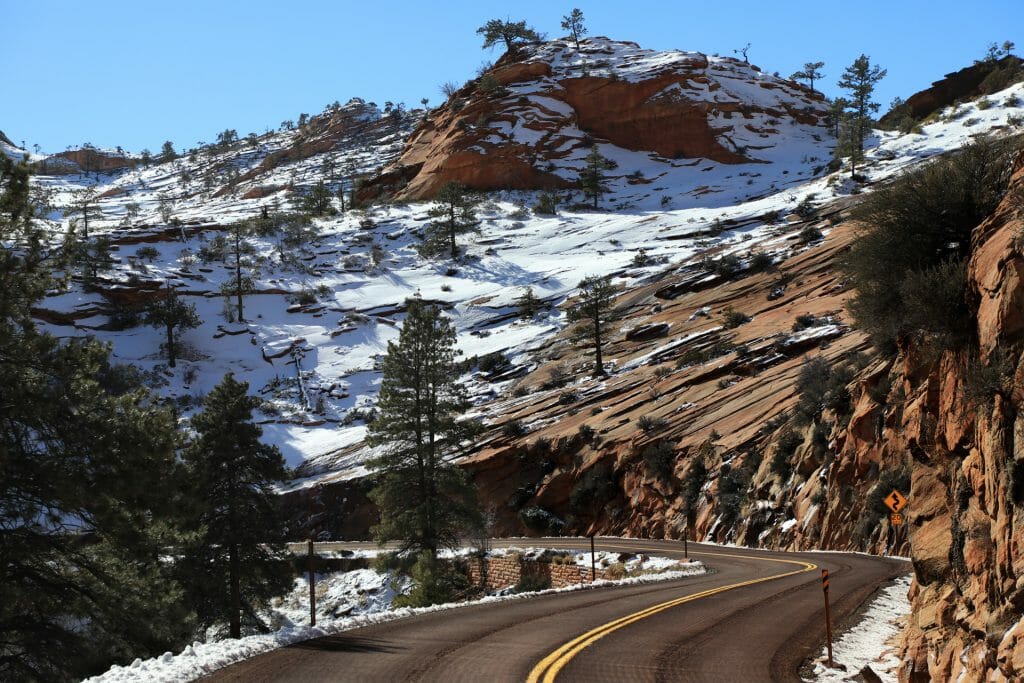 1. Scenic Drive
During the height of tourist season, shuttle buses must take visitors into Zion's main canyon, stopping at main sites and trailheads along the way. December, January, and February, however, fall within the months that shuttles aren't required to enjoy a scenic drive through Zion Canyon. This means you can take a memorable drive, at greater convenience, and from the comfort of your own vehicle. The 6.5-mile scenic drive runs along the Virgin River and features stunning views of the canyon and famous Zion rock formations. Be sure to stop at designated stops along the way to take short hikes and pictures.
2. Hiking in Zion

Winter hikes in Utah are incredible, making it arguably the best time to spend hiking in Zion. You can drive your car right to the trailheads, and on many days you'll have entire sections of the canyon to yourself.
Most trails in Zion Canyon remain open during winter but some trails, such as Weeping Rock, Emerald Pools, Riverside Walk, and Angels Landing, may have areas that see little sun so be wary of icy patches. You may find snow and ice accumulation on trails as you head out of the canyon, so traction aides are recommended. East Rim to Cable Mountain is only recommended for experienced snow hikers.
You also shouldn't overlook canyoneering opportunities within Zion. Our guides take clients on these technical hikes through November, and it's a great time to learn the ropes, so to speak. You'll get the benefit of a much emptier canyon, a leisurely pace, and more opportunity to ask questions if it's your first time canyoneering. If you're a seasoned veteran, it's still worth a trip through some of the canyons — winter tends to bring out aspects of the landscape that just can't be captured during any other season.
Lastly, to ensure that you have the best hiking experience possible, make sure you have the right clothing and gear for Zion in the Winter. The weather can be just as unpredictable in December, January, and February, as it is during the summer, so wearing layers and packing extra clothes is always recommended. It wouldn't hurt to add an overnight survival kit either, just in case.
3. Hike, cross-country ski, or snowshoe to Observation Point

From inside Zion National Park, the East Rim Trail to Observation Point can be icy, so hiking, cross country skiing, or snowshoeing across Zion Ponderosa's forested plateau is a good idea if you're hoping to reach one of the most beautiful views in all of Utah. This should definitely be on your list of things to do at Zion in winter.
This view alone is enough to earn Zion a place in the "best national parks to visit during the winter."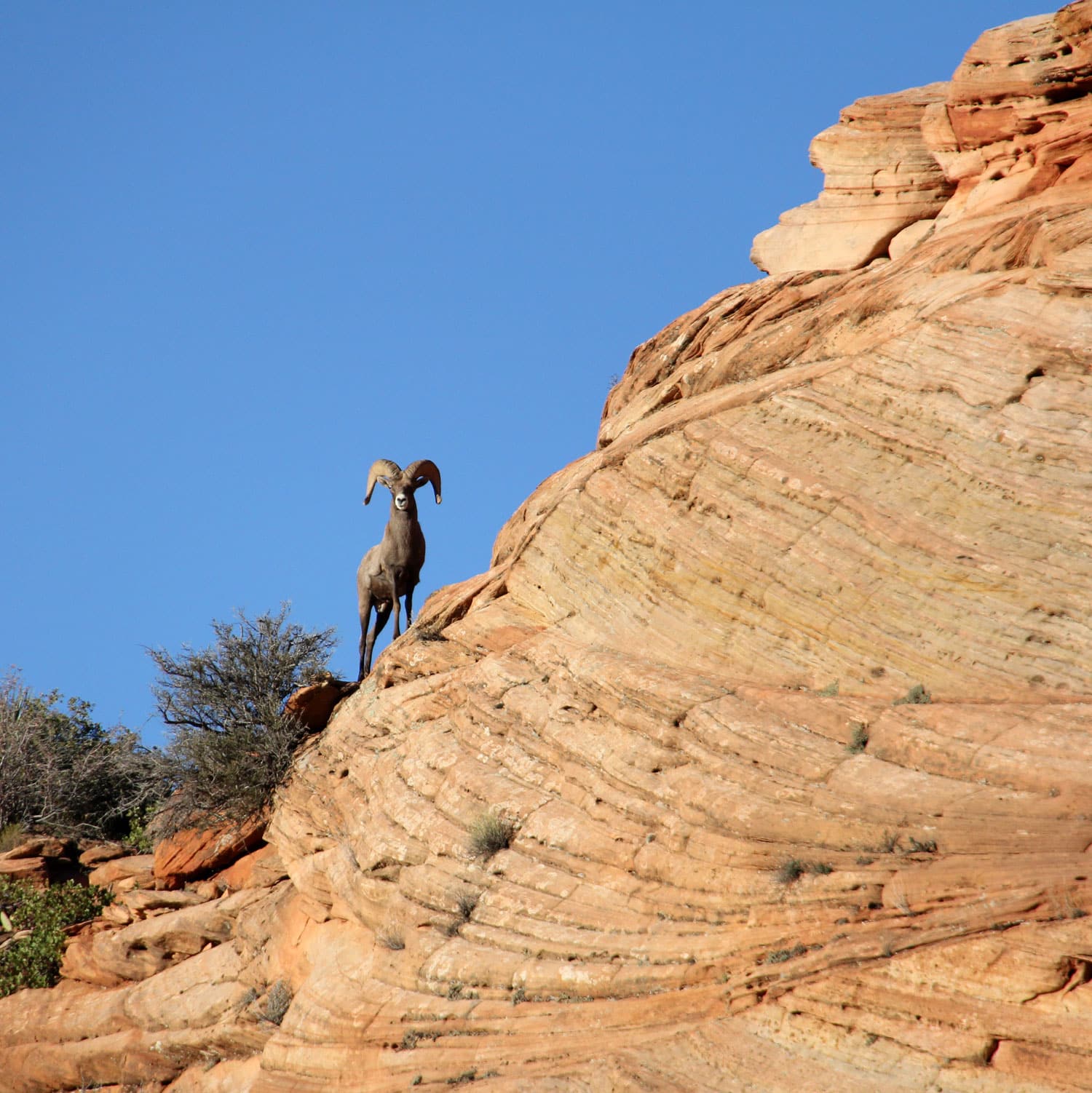 4. Wildlife Viewing

Winter is a great time of year to catch a glimpse of wild turkeys roaming around Zion National Park, and Bald or Golden eagles soaring overhead. While some of the smaller mammals will be hibernating in this season, you're likely to still see large animals such as deer, elk, and Bighorn sheep. Those aren't the only animals that call Zion National Park home either— Zion wildlife includes 8 species of mammals, 291 species of birds, 44 species of reptiles and amphibians, and 8 species of fish.
5.  Photography

Photography should definitely be on your list of things to do in Zion National Park. Photographers claim the upper elevations on the east side of Zion are a dreamscape  when the red rock is blanketed beneath brilliant white snow. Zion Canyon, on the other hand, experiences milder weather at lower elevations so the winterscape is quite different. But that's not to say the landscape isn't magical: water levels in the Virgin River are higher during this time, mist swirls around waterfalls, and snow–capped peaks contrast with Zion's beautiful red rock.
Zion Ponderosa makes your winter adventure easy
Winter is a wonderland-ful time to visit Zion National Park. The myriad of adventures, ease of finding places to stay near Zion, and great off-season rates make December, January, and February the perfect time to go on your winter adventure. Whether you're a serial adrenaline junkie, or simply want to get outdoors during a less-crowded time of year, a trip to Zion National Park can make that happen. Plus, there's no better way to end your perfect park day than getting cozy in one of Zion Ponderosa's beautiful Zion vacation homes or cabin suites, the perfect homebase for the entirety of your winter stay. These housing options are available all winter long so contact Zion Ponderosa to start planning your trip today!