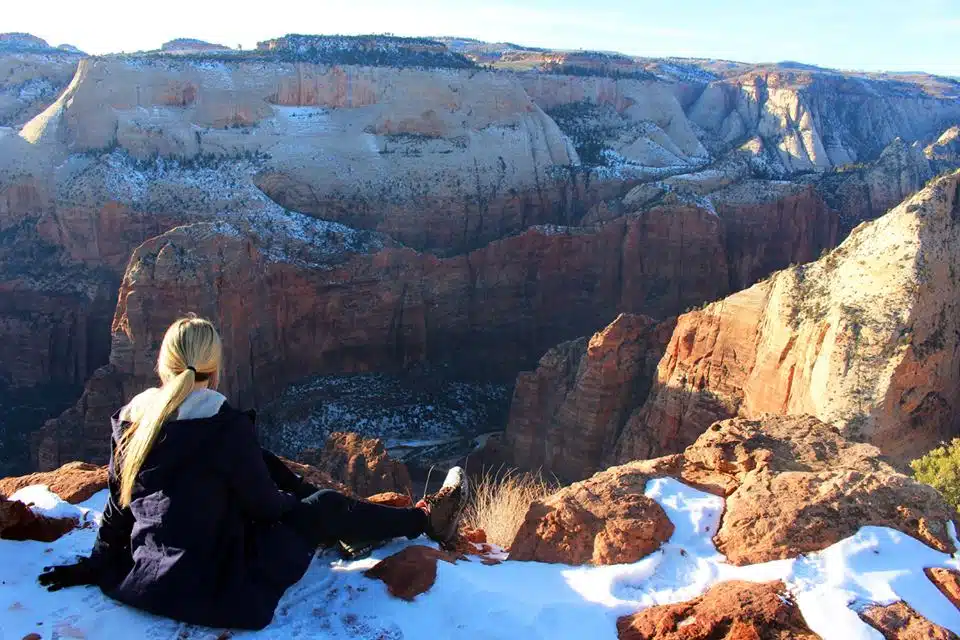 Visiting Zion National Park in winter is almost like visiting an entirely new park. The summer crowds and heat are gone, replaced by a comforting silence and the stunning contrast of white snow and red rocks.
If you're not prepared for winter in Zion, however, your trip won't be as comfortable as it could be. With elevation ranging from just under 4,000' to well over 8,700', you need the right gear to tackle the variable weather conditions.
With that in mind, let's look at what you'll need for the best winter experience in Zion.
Layered Clothing
Image from basecampadventure.com
With exposure to wind, sun, and the chance of rain or snow, it is always good to bring along some layers of clothing that can be easily added or removed. The right kind of clothing for Zion in the cold season includes long sleeve shirts, and zippered leg-pants that turn long pants into shorts, or vice-versa. If you intend to be in the water (slot canyons) it is wise to put some articles of clothing in water-proof or zip-lock bags so you'll have some dry clothing.
Rain and Wind Protection
Image from Patagonia.com
Zion in December – or any winter month is almost always going to be cold and wet. It is wise to include an inexpensive rain poncho, and an emergency reflective foil blanket, as these items are small, light, and always easy to include in a small backpack or waist pack.  These items can be converted into a crude shelter if needed.
Broad-Brimmed Hat
Image from brandedaustralia.com.au
No matter the time of year a hat is always a good item to have along since the skies over Zion are mostly clear, and sun exposure should be anticipated. It's always wise to include sunscreen for any other parts of your body that will get too much sun exposure.
Water
Even during a harsh Zion winter, you still need a good deal of water throughout the day. In summer months it is wise to plan on approximately ½ a liter of water for each hour, and depending on your level of exertion you may wish to have more. Water filtration bottles are easy to carry and not a bad idea for emergency situations.
Insulation
Image from thenorthface.com
If you intend to go into one of the Zion area slot canyons where you'll be in and out of water, then you'll want to make sure you're prepared for water temperatures and sun-shaded canyons. In non-summer months water and air temperatures can be quite cool and you'll need insulation for your feet, and/or your whole body (wet or dry-suit).
Emergency Kit
Image from amazon.com
At the end of your winter adventure in Zion, don't head home or to a motel; instead, warm up in a vacation home or cabin situated right outside the park. You'll still have the sweeping views and quiet solace without leaving the serenity that a place like Zion offers in the winter.