There is nothing so dramatically beautiful as Zion National Park's ephemeral waterfalls during a rainstorm. This year's rare and persistent early spring rains have created an oasis of some of the most stunning and abundant waterfalls we've ever seen flowing in Zion. Because of the unusually high water levels from rainstorms and snow melts, we expect some of these usually fleeting waterfalls will continue to flow, even when it's not raining.
When it rains in Zion, it pours…
Eroded and shaped by the constant effects of water moving over the soft sandstone formations, heavy spring rain and snow run-off create opportunities to view some magnificent waterfalls within the park. As the rain falls, especially during a powerful rainstorm, the water quickly fills the upper plateau and cascades down every crevice of the canyon, creating dozens of magnificent waterfalls.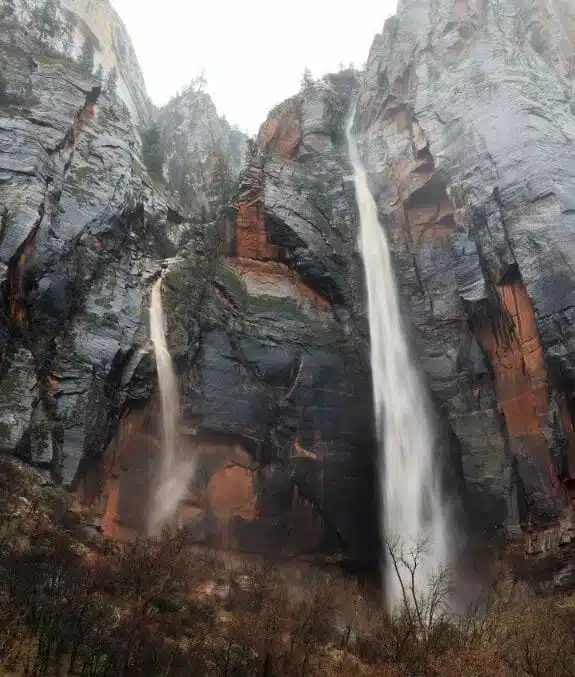 Where to see waterfalls in Zion
The short stroll to Weeping Rock leads to a bowl-shaped alcove where the lower layer of sandstone has eroded away. The impermeable rock layer creates a "weeping" wall and lush hanging gardens. The weeping walls often have a soft mist, but during Zion spring rains, the waterfall is even more magnificent.
Emerald Pools has three sections: Lower, Middle and Upper. The trail to Lower Pools is just a half-mile along a paved trail, and leads to a waterfall of varying intensity, from a misty trickle to a cascading flow, depending on the season and current rainfall. At Middle Pool, the waterfall feeds Lower Emerald Pool. After another three miles up a 200-foot elevation gain, hikers arrive at Upper Emerald Pool, where an 800-foot waterfall is the star of the show. (Proceed with caution during wet weather.)
The Temple of Sinawava, the trail that leads to the famed Zion Narrows, is typically dry, except when it rains. Thanks to the abundant southern Utah rain this spring, this waterfall was flowing powerfully over the rain-slicked red sandstone cliff in a spectacular greeting. There are also several falls within The Narrows, including Mystery Falls, but visitors should avoid this Virgin River hike during and after rainstorms due to flash flooding.
Did you know you can also see waterfalls at Zion Ponderosa? Spring rains created this lovely flowing waterfall at Jolley Gulch, with magnificent views of Checkerboard Mesa and into Zion National Park.
Staying Safe in Zion During Rainstorms
Flash flooding is a rare occurrence but one that you don't want to witness from the bottom of a slot canyon. During rainstorms or extreme snowmelt, water gathers rapidly inside slot canyons, without any outlet other than rushing through the canyon. On rainy days, be sure to stay out of slot canyons. It's always wise to check with park rangers or Zion Ponderosa guides when planning spring hikes in Zion.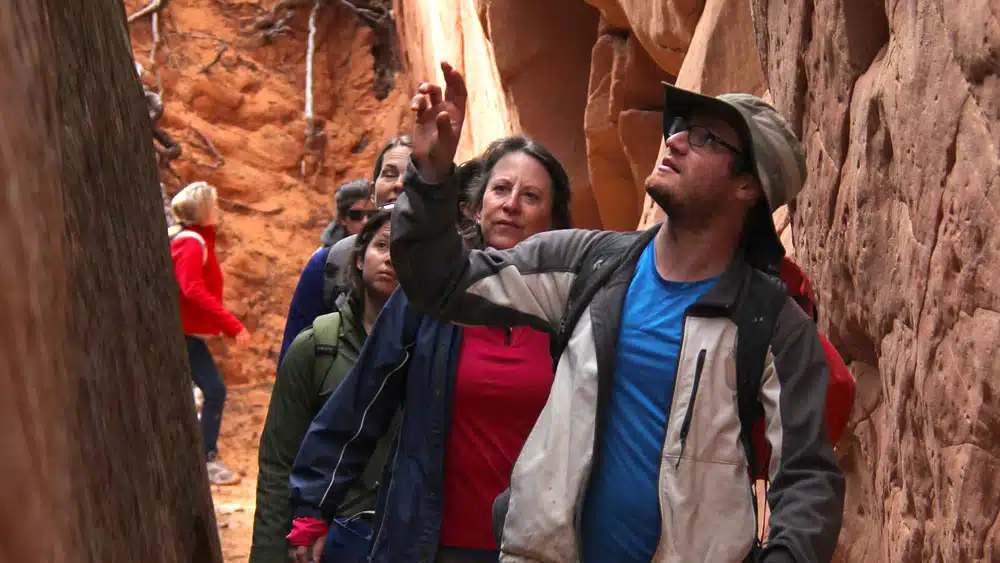 Guided slot canyon trips
Stay at Zion Ponderosa and see the waterfalls in Zion. Zion Ponderosa Ranch Resort's sister company, East Zion Adventures, offers guided canyoneering adventures into area slot canyons. Expert guides, trained in wilderness and first aid measures, can lead guests safely on guided hikes.