---
---
SPECIAL - LIMITED TIME OFFER


GUIDED ANGELS LANDING HIKE
---
---
BOOK ANGELS LANDING GUIDED HIKE
---
---
Zion National Park Hiking Shuttles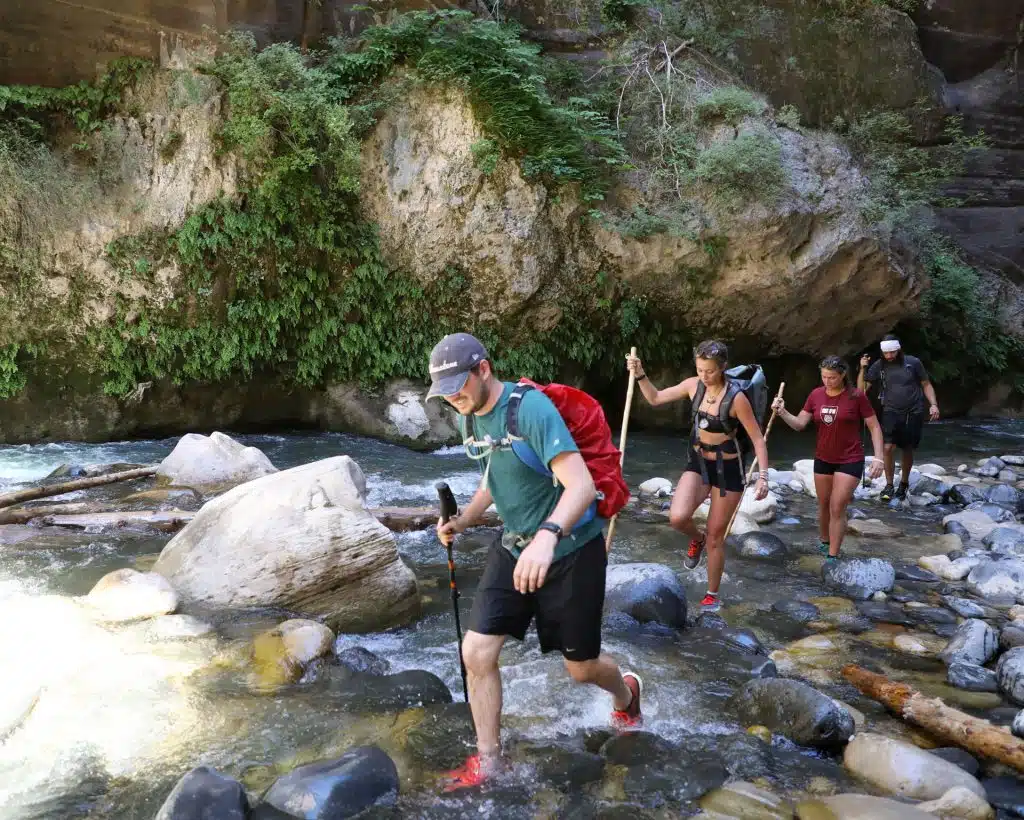 Zion National Park - Main Canyon Shuttle
(two options)

:
---
---
---
1- Take a shuttle from Zion Ponderosa to connect with the main canyon shuttle, as provided by our sister company East Zion Adventures (fee).  Please note that shuttle drop-off and pick-up services must be scheduled in advance.


2- Drive your vehicle to Springdale

or

the Zion National Park visitor center and board the main canyon shuttle - (more info.)
Hiking Shuttles to Trailheads from Zion Ponderosa
Trails Accessed from Zion Ponderosa (Self-Guided): 
We share several miles of common fence with Zion Park. We have a daily hiking shuttle (fee-based) that departs Zion Ponderosa and drops you off at the trailhead of your choice. Choose from these Zion hikes that begin on our property...
Observation Point
Cable Mountain
Deer-Trap Mountain
Echo Canyon,
East Rim Trail
Orderville Gulch
We can also arrange to pick you up and bring you back to Zion Ponderosa. For the Zion National Park hikes that go into Zion, we will pick you up at a scheduled location.
---
BOOK A SHUTTLE
---
---
Guided Zion National Park Hikes
---
---
Sunset Guided Hike
This is a very popular guided experience at Zion Ponderosa Ranch Resort and provided through East Zion Adventures and is available to all visitors to the Zion National Park region.
We'll transport you just four miles on Zion Ponderosa back-roads to a point on the boundary of Zion National Park. From here you'll walk a leisurely and very scenic half-mile to an overlook of some of the most majestic back-canyons within Zion National Park. We'll talk about the terrain, and the surrounding region as we await the sunset of the day. After sunset we'll return the way we came. It's a very comfortable experience for guests of all ages, and is rated "easy". Our guests love this adventure.
---
BOOK A GUIDED HIKING ADVENTURE
---
---
---
---
---
---
---
BOOK NOW
---
Option A: Rated Easy. This is one of our guest's favorite Zion National Park activities. We'll transport you via Jeep or a multi-seat side-by-side UTV into the backcountry and to the mouth of a dramatic slot canyon. From here you walk up inside the slot canyon to explore the convoluted recesses of the uniquely carved narrow formations. At some points you'll be touching both sides of these vertical slot canyon walls with both of your hands as you steady yourself to gaze upward. This is an experience for guests of all ages.
Option B: Rated Moderate to Challenging. There is also an option to travel via Jeep or UTV to a longer slot canyon which is frequently also known to have pools of water within the canyon. You'll experience the adventure of scrambling over boulders, climbing up short ascents with the assistance of your guide. Depending on whether there is water in the canyon we may encourage you to also wear waist-high wetsuits, which we will provide. These adventures will "knock your socks off".
Option C: Rated Challenging. Jeep, Hike, and Rappel into a slot canyon adventure all wrapped into one great experience.



Learn more about canyoneering near Zion National Park
---
---
---
Unguided Zion National Park Hikes
Zion trails located on Zion Ponderosa property, or trail access from Zion Ponderosa.
---
Checkerboard Rim Trail & Overlook
This is a great loop trail that leads to a fantastic view down Jolley Gulch toward Checkerboard Mesa within Zion National Park. This Zion hike may be accessed at multiple points on Zion Ponderosa property and, depending on the access point, is between 1.5 and 3 miles in length. This is a trail we have created and is free access to all of our guests. >> View our Checkerboard Rim Trail map <<
---
---
---
---
Observation Point
This Zion hike is currently only accessible from Zion Ponderosa Ranch Resort property. We offer parking and shuttles from our main lodge/recreation barn area to the trailhead (3 miles by van). The trail itself is approximately 6.25 miles (roundtrip) and leads to the best view of the main Zion Canyon. From this point you will actually be over 750' above Angels Landing. The trail leads across the plateau for approximately 2 miles and then descends an estimated 500' to the point. Remember that you'll need to ascend this section on your return trip. See our notes below (on this page) about preparation for any hike.
---
---
Zion National Park Hikes

Walking / Hiking Trails within Utah's Zion National Park
• Canyon Overlook
• Court of the Patriarchs
• Emerald Pools - Lower, Middle, & Upper
• Grotto Trail
• Kayenta
• Narrows to Orderville Canyon
• Pa'rus
• Riverside Walk (Paved Portion)
• Sandbench (November – March)
• Timber Creek
• Watchman
• Weeping Rock Trail
• Weeping Rock (T.H. to mouth Echo Can.)
• Weeping Rock (T.H. to mouth Hidden Can.)
• Weeping Rock (T.H. to Observation Point)
• West Rim from Scouts Lookout
• West Rim to Angels Landing
Note: T.H. stands for Trail Head.
What Our Guests Say: "Just got back from our trip and wanted to let you know that we absolutely LOVED our day hiking... It was my first time doing anything like this!"
- Claudia - Miami, FL
---
---
---
Zion Hiking Preparation & Safety
Don't forget to bring sturdy walking shoes, lots of water, snacks, sunscreen, a hat, a camera, and a swimsuit (if desired). Remember that Zion National Park hikes are primarily located in an arid desert climate, so do everything you can to minimize the risk of dehydration and/or heatstroke by coming prepared. Stay on paths and don't venture off-trail where soils or vegetation may be damaged. Your guide will provide additional information about how to protect the resources within the park. Much of the rock in Zion is sandstone which is often brittle or loose, and visitors should move carefully on Zion trails or areas that are made of stone.
During spring, fall and winter, remember to wear layers and bring warm, waterproof clothing for a more desirable trip. For hikes in water, we rent a gear package that includes neoprene socks, waterproof shoes, and a hiking stick, and this will greatly enhance your experience! When it rains in Zion National Park the water can accumulate rapidly in slot canyons, washes, and other natural water flow areas. Flash floods are possible, and visitors should avoid going into, or near, any area where a flood may occur. If you have received a pass to the national park, make sure to let your guide know.
---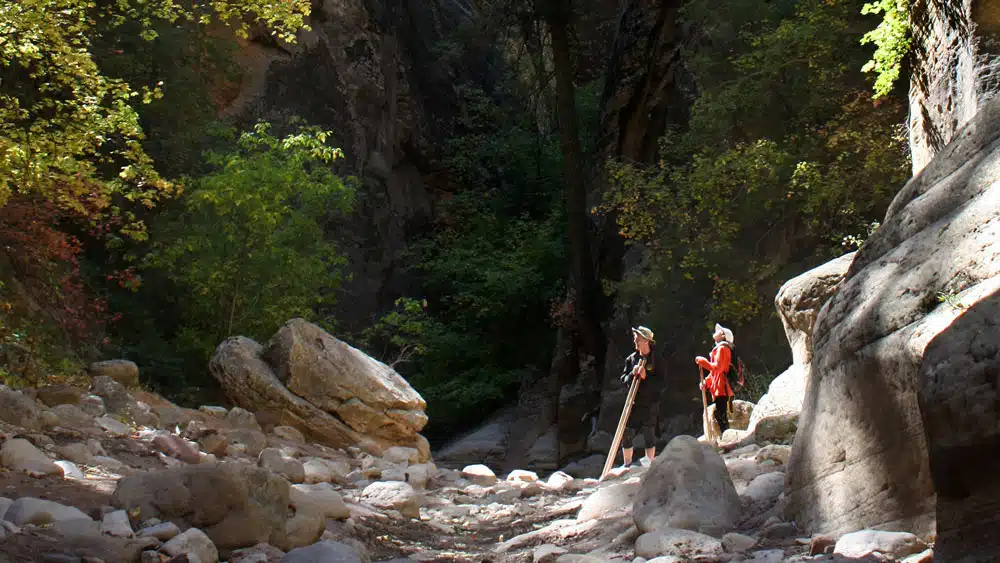 So what are you waiting for? If you're looking for some fun Zion National Park activities, look no further than Zion Ponderosa. Contact us today to learn more about all of our Zion National Park activities and book your trip today!
---
Contact Us!