Around here, the air is fresh, the sky is blue, the lifestyle is healthy, and the excitement never ends. For the past 25 years, Zion Ponderosa Ranch Resort has been hosting exhilarating outdoor vacation getaways in the wide-open spaces, beneath clear, beautiful skies. There's never been a better time to take a road trip to the great outdoors. 
It's amazing how healing nature can be for the soul. Avoiding crowds doesn't mean going stir crazy — it means being smart about how you choose to travel. The fresh air of the great outdoors has never been so appealing – and we're here to help you save your vacation and maximize your Zion park experience.

Experience the Quiet Side of Zion
Here at Zion Ponderosa, on the east side of the park, you'll find 4,000 private acres with plenty of opportunities for hiking, adventure and getting away from it all. If you're headed here from Las Vegas, Salt Lake City, or even southern California, you can be here today.
Once you arrive, take advantage of the solitude and explore East Zion's hidden gems and best-kept secrets. In some areas, it may even seem like you have Zion all to yourself. This lesser-visited side of the park allows you to avoid the crowded shuttles, go at your own pace and explore the east side of Zion from the privacy of your own vehicle. It's what road trips are all about. 
See Zion From A New Perspective
The scenic Zion-Mt. Carmel Highway winds through Upper East Zion's incredible landscape, leading to several pullouts that offer breathtaking views of sandstone canyons and slickrock formations. Here you'll find Checkerboard Mesa, one of Zion's most iconic sights with its distinctive cross-hatching. Keep an eye out for baby bighorn sheep frolicking around the base in spring and summer.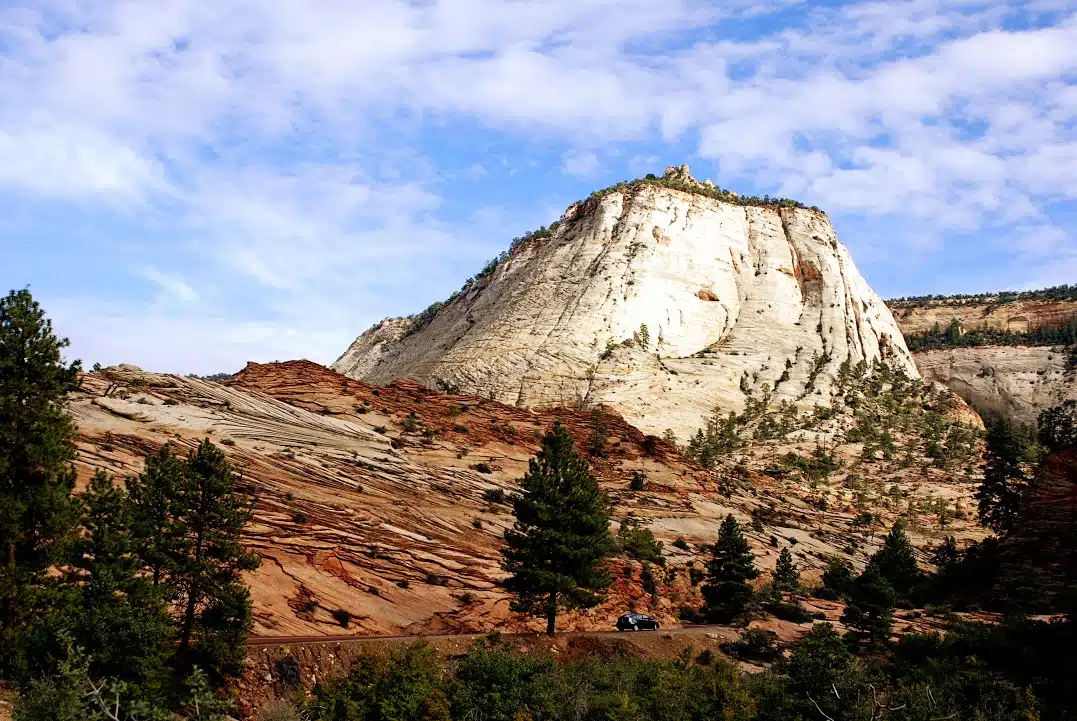 Hike the Trails Less Traveled
Canyon Overlook Trail is one of the prettiest, and often overlooked, hikes on Zion's east side. Beginning just east of the Zion-Mt. Carmel Tunnel, this short, easy hike ends with spectacular views of Zion Canyon, Pine Creek and the switchbacks of the Zion-Mt.Carmel Highway. It's a beautiful spot to enjoy a sunset.
From Zion Ponderosa property, you can access world-class Zion National Park hikes to Observation Point, Cable Mountain, Deer Trap and all of the best-kept secret areas of the upper section of the park. With many East Rim trails closed inside Zion National Park, hiking across Zion Ponderosa is a great opportunity to gain a new perspective. Less experienced hikers can look to East Zion Adventures for safe, guided hiking.

Things to do at Zion Ponderosa
If you're looking for a little social distancing, you've come to the right place. We've even enabled text messaging for your ultimate convenience. Need an extra pillow, want to book a private Jeep tour, or order from our menu? Just text us! You can pick up your meals to enjoy al fresco outside your cabin, or we'll even deliver them to the front door of your vacation home. 
As one of the top adventure resorts in the U.S., Zion Ponderosa offers plenty of activities for travelers who love the great outdoors. From guided canyoneering to open-air Jeep tours and horseback riding, you're guaranteed to find an outdoor adventure to get away from it all.
In between adventures, guests can enjoy outdoor recreation such as zip-lining, rappelling practice on the 40-foot climbing wall or bouncing on the bungee trampoline. Indulge in a friendly game of mini golf, tennis or pickleball, kayak or paddleboard across the blue waters of our manmade pond, or take a refreshing dip in the pool and hot tub. Even dinner can turn into an adventure with a summer evening open-air Dutch Oven Wagon Ride. Find out what we're doing to make the health and well-being of our visitors a priority.  
Zion National Park is Just the Beginning
Sure, Zion National Park has been at the top of your bucket list for ages. Or maybe you've been here a dozen times and can never get enough. We encourage everyone to stay informed by checking the Zion National Park website for current conditions.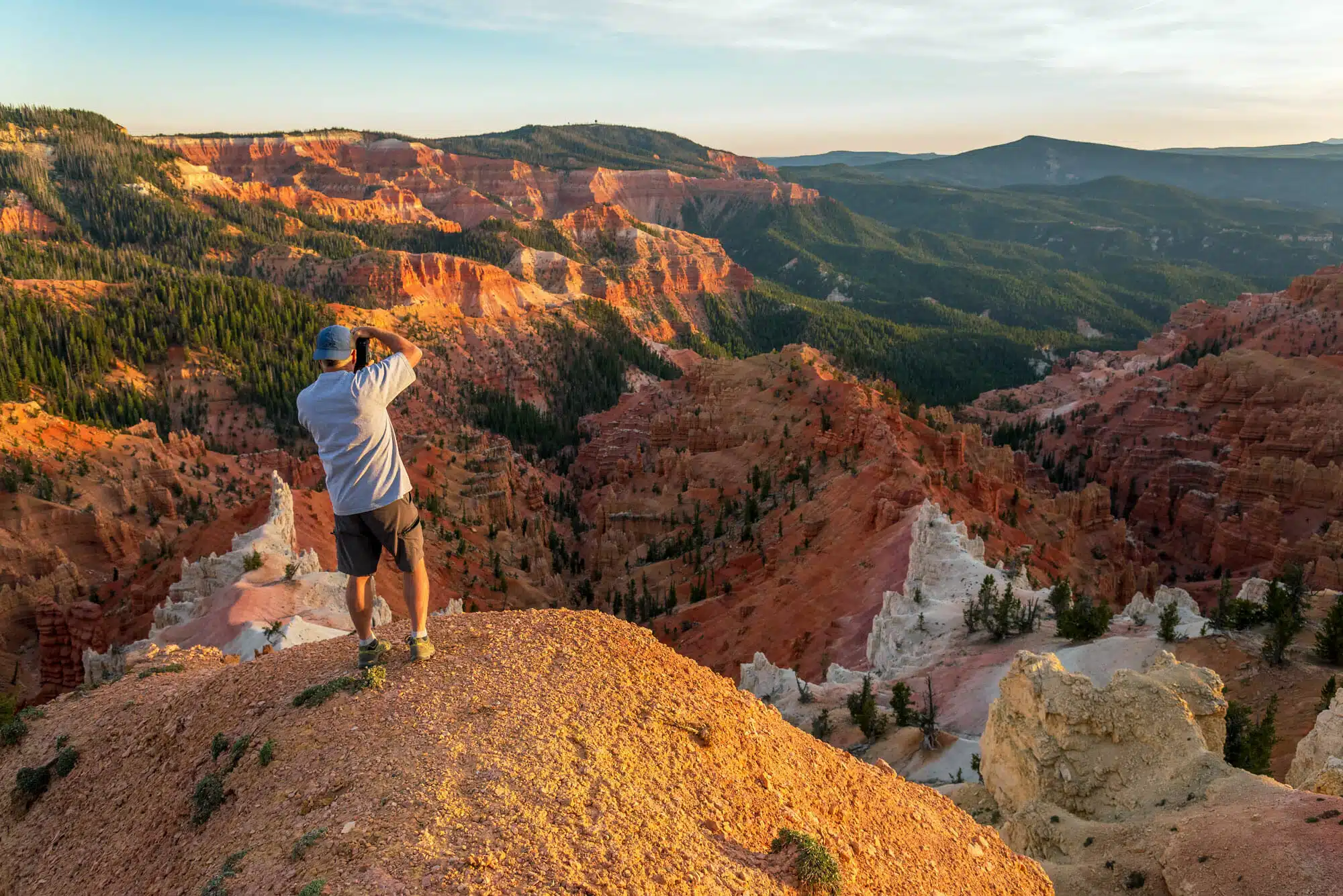 When you make Zion Ponderosa the base camp for your Zion vacation, it's only a short drive to many other equally scenic yet less crowded attractions of southern Utah:
• Bryce Canyon National Park
• Kodachrome Basin State Park
• Cedar Breaks National Monument
• Grand Staircase-Escalante National Monument
• Grand Canyon North Rim
• Coral Pink Sand Dunes
• Lake Powell
• Pipe Spring National Monument
Taking a road trip is one of the best ways to save your vacation. The destination is just the beginning.
So unpack once and stay awhile at Zion Ponderosa, where Zion National Park touches the sky.