Perhaps one of the best-kept secrets, Cable Mountain is a hike within Zion National Park that offers one of the most spectacular views into Zion Canyon.
Named after the Cable Mountain Draw Works built at the top of this trail, this historic structure can still be found for those willing to make the hike. The Cable Mountain Draw Works was even listed in the National Register of Historic Places in 1978.
History of Cable Mountain
The history of this famous structure is as interesting as the view from the top of the trail. In 1863, 
Brigham Young, a leader of The Church of Jesus Christ of Latter-day Saints, also referred to as the Mormon Church, prophesied that one day lumber would be transported "as the hawk flies" from that canyon rim. Years later, David Flanigan, a Springdale pioneer, saw his vision of the Draw Works as a fulfillment of that very prophesy. He envisioned and constructed an aerial tramway, which transported lumber more than 2,000 feet into Zion Canyon beginning in the year 1901. His method took only two minutes, while a wagon trip carrying the same load would have taken about three days one way.
Its wood mechanism was destroyed twice—in 1911 from a lightning strike and again in the 1920s—but each time it was rebuilt because this transport method was too efficient not to have. While the Cable Mountain Draw Works' main job was to transport lumber, it also transported other goods and people.
In 1927, the lumber supply was exhausted. They then decided to remove the wire cable and towers from the floors of Zion Canyon, leaving behind its wooden foundation and making the Draw Works inoperative.
Hiking Cable Mountain
Although this has not been used since 1927, the Draw Works still remains in its historic location in Zion National Park.
Unfortunately, Cable Mountain does not attract as many people as it should. Only the expert and tenacious hikers tend to hike up to it. This is due to its long and strenuous nature. Zion's Cable Mountain hike is 15 miles round trip from the Weeping Rock Trailhead with 2,400 feet of elevation gain. There is also an 18-mile round trip hike from the East Rim Trailhead, and while it only has 1,000 feet of elevation gain, it is a less scenic hike than the first.
However, what many people do not know is that there is another hiking option. And the best part? It is a lot less difficult way to hike Cable Mountain at Zion National Park; a way that is shorter in total distance traveled and easier on your body while allowing you to still experience the great views of this beautiful area. So, how do you get to this better hiking option? From Zion Ponderosa Ranch Resort! You can access this trail and avoid most of the elevation gain—we are talking thousands of feet in elevation gain here.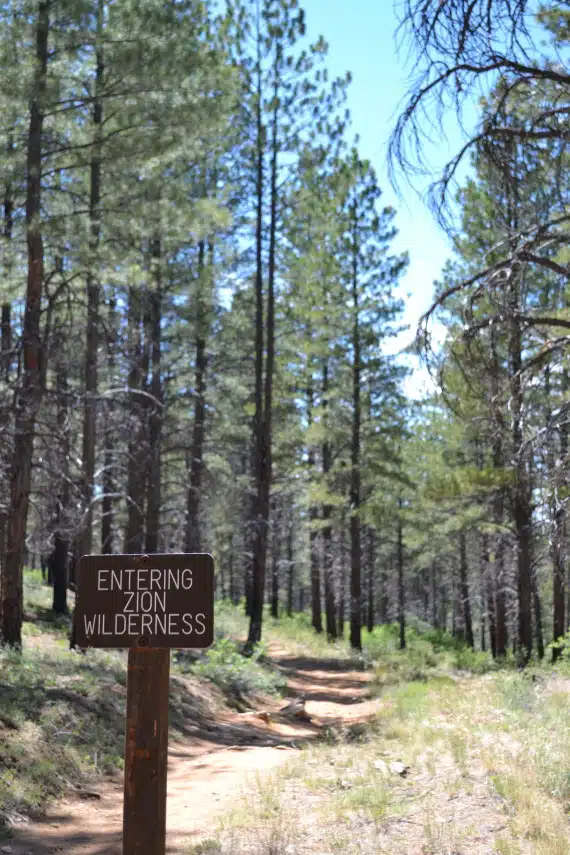 Beginning on our property, you can enter Zion National Park from the east and enjoy this fairly moderate hike. When taking this Cable Mountain route, you are basically cutting your hike in half. You will travel less than 8 miles round trip. By providing a shorter total trip and less elevation gain, the Cable Mountain hike in Zion National Park is more available to people with varying hiking skills who want to see first-hand one of Zion's historic structures and the incredible overlooking views of Zion Canyon and much of the park. Some people also enjoy it for bird watching
With signs on our property directing you to the trailhead and a well-maintained trail within the park, it is a beautiful and straightforward hike that we recommend you check out. You can access Zion's Cable Mountain hike in spring, summer, and fall. March through October are the best times to hike it. And while it does not appeal to everybody, it is a great chance to hike a territory less traveled with sublime views that make your trip worth it.