Plenty of us are opting to be outdoors this Thanksgiving weekend, instead of fighting the Black Friday shopping crowds. Here are four great things to do in Zion this weekend, instead of shopping.
1. Sightseeing in Zion National Park
While many visitors may be taking advantage of the long holiday weekend, you don't have to worry about overcrowding in Zion National Park's wide open spaces. Take this weekend to sightsee inside Zion National Park such as Checkerboard Mesa, Court of the Patriarchs, and the Great White Throne. One of Zion National Park's most notable formations, Checkerboard Mesa delivers a majestic greeting right near the east entrance. Drive the Zion Canyon Scenic Drive, which follows the North Fork of the Virgin River and is open to private vehicles from November to March, to see the massive Navajo sandstone formation known as the Great White Throne (located near Angel's Landing). Another of Zion's most iconic formations, Court of the Patriarchs is located just inside Zion's main canyon floor area.
2. Hiking in Zion National Park
A 100-yard stroll at the stop for Court of the Patriarchs leads to a viewing point, which is also the trailhead for a 1.5-mile hike that leads to an even better view. If adventure hiking is more your thing, check out Angels Landing. This dramatic, exhilarating hike ascends high above the Zion Canyon floor, with 1,000-foot drop-offs on either side as you reach the pinnacle. Print out a Zion National Park hiking guide here.
3. Hike around Zion Ponderosa
There are 4,000 acres to explore on Zion Ponderosa, so take some time to blissfully enjoy the scenery before the holiday chaos sets in. Just like you skipped the Black Friday crowds, skip the strenuous hike to Observation Point from the Zion Canyon floor by hiking across Zion Ponderosa's forested plateau instead. You'll be rewarded with a panoramic view of the main canyon, called one of the best views in Utah by Backpacker magazine.
4. Wildlife Watching In and Around Zion
Zion National Park is home to hundreds of species of animals, with microclimates at different elevations that support a variety of mammals, birds, and reptiles. This is a great time of year to spot Bald Eagles soaring overhead, and Peregrine falcons nesting in Zion's high cliffs. We recently spotted bighorn sheep climbing around Zion's infamous formations. Wouldn't you rather see this beauty, than a Black Friday brawl?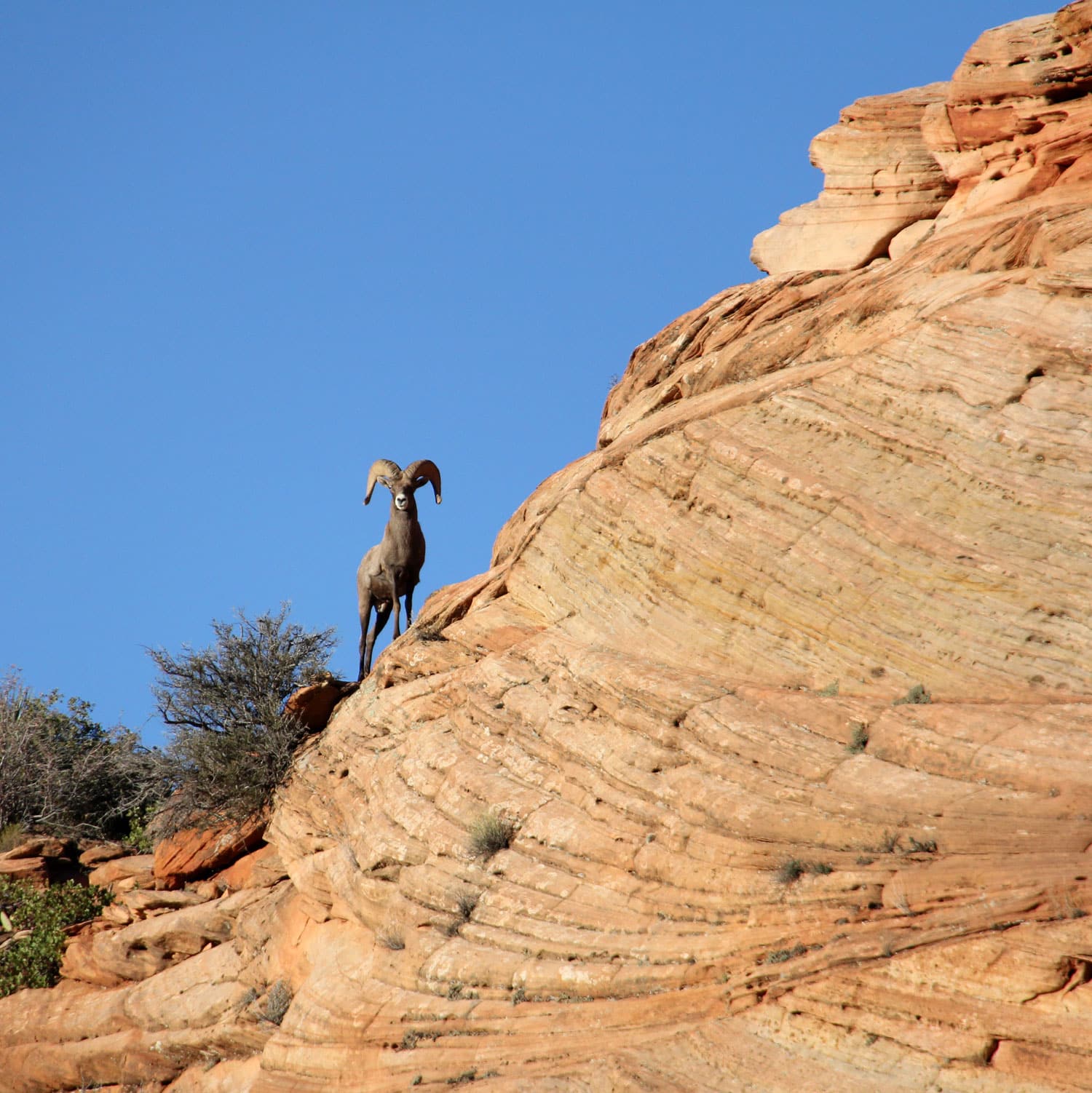 Spend the weekend with in Zion. Check here for availability.