The arrival of spring in Zion National Park is one of the most anticipated seasons each year, signaling the beginning of wildflowers, waterfalls, warmer weather, and newborn wildlife. So whether you want to hike, camp, go wildlife watching, horseback riding or off-roading, here are some of the best ways to enjoy spring in Zion.
Enjoy the Weather
April showers may sometimes fall but you're more likely in for sunny skies as the weather warms up in Zion Canyon. It's always best to dress in layers for optimal comfort and to be prepared for changing temperatures. At 6,500 feet in elevation, Zion Ponderosa is about 2,500 feet above the Zion National Park main canyon floor, so expect cooler temps up top.
Go Hiking
Oh spring! The weather, the waterfalls, the wildflower blooms: it's so perfectly pretty and the ideal time of year to hit the trails. Zion National Park and the surrounding area offer varied hikes for all ages and skill levels, from easy family hikes along Riverside Walk or to the Emerald Pools, to more adventurous hikes like Angels Landing. Temperatures are typically enjoyable for hiking throughout much of Zion National Park and across Zion Ponderosa property. Talk to a Zion Ponderosa expert hiking guide to find your perfect hike.

Stop and Smell the Wildflowers
Blooming wildflowers are one of the highlights of spring in Zion: deep red Indian paintbrush, yellow Columbine, and desert marigold are just a few of the magical blooms that bring brilliant splashes of color to Zion Canyon. Add in blossoming cottonwood trees and fresh new grass in contrast to Zion's red rock and the southern Utah blue skies for an explosion of color.
Go Chasing Waterfalls
Thanks to snow melt, spring runoff begins the flowing of waterfalls and the rushing of the Virgin River. While waterfalls aren't constantly flowing in Zion, a spring rain can really increase the flow. Waterfall highlights in Zion National Park include the trio of waterfalls at Lower Emerald Pools, the magnificent 300-foot fall at Upper Emerald Pools, and the waterfall at the Temple of Sinewava. Zion Ponderosa hiking guides also know a few secret waterfalls they may include in guided hikes.
Wildlife Watching
Spring is also a favorite season for wildlife spotting and bird watching. Although newborn wildlife won't make an appearance until a bit later in the season, some of the early creatures to keep an eye out for are deer and wild turkeys along the roadways. Bird watching is a year-round spectator sport, and April through May are peak for migration.

Horseback Riding
Zion Ponderosa Ranch Resort and the surrounding landscape offers some of the most scenic trails in the west. Many of the old pioneer trails remain and provide guests with the iconic Western horseback riding experience they crave. All Zion Ponderosa horses are carefully chosen and trained, and wranglers will go the extra mile to pair riders with suitable horses. Kids under eight can enjoy short, wrangler-led rides.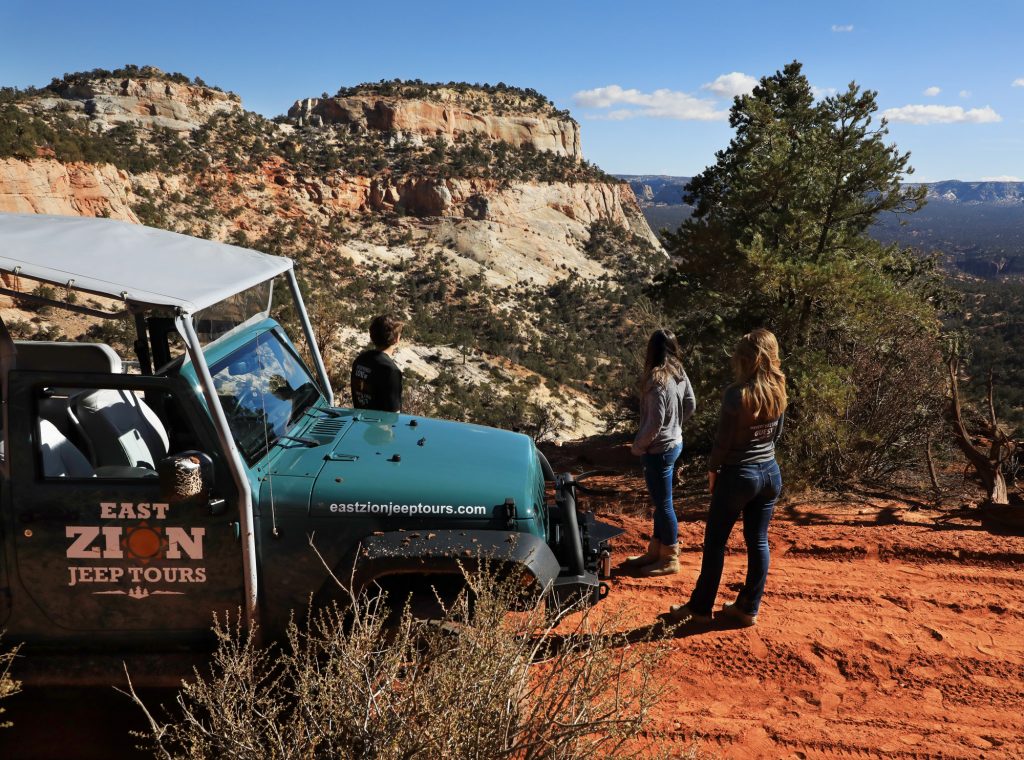 Jeep and ATV Adventures
Zion Ponderosa has literally thousands of acres of private property located above Zion's famous canyons. Guests can bring or rent ATVs at Zion Ponderosa, or join guided ATV tours. New this year: East Zion Jeep Tours, for some of the best backcountry adventures on the east side of Zion.

Camping, Cabins and Wagons
There are so many fun lodging options at Zion Ponderosa, and best of all we're close to Zion National Park. Unpack once and stay awhile! In addition to camping and glamping, Cabin Suites and Conestoga Wagons are top choices among Zion Ponderosa guests. Vacation homes are a great option for large groups who want to stay under one roof.  
Make 2018 a spring to remember! Book your Zion Ponderosa lodging and adventures in advance for the best deals and availability.