If you've ever been to Zion National Park or just love hiking, you don't really need reasons to hike Zion. But for those of you on the fence about hiking in general or just new to exploring the area trails, here are 15 reasons to hike Zion.
1. Hiking Zion can be done year round. It's true! Some hikes are better to do during certain times of year but there's always an open trail in Zion National Park. Exposed trails like Angels Landing can be better choices for cooler weather (as long as the trail isn't iced over) while The Narrows is one of the best summer hikes.
Hiking tip: Check with a Zion National Park ranger before heading out on any hike.

2. Hiking is great exercise. Your heart, muscles and joints perform differently on a hike than they do on a walk around the block. Tackling the uneven terrain found on most hikes increases the amount of energy your body uses by 28% compared to walking on flat ground.
3. It's a mood-booster, too. That burst of energy, combined with fresh air, sunlight (for a healthy dose of Vitamin D) and beautiful scenery can be just the inspiration you need to perk your mood. Research shows that just 50 minutes of walking in nature releases feel-good endorphins that can improve mood and decrease anxiety.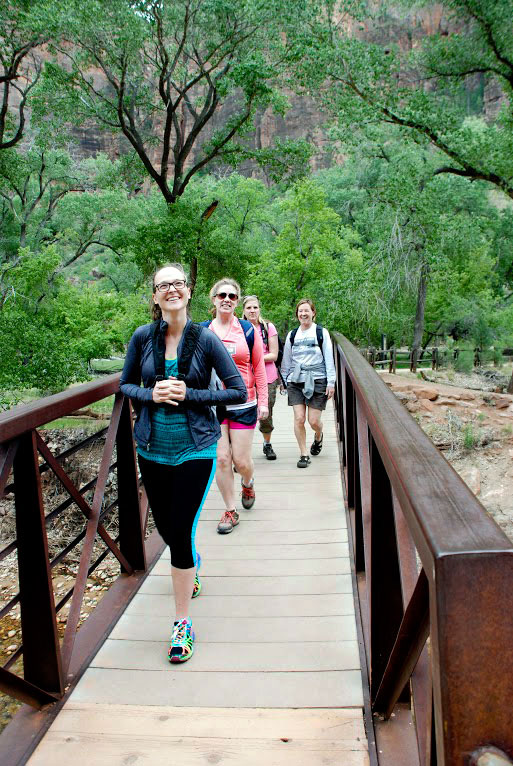 4. You'll also sleep better after a great hike. Hiking demands physical movement and mental awareness, which can naturally lead to feeling more tired at night. Combined with exposure to natural daylight, which reinforces the sleep-wake cycle, and increased endorphins that help you feel less stressed, you'll be ready for some ZZZZs!
5. You don't have to be an expert. A guided sunset hike is a great option for new hikers or even experienced hikers who want to try something new. Enjoy breathtaking views of East Zion and make every moment count.
6. Hiking teaches us to live in the moment. When you unplug and connect with nature, it requires being truly present. When was the last time you did that watching TV or playing games on your phone?
7. Hiking helps us connect with people. Whether you hit the trails with your significant other or join a guided hike with a group of people you've never met before, you'll get to connect with like-minded adventurers who obviously love the great outdoors and physical activity. You may even make a new hiking buddy!
8. Feel a sense of accomplishment. Zion National Park and the surrounding East Zion region bring more variety of hikes than you could even imagine. You don't need experience, you just need willingness (and really good hiking shoes) to try that 17-mile backcountry hike. Or just leave the safety of the Zion Canyon road and take a short hike to a scenic viewpoint. Whatever gets you outdoors and moving will leave you feeling pretty dang elated.
9. You can go at your own pace. Hiking is as easy or as hard as you want it to be. There are trails to match every skill level – or even just how you're feeling on any given day. Click here to see a list of trails in and around Zion National Park.
10. Hiking is family-friendly. When families unplug and spend time in nature, connections expand in the best ways. Best of all, hikes can be adapted to accommodate even the youngest hikers in your group, and helps families work together. Choosing to spend time hiking together might be one of the best decisions you'll ever make for your family.
11. Hiking is a learning adventure. Look around, listen, observe. New sights, people, history, geology await beyond every twist and turn along the trail.
12. Hiking helps you appreciate the world around you. There's nothing like being surrounded by Mother Nature's grandeur, and there's no shortage of awe-inspiring hiking trails and scenery in Zion National Park. Remember to be respectful of nature and wildlife, and follow Leave No Trace best practices.
13. The scenery can't be beat. You could see this:
14. And this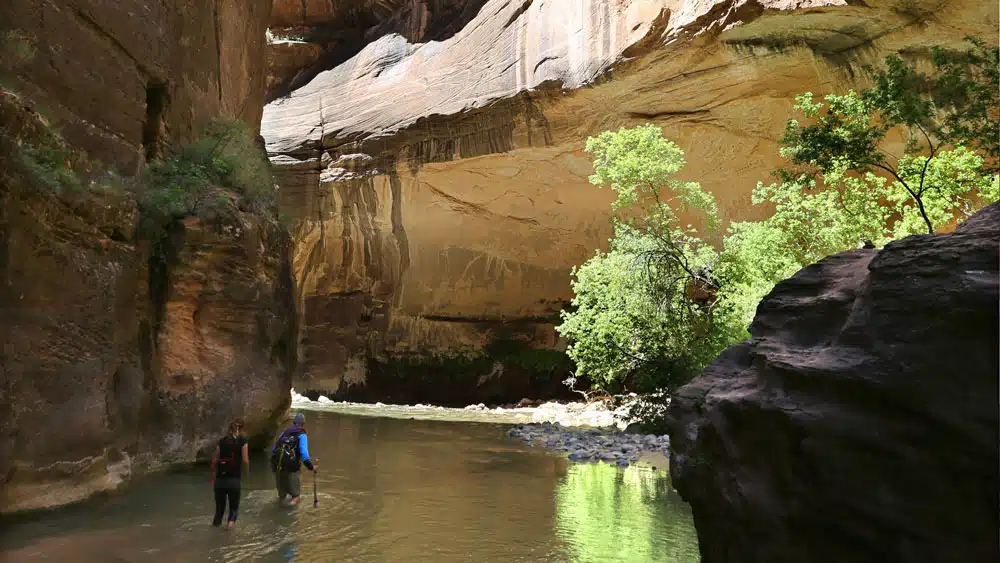 15. And this