What's on your bucket list as we head into the New Year? If you said "adventure" then this is the list for you. Here are 18 things you must do in Zion in 2018.
1. Visit Zion National Park
If you've never been to Zion National Park, put this at the top of your list. For return visitors, you already know the beauty that is Zion. Explore the stops along Zion Canyon Scenic Drive – but don't just drive or stay on the shuttle bus! Discover a new trail or hit an old favorite. Some Zion National Park favorite trails include:
The Narrows
Angels Landing
Hidden Canyon
Canyon Overlook
Emerald Pools
Check out our guided hikes available in and around Zion National Park and Zion Ponderosa.

2. Visit Bryce Canyon
Did you know Zion Ponderosa Ranch Resort is located just 75 minutes from Bryce Canyon National Park. If you haven't visited this scenic wonder, you're missing out. Check two national parks off your bucket list in one vacation by visiting both Bryce and Zion from Zion Ponderosa.

3. Stay at Zion Ponderosa – A Top 6 Adventure Resort
If there's one thing we love, it's inspiring the love of Zion in every valued guest. In fact, U.S. News Travel voted Zion Ponderosa as one of America's top 6 Adventure Resorts! Stay in one of our luxury vacation homes, a cozy cabin, glamping tent, authentic wagon, or camp with us. Whichever vacation experience you decide, plan to stay a while and experience all that the Zion region has to offer.

4. Experience the Wild West
From a horseback ride across Zion Ponderosa's 4,000 private acres to our summertime rodeos, wagon rides and Dutch oven dinners, saddle up for an authentic Wild West experience. Stay in a Western or Conestoga Wagon to round out the adventure.

5. Canyoneering
Zion is known for it's magical slot canyons. Our expert canyoneering guides are ready to take you on an adventure of a lifetime.
Learn more about canyoneering near Zion National Park

6. Climbing Wall
Get ready for your canyoneering adventure by scaling our 40-foot high rappelling and climbing wall. Adventurers are taught basic rappelling skills, safety and technique.

7. Zip Lining
Zip across Zion Ponderosa on our exciting zip line. This is a fun way to experience an adventure you'll want to try over and over again.

8. Sunset Jeep Tours
Jeep tours are a great way to experience Zion Ponderosa's vast and beautiful landscape. Experience our full range of Sunset Slam adventures here.

9. ATV Trail Rides
Cover a lot of ground—and fast—during your Zion Ponderosa ATV trail ride. Zip through the ponderosa pine forests to breathtaking scenic views.

10. Explore the Backcountry
Overnight backpacking trips through this amazing scenic region allow hikers to get away from it all and see Zion the way very few people do!

11. Walk the Walk
You say you want to get outdoors, now here's your chance. Hike inside Zion National Park or hike down into the park from Zion Ponderosa. Observation Point and Cable Mountain are two of our most exciting on-property hikes – without the steep incline!

12. Or maybe snowshoe
Experience the quiet after new-fallen snow as you snowshoe across Zion Ponderosa. Stay close to your cabin or trek to Cable Mountain. It's an exciting way to see a Zion most visitors don't see.

13. Sled Coral Pink Sand Dunes
This fun day trip has guests marveling at the surreal landscape and beautiful views. It beats snow sledding any day of the week!

14. Visit Cedar Breaks
This "mini Bryce Canyon" isn't really mini at all, and it's a great way to avoid the peak season crowds around southern Utah. Located north of Zion Ponderosa, highlights along the way include Cascade Falls and Navajo Lake.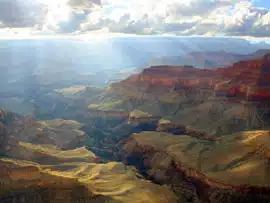 15. Take A Day Trip to Grand Canyon North Rim
Just a two-hour drive from Zion Ponderosa along Highway 89, the North Rim of the Grand Canyon is lesser known but equally beautiful. This side of the canyon is 1,000 feet higher than the south rim and is generally open from May 15 to October 15 each year. Check weather conditions in advance.
16. Women's Retreat
Experience the ultimate adventure designed just for women. Book by March 1, 2018 for the Spring 2018 Women's Retreat and save 40%.
17. Stargaze
See the Milky Way over Zion. Situated at 6,500 feet elevation, Zion Ponderosa is located far away from light pollution, allowing our guest to see the most brilliant night skies imaginable. You've never experienced stargazing like this.
18. Relax
Around here, life slows down. It fills your heart, frees your mind and feeds your soul. Zion Ponderosa offers the perfect relaxing getaway. Come see for yourself.
Feeling inspired?
You could be here TODAY! Start planning your 2018 Zion vacation now. And remember, we're just three hours from Las Vegas, 4.5 hours from Salt Lake City, and 7-8 hours drive from southern California. Make this your year to experience the best adventures Zion has to offer.