Chances are you don't remember most of the gifts you received last year – but you do remember that weekend getaway with your spouse, last summer's family camping trip, or a getaway with your best girlfriends from college. The same goes for gift giving. Most people prefer a gift from the heart, and if that involves something you can do together, even better.
Why experience gifts?
You could give a gift that's broken in a day, or you can give an experiential gift that will last a lifetime. Experience gifts have lasting impact, and there's an opportunity to try something new. Whether it's a new skill or safety technique, exploring a new location or learning about local history, there's something to be learned from every adventure.
• Experience gifts are meaningful
• Experience gifts fit every budget
• Experience gifts can be one activity or multi-day
• Experiences build relationships and create lasting memories
• Experience gifts are perfect for everyone: couples, families, kids and groups of friends
Check out our top picks for experiential gifts in southern Utah: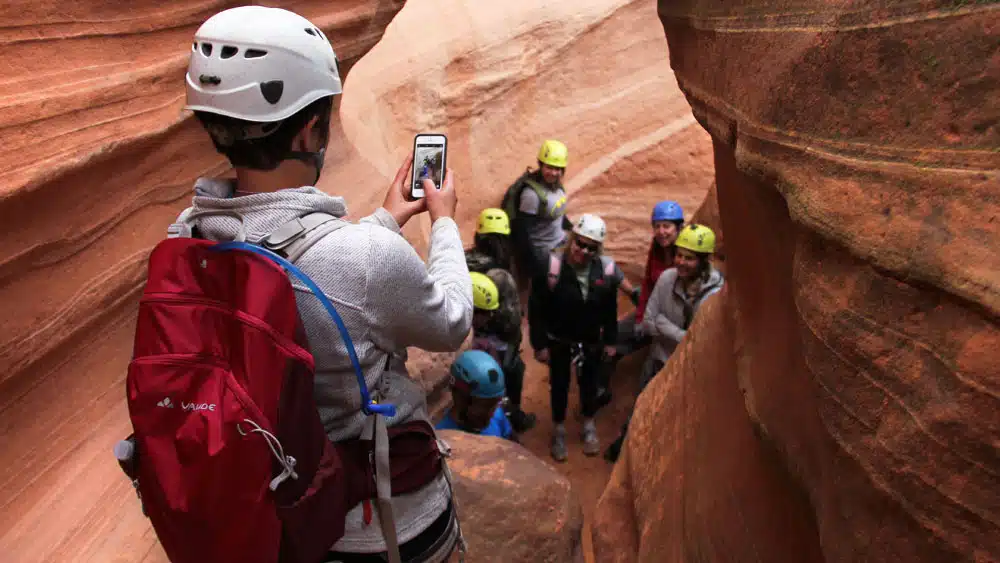 Once-in-a-lifetime experiences for adventure junkies
There's nothing quite so fulfilling as checking something off your bucket list – so pick something on your recipient's bucket list and go for it! Guided canyoneering through Zion's secret and beautiful slot canyons, a thrilling Jeep tour the whole family can enjoy, guided overnight backcountry hikes, and zip lining adventures (for all ages) are sure to be unforgettable experiences.

For horse lovers
Is someone on your gift list obsessed with horses? Give the gift of a horseback ride through Zion country. Pony rides are ideal for horse-loving kiddos. For an even more unique and truly western experience, book a summertime horse-drawn wagon ride.

Get Dirty
ATV rides – either quads or side-by-sides for small groups – are a great way to experience the great outdoors, cover a lot of ground, and explore the Zion's unique landscape. Book a guided ATV tour or rent one, or bring your own and explore Zion Ponderosa's 4,000 private acres on the eastern edge of Zion National Park.

Take a Hike
This is a gift that's guaranteed to get them outdoors, surrounded by nature – and they're perfect for all skill levels and abilities. If they're one who also enjoys learning, consider venturing out on a guided hike with our expert guides.

Together Time
Get away from the hustle and bustle of the holiday season and spend time with those who mean the most. Whether you're sitting around the fireplace in a vacation home while the snow softly falls outside or planning a summer glamping trip, a getaway is the type of experience gift that builds relationships and lasting memories.

Women Only
Treat yourself or the special woman in your life to an unforgettable adventure. Our Women's Retreat makes an amazing holiday gift for yourself or someone you love. (Reserve a space on our Spring 2018 Women's Retreat before March 2, 2018 and save 40%!)

Make It A Multi-Day Experience
The best gift of all just might be a multi-day experience at a place at Zion Ponderosa. As one of the top-rated adventure resorts in the U.S., we have more on-property activities and adventure opportunities than anywhere else in southern Utah. This experience gift is one that true outdoor enthusiasts are sure to love!
You won't regret investing in experiential gifts. You're giving a lifetime of memories. These are the most meaningful gifts that everyone on your gift list will treasure for a lifetime.