When you stay at Zion Ponderosa, you are not only within minutes from Zion National Park, you're also within driving distance of several other national parks and monuments. Zion National Park is part of the "Grand Circle" of national parks, monuments, historic sites and recreation areas, featuring America's highest concentration of natural scenic wonders. With so much to see and do, you'll quickly realize that you'll need at least a week to begin to experience the splendor of this region. Find out which national parks and monuments are near Zion Ponderosa!
Zion National Park: Minutes from Zion Ponderosa
It goes without saying that when you're on the eastern edge of Zion, you're here to visit Zion National Park. Whether you are strolling the Riverside Walk to the mouth of the Zion Narrows, tackling the challenging Angels Landing trail, or hiking across Zion Ponderosa to Observation Point, Zion National Park is brimming with outdoor adventures and scenic wonders. The east entrance is just minutes from Zion Ponderosa.
Bryce Canyon National Park: 75 minutes
Simply put, there is no place like Bryce Canyon. Featuring the largest concentration of hoodoos in the world, this magical place is something you must experience in person. See the hoodoos from the top by strolling along the Rim Trail, or walk among the giants from the bottom of the Queen's Garden Trail.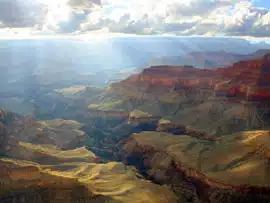 Grand Canyon National Park North Rim: 2 hours
The North Rim of the Grand Canyon offers breathtaking canyon views, equal in beauty to the more visited Arizona side but with far fewer crowds. Grand Canyon North Rim is at 9,000 feet elevation, about 1,000 feet higher than the south rim. Because of the high elevation, the north rim is generally open from May 15 to October 15.
Cedar Breaks National Monument: 40 minutes
Discover this lesser known sub-alpine park and enjoy breathtaking views of hoodoos reminiscent of Bryce Canyon. Crowning the Grand Staircase, Cedar Breaks National Monument sits just above 10,000 feet. The half-mile deep amphitheater is the star of the show, but lush wildflower meadows, bristlecone pine groves and crystal-clear starry skies make for an all-star supporting cast. Cedar Breaks is open 365 days a year, but weather dictates whether highways are accessible.
Grand Staircase-Escalante National Monument: 30 minutes
Ready for a day of backcountry adventure? Make Grand Staircase Escalante National Monument (GSENM) your day trip destination. The well-graded dirt roads that enter from the Zion area are drivable by most vehicles in good weather. Glendale, Utah, located on Highway 89, northeast of Zion National Park, connects the east side of Zion to GSENM, and lead to Kodachrome Basin State Park and Bryce Canyon National Park.
Pipe Springs National Monument: 45 minutes
This historic fort is located on the Kaibab Paiute Reservation. Known for it's life-giving water, this desert oasis supported plants, animals and people throughout history. Visitors can tour the fort built by Mormon pioneers, and learn about the Paiute Natives that inhabited the area.
Be Here Today!
Zion Ponderosa is located just three hours from Las Vegas, 4.5 hours from Salt Lake City, and 7-8 hours from southern California. If there are national parks and monuments that have been on your to do list for years, make it an action item and come visit! #FindYourPark