Each June, Great Outdoors Month reminds us to discover the majestic world around us. From Zion National Park to off-the-beaten-path backcountry trails, Zion Ponderosa is surrounded by expansive nature, awe-inspiring views, secret slot canyons and wide-open spaces, all just waiting to be explored.
Share the love
It doesn't matter what you do, as long as you head to the great outdoors! There are so many outdoor adventures to enjoy with family and friends. Hike, bike, rappel, swim, go camping, bird watch, take a nature walk, ride horseback, take a Jeep tour, star gaze, stop and smell the wildflowers. Share your adventures on social media with #GreatOutdoorsMonth.
Get an early start
Enjoy the freshness of a Zion summer morning by getting an early start. Soft morning breezes give way to sometimes sweltering temperatures in the later part of the day, so make the most of Zion summer mornings. The crowds are usually lighter inside Zion National Park, and you're more likely to catch a glimpse of deer, bighorn sheep or other wildlife enjoying the tranquil mornings. Even the wildflowers are perkier from the fresh morning dew. It's the best time of day to hit the trails on foot, horseback or horsepower.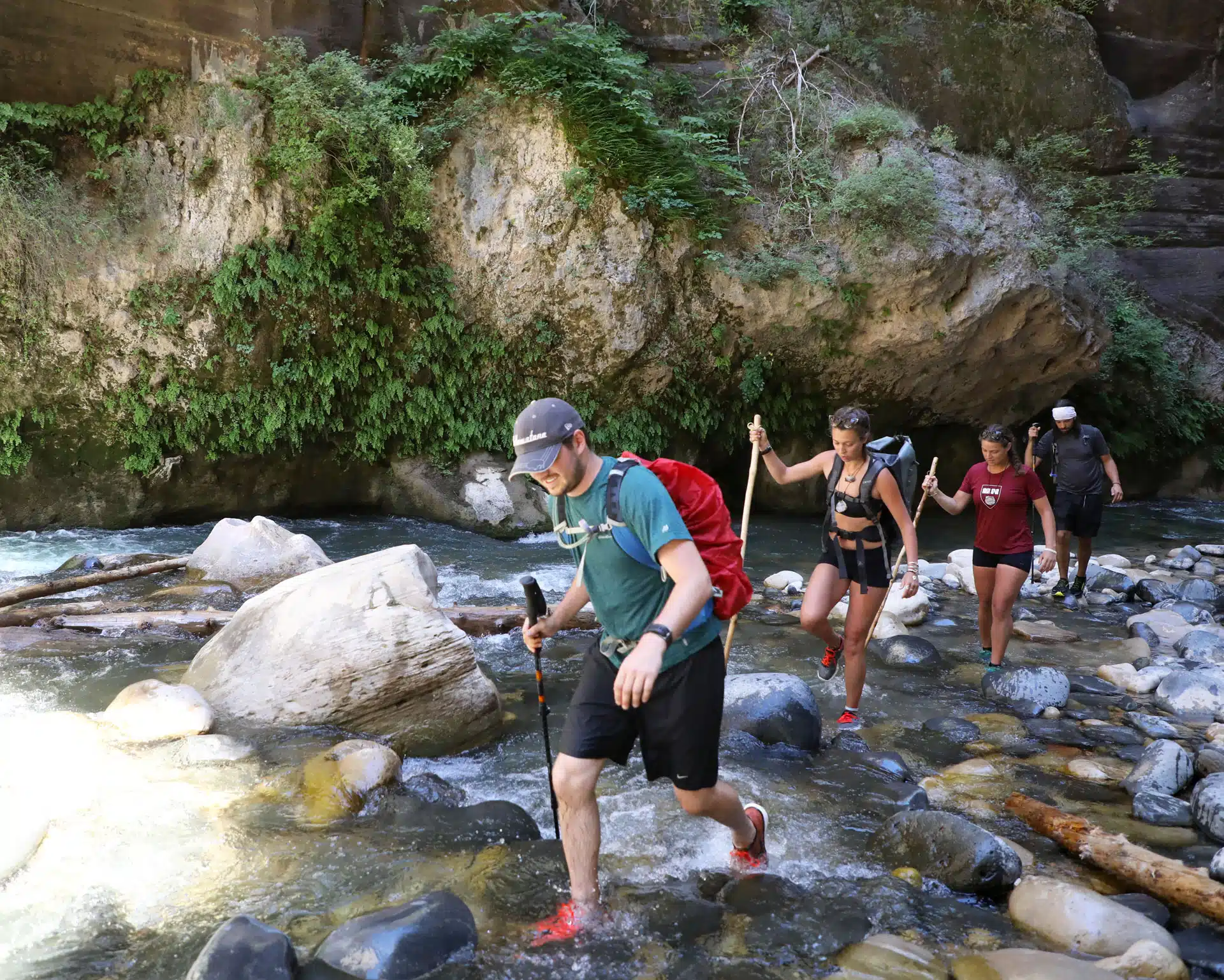 Make every moment count
An early start also means more hours to explore Zion National Park. First of all, you'll beat the crowds. Parking is limited inside the park and all parking lots fill pretty early in the day. The Zion shuttle starts around 7 a.m. in summer (check the website for up to date schedules) so early birds can get a jump-start on visiting the park. Hike Angels Landing or Observation Point in the morning, take a leisurely lunch break, then hit The Narrows in the afternoon heat. Need a little help choosing the perfect hike? East Zion Adventures hiking guides know all the best trails on the east side of the park!
Step out of your comfort zone
Adventurers from all over the world travel to Zion just to visit our beautiful slots canyons. Canyoneering is an epic outdoor experience that combines rappelling, hiking, rock scrambling, navigating and quick thinking into one unforgettable adventure. The best part? You don't have to be an expert to try canyoneering. Beginners and kids love it, too!
Healthy family fun
A generation ago, kids spent more than four hours a day outside. These days, it's less than 40 minutes per week. Great Outdoors Month encourages families to disconnect from hectic, everyday busy-ness and join together to experience healthy, active outdoor family fun. It's win-win all around.
Environmental stewardship and social responsibility
The closer we feel to nature, the greater our concern for it becomes. Many outdoor activities would be impossible without fostering stewardship of our parks and resources. Immersing ourselves in the great outdoors is at the core of everything we love most at Zion Ponderosa. Thanks in large part to social media, people are more aware than ever about Zion. This is awesome, but as Utah national parks become more crowded, it's up to all of us to educate ourselves and each other about Leave No Trace best practices on social media, so we can all enjoy nature responsibly.
Great Outdoors Month is the perfect time to get outside and enjoy Utah's national and state parks. Enjoying the great outdoors helps create healthier families and better quality of life. Outdoor recreation also promotes better physical and mental health, and environmental awareness. Wherever you find yourself this month, make sure you make your way to the great outdoors!