There are some people who love the outdoors. These are the people who crave the fresh air, hikes through rugged land and encounters with harmless wildlife. 
But then, there are people who prefer city life. Or at least to be indoors, enjoying all that the great indoors has to offer – shelter, soft bed and blankets, and perhaps a nice stack of books.
One type of person is not better, and each may find that they have a difficult time relating to the other. But we do know that spending time outside has many health benefits. 
For those indoor people who are looking to enjoy the great outdoors without having to experience the parts that they don't like, there is a newer option known as glamping that has become very popular.
What is Glamping? 
Glamping is a new word that means glamorous camping or luxury camping. It's a one-of-a-kind experience that allows you to sleep outdoors, but still, enjoy the comforts of home.
What does Glamping look like?
At Zion Ponderosa Ranch Resort, you may be glamping in a tent, but the good news is that you won't have to set up this tent! The glamping tent has solid floors and is large and roomy, not like the tent you'd have if you were packing one. Utilizing a thick canvas material, the tent is large enough to fit a few beds, a futon, and some comfy chairs. 
The tent is on a raised hardwood platform and there is also electricity inside each glamping tent so you can rough it in style.
There's a firepit close by so you can still roast marshmallows or enjoy the firelight and the beautiful stars and night sky. But when you're ready to turn in for the event, you can curl up in a soft bed with blankets for a good night's rest. That way you're even more energized to tackle hikes in Zion National Park like The Narrows or Angels Landing.
What amenities are offered through Zion Ponderosa?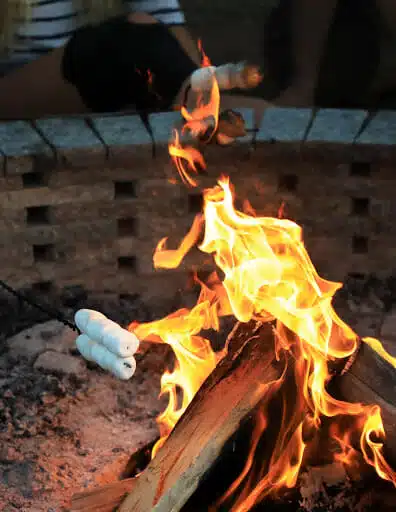 At Zion Ponderosa Ranch Resort, we want to help you relax and bask in the solitude of the natural wonders of Zion National Park. Situated on the east boundary of Zion National Park, you can experience all the beauty of the park. 
You can enjoy breakfast at our on-property restaurant as part of your stay,  and after a long day of hiking in Zion National Park you can come back and cool down by our pool. 
Every glamping site has access to all open use activities, coin-operated laundry units, hot showers in the shower house, and wireless internet. 
When is glamping available?
Glamping at Zion Ponderosa ends in November and re-opens in the spring of each year. The resort is at an elevation of 6,500 feet so the overnight temperatures can be quite cool. 
Prices and availability are dependent on the season. It's best to check our calendar to get the best quote. 
The next time your outdoor-loving friend, or significant other, suggests heading to Southern Utah, you'll have an outdoor experience that you both will enjoy.