Zion National Park is one of the most sought-after travel destinations in the country. Use this handy packing list to make your packing stress free and help you enjoy your trip to the fullest.
Items for the Heat
Bring some sunscreen and a comfortable hat to keep you protected from the sun. Zion National Park can get really hot, so do your best to stay in the shade as much as possible. 
Shoes
When it comes to shoes, you'll want to be sure to bring a comfortable pair of sandals you can walk in, water shoes, and closed-toed hiking shoes or boots. If you are planning on going on a horseback riding tour, be sure to make a note that closed-toe shoes are required. If you have plans to hike certain trails like the narrows, make sure to do your research before to see what type of shoes are recommended. 
Clothing
If you're going in the summer, pack cool and breezy clothes. Keep in mind that lighter colors work much better at keeping you cool than darker colors. For the horseback riding tours, you are required to have long pants to ride, so make sure to pack pants if you plan on participating. Make sure to bring a bathing suit for hikes with water, the river, and the swimming pool at Zion Ponderosa. Pack a rain jacket or poncho just in case it rains, and bring a jacket or warm sweater for the sunset horseback or jeep tour you'll be taking. A beanie and light gloves also go a long way to keeping you warm during the winter months.  What to wear hiking.
Food and Water
Having a reliable supply of food and water is definitely essential for having a successful day in Zion National Park. Make sure you have enough water for the day to ensure that you stay hydrated, as well as a good supply of jerky, nuts, dried fruits, and protein bars to keep your energy up. Set yourself up for success by packing your bag with the essentials for your day of adventures.
Cash
There are some great places to eat near Zion National Park to go to after your long day full of fun adventures. You can also use cash for tips if you go on a guided tour or as a way to get into the park.
National Park Annual Pass
If you don't want to pay every time you go to Zion National Park, consider investing in the annual pass– it can get you into all U.S. national parks. You can purchase this pass at Zion entrance stations, other national parks, online, or by calling the USGS store.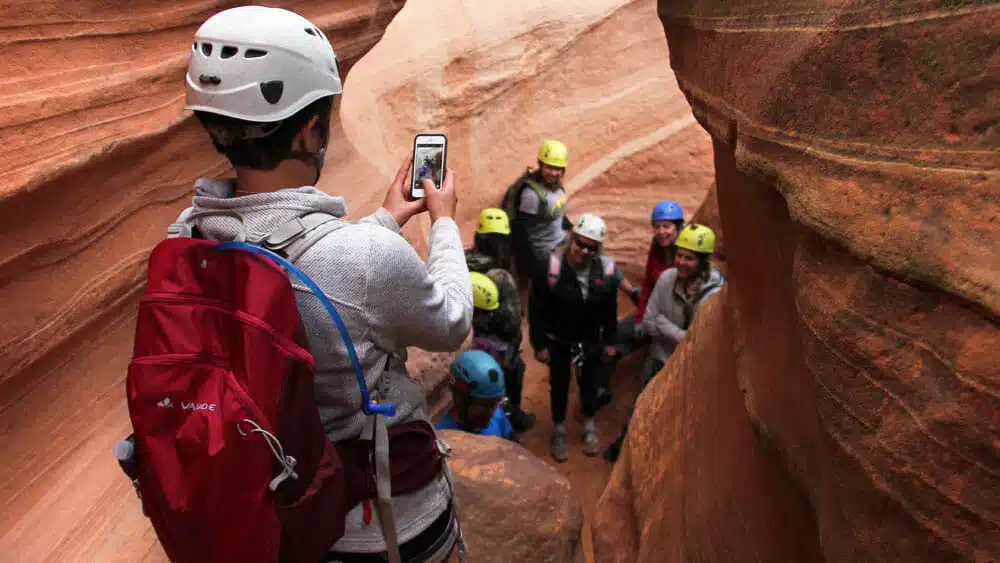 Camera & Journal
Another important item to help you remember your trip is a camera. Today, most of us carry our camera in the form of a smartphone, but sometimes it's nice to use a bigger lens if you want more in-depth photos. A journal is also a great way to document and remember special moments from your adventure. 
Start by looking at your trip itinerary and plan from there, according to the activities you have planned. One of the most important items to bring is your bag. Get a good, sturdy bag that has the right amount of space for what you need. We hope this Zion National Park packing list will help you plan and enjoy your trip!