Visiting Zion National Park in the summer allows you to experience a world of endless beauty and unmatched adventures. With such majestic scenery and awe-inspiring views, connecting with nature is inevitable. There's a reason why summer is the most popular time of year to visit Zion. From the gentle breeze filling the Zion summer air to the clear blue skies offering unobstructed views of the incomparable landscapes, a trip to Zion National Park in the summer is an experience unlike any other.
Summer Weather in Zion
Summer in Zion National Park is typically a very hot and dry season. Daytime temperatures usually sit in the 90s and can often even reach 100 degrees Fahrenheit on some especially hot days. Although the temperature can drop at night to anywhere from 50-60 degrees, it's important to be prepared for high temperatures and a lot of sun during your visit. Make sure to drink plenty of water and wear your sunscreen.
Zion National Park Summer Essentials
Dealing with the sun and high temperatures of a trip to Zion National Park in the summer requires certain items to ensure the best possible experience. Here are some essentials you'll need to make your summer in Zion National Park as comfortable as it can be:
Sunscreen

Water

Sunglasses

Broad-brimmed hat

Breathable clothing

Emergency Kit
Best Summer Activities
Canyoneering
Take in all the stunning views of a Zion National Park summer while satisfying your need for a thrilling outdoor adventure. Canyoneering combines elements of hiking, climbing, and rappelling to create an activity that is sure to scratch that thrill-seeking itch you have while allowing you to appreciate the unmatched beauty of Zion National Park.
Overnight Backpacking
An overnight backpacking excursion through Zion National Park creates an unforgettable experience for anyone who participates. Exploring the area by foot while backpacking allows you to journey off the beaten path and truly indulge in everything that a trip to Zion in the summer has to offer.
Riverside Walk
Taking a stroll amidst the sun-drenched scenery of the Virgin River is a blissful experience that cannot be replicated anywhere in the world. While visiting Zion National Park in the summer can be extremely hot, a riverside walk allows you to experience the natural beauty of Zion while cooling off thanks to the cool mist that rises up as it cascades through the canyon.
Paddleboarding
Paddleboarding in Zion Ponderosa's new figure-8 pond is the perfect Zion summer activity for those looking to relax and cool off while enjoying the beautiful backdrop that is Zion National Park. Breathe in the clear summer air and take in stunning views while you float along and forget all your worries.
Swimming Pool
Cool off after a long day of Zion summer adventures in Zion Ponderosa's swimming pool. With a beautifully landscaped deck and a jacuzzi, there are endless possibilities for how to spend your day. From cooling off while taking a dip to sunbathing on the deck to relaxing your body in the jacuzzi after your day full of incredible experiences, there's something for everyone.

Ideal Summer Lodging
Vacation Homes
If you're taking a trip to Zion National Park in the summer, there's no better place to stay than one of Zion Ponderosa's Vacation Homes. Don't settle for a lousy hotel or an Airbnb. Spend your time visiting the park in a luxurious vacation home that offers you all the amenities and comforts of home to help you focus on enjoying your adventures instead of worrying about where to stay.
Cowboy Cabins
Zion Ponderosa's Cowboy Cabins provide the perfect balance between connecting with nature and the luxuries of modern life. These cabins provide all the necessities to keep you comfortable and cozy while experiencing everything Zion has to offer. With a queen-sized bed, couch, and front porch, there's no shortage of places to relax after your long day of adventures in the Zion National Park summer.
RV Camping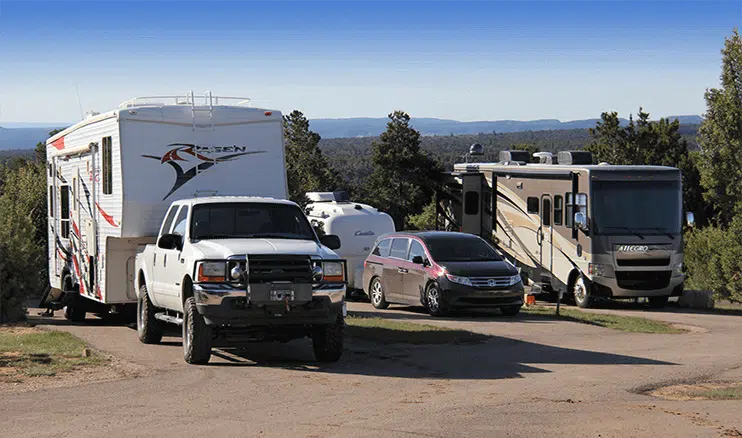 Zion Ponderosa's RV park is the perfect place to set up your perfect RV Camping experience. Not only is it one of the closest full hook-up RV parks to Zion National Park, but it also offers thousands of acres that are framed by an expansive forest and a gorgeous Zion summer sky. Experience Zion National Park like never before at Zion Ponderosa's RV park.
Glamping
Zion Ponderosa's Glamping lodging experience is the perfect way to enjoy sleeping under the stars and waking up under the summer sun without sacrificing the basic comforts of life. With access to Zion Ponderosa's open-use activities, coin-op laundry, hot showers in the shower house, a picnic area with a grill, heaters in each glamping tent, electricity, and wireless internet, you can rough it in style this summer in Zion National Park.
Tent Camping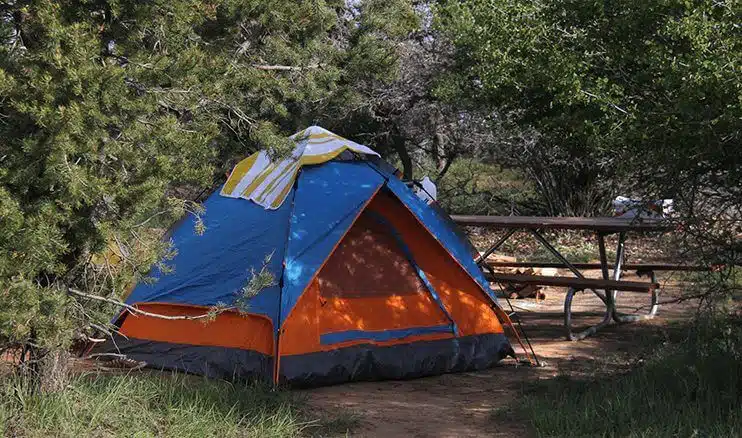 The summer is the perfect time to experience an authentic Zion National Park camping experience and there's no better place to experience it than Zion Ponderosa's Tent Camping sites near Zion National Park. Fall asleep under the beautiful southern Utah stars and wake up to a cooling summer breeze. Tent camping is a great way to enjoy the stunning scenery of the canyon and escape the crowds.
Summer in Zion National Park
The Zion National Park summer offers endless opportunities for adventure. There's no shortage of lodging options or activities making it easy for you to plan your next summer getaway. At Zion Ponderosa's Ranch and Resort, there is something for everyone and we've got you covered for all of your vacationing needs. If you have any questions or would like more information about visiting Zion National Park in the summer, feel free to contact us today and we'll be happy to help you on your journey to a Zion summer getaway you won't soon forget.
Other Seasons in Zion National Park