A visit to Zion National Park in the fall is unlike anything you will ever experience. Just imagine the most stunning painting of a Southern Utah canyon. Now, imagine you're driving through that canyon with all the colorful leaves and the crisp, cool air. This is how you will feel when you spend your vacation in Zion. Waking up every morning and witnessing the fall colors and the smell of the fresh, autumn air are just a few of the reasons you should visit Zion in the fall. With fewer crowds and cooler temperatures, Zion National Park in the fall is one place you won't want to miss.
Fall Weather in Zion
Like other times of the year, Zion weather is very unpredictable. One day it could be sunny and warm and then the next day will bring cooler temperatures and the possibility of rain. Temperatures in September, October, and November average around 56-78°F with lows as low as 30°F. Bringing layered clothing and a rain jacket will help prepare you for the drastic temperature swings that Southern Utah is known for. 
Zion National Park Autumn Essentials
A Zion National Park autumn vacation requires a set of essentials you need to bring in order to be at your maximum comfort level. Here is a list of some of the essentials that we recommend at Zion Ponderosa:
Layered Clothing

Water

Emergency Kit

Sunglasses

Insulation 

Wind and Rain Protection
Best Fall Activities
Hiking
Hiking Zion in the fall is an activity that you won't want to forget. With the temperatures cooler and the crowds lighter, you will enjoy some peace and quiet as you walk the most beautiful hiking paths you will ever come across. Take a walk to Emerald Pools if you want a more family-friendly trail to hike or, for the more adventurous types, take a journey up to Angel's Landing for gorgeous views of the fall colors.  
Wildlife Viewing
If you want to see some of the most impressive animals that Zion has to offer, then fall is definitely the time of year to visit. Bighorn sheep, mule deer, and wild turkeys are just a few of the animals that you can see during your stay at Zion National Park. Walk one of our trails or hiking paths and take pictures of the majestic animals you witness from afar.   
Mountain Biking

Experience the crisp fall weather as you take a ride on one of our mountain bikes.  Explore over 4,000 private acres and take in all the autumn colors as you ride one of the many paths and trails that Zion Ponderosa has to offer. Our mountain biking trails extend in many different directions, so you will never be bored as you ride through the park.
RZR Rentals
When visiting Zion National Park in the fall, our RZR Rentals will get through the park like no other way. There is a wide selection of trails that you can explore in one of our RZR vehicles. Experience one of our most unique activities as you get to see the fall colors as you've never seen them before. 
Scenic Drive
If you want to participate in something that is more relaxing and shows Zion at its finest, taking a scenic drive is definitely an activity that is a worthwhile experience. Drive around and past the landscapes that make Zion so beautiful. Zion National Park in the fall is definitely the best time of year to take a scenic drive, so don't miss out on a once-in-a-lifetime experience.
See More Zion Activities
Ideal Fall Lodging
Vacation Homes
When looking for lodging during the fall season, Zion National Park's Vacation Homes are the perfect place for friends and family to meet up. Our accommodations fit families of all sizes, so you won't have to leave out anyone. If you want a place to spend fall break or enjoy a special Thanksgiving family reunion, then our vacation homes are exactly where you want to be.
Cabin Suites
Zion Ponderosa's Cabin Suites are the perfect lodging choice if you want an old-fashioned rustic experience. Zion in the fall is the perfect time of year to enjoy our Cabin Suites as you are the closest to the park as you can be. You can enjoy games and activities that are great for the whole family when you stay in one of our unique cabins.  
RV Camping
RV Camping is one unique lodging choice that will bring all the beautiful fall colors of Zion National Park right to your front door. If you want to avoid the hustle and bustle of city life, staying at Zion Ponderosa's RV park will allow you to focus your mind on the beautiful fall landscape Zion has to offer.  Enjoy internet access, a coin-op laundry room, and a grill and picnic table as you take in Zion National Park in the fall.
Conestoga Wagon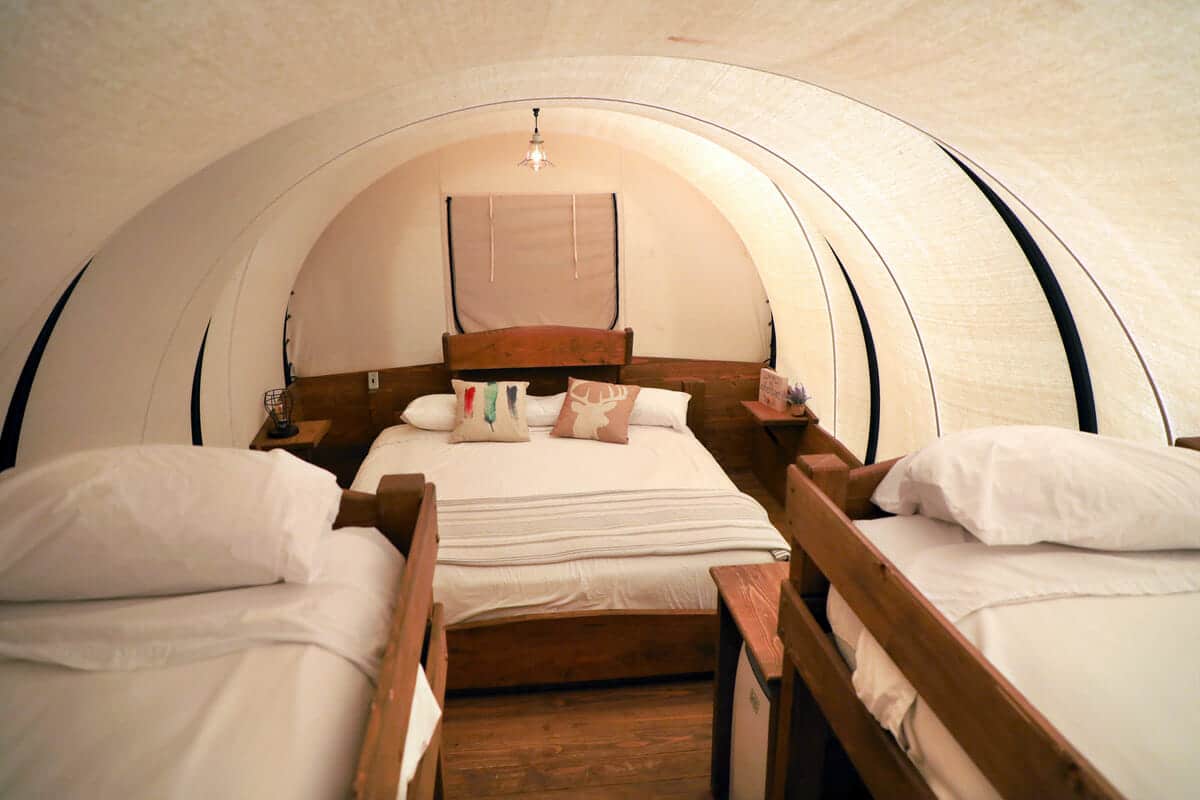 When you stay at one of Zion Ponderosa's Conestoga Wagons, you will get an experience like you've never imagined. When coming to Zion during the fall season, you will get to what the pioneers used in the 19th century as they journey across America. Wake up to the fresh autumn morning air as you head for breakfast at our on-property restaurant.  
Glamping
Glamping is a lodging choice that will bring you closer to the Zion fall colors and landscape. If you choose to come to Zion National Park in the fall, you will get to "glamp" in one of the most beautiful environments you will ever witness. Experience the cool fall weather as you sleep under a night sky full of stars. "Rough it" in style this fall with one of our many glamping tents.
Autumn in Zion National Park
When choosing a time of year to come to Zion National Park, fall  is the exact season that you want to take a trip here. Zion National Park in the fall has swirling autumn leaves that contrast beautifully with Zion's sandstone cliffs. When you come to Zion National Park in the fall, Zion Ponderosa will have all the activities and lodging choices that you will need in order to have the best stay possible.  Contact us about any of our Zion National Park in fall activities, lodging choices, and what essentials you should bring to have the optimal experience.
Other Seasons in Zion National Park