The idea of visiting Zion National Park may conjure visions of a summer trip or a spring getaway, but the truth is that winter is one of the best times of year to visit Zion National Park. Not only does the winter season create some of the most stunning and unique Zion experiences, it also thins out the crowds of tourists that can bog down a spring or summer vacation. The fresh air and scenery of Zion National Park in the winter coupled with the endless list of things to do make a trip to Zion National Park the perfect place to relax and escape from the winter blues and holiday madness.
Winter Weather in Zion
The winters in Zion National Park are rather mild compared to the rest of Utah. The average daytime temperature hovers around 45-50 degrees Fahrenheit in the winter months and although the temperatures can dip at night to as low as 20 degrees, there are a variety of ways to beat the cold and enjoy your nightly experience despite the frigid temperatures. Winters in Zion are also typically very wet so expect precipitation in the form of snow or rain.
Zion National Park Winter Essentials
If you're planning a winter trip to Zion, you'll need to bring some essentials that aren't necessarily required during the rest of the year. However, with the right gear, your trip will be unforgettable nonetheless. Here are some Zion winter essentials:
Layered clothing

Rain and wind protection

Broad-brimmed hat

Water

Insulation

Emergency kit
These items will help you be prepared for everything that winter in Zion National Park may throw your way.
Best Winter Activities
Snowshoeing
Nothing says winter in Zion National Park quite like a snowshoe excursion throughout the park. There is often a blanket of snow covering Zion in the winter making it the perfect place to try snowshoeing. An easy-to-learn winter sport, there's no better way to experience Zion National Park in the winter.
Jeep Tour
Too cold to go on a hike but still want to experience the scenic views of Zion National Park in the winter? Take in the stunning sights of a Zion winter on a guided Jeep tour from Zion Ponderosa. With various tour options, a Jeep tour is a can't-miss experience if you're visiting Zion in winter.
Shotgun Range
A trip to Zion National Park in the winter isn't complete without a visit to Zion Ponderosa's shotgun range. Our shotgun range is located a safe distance from our resort and provides fun and thrills for everyone no matter your skill level. Whether you're interested in target practice or learning about gun safety, this is the perfect place to do it any time of year.
Virtual Reality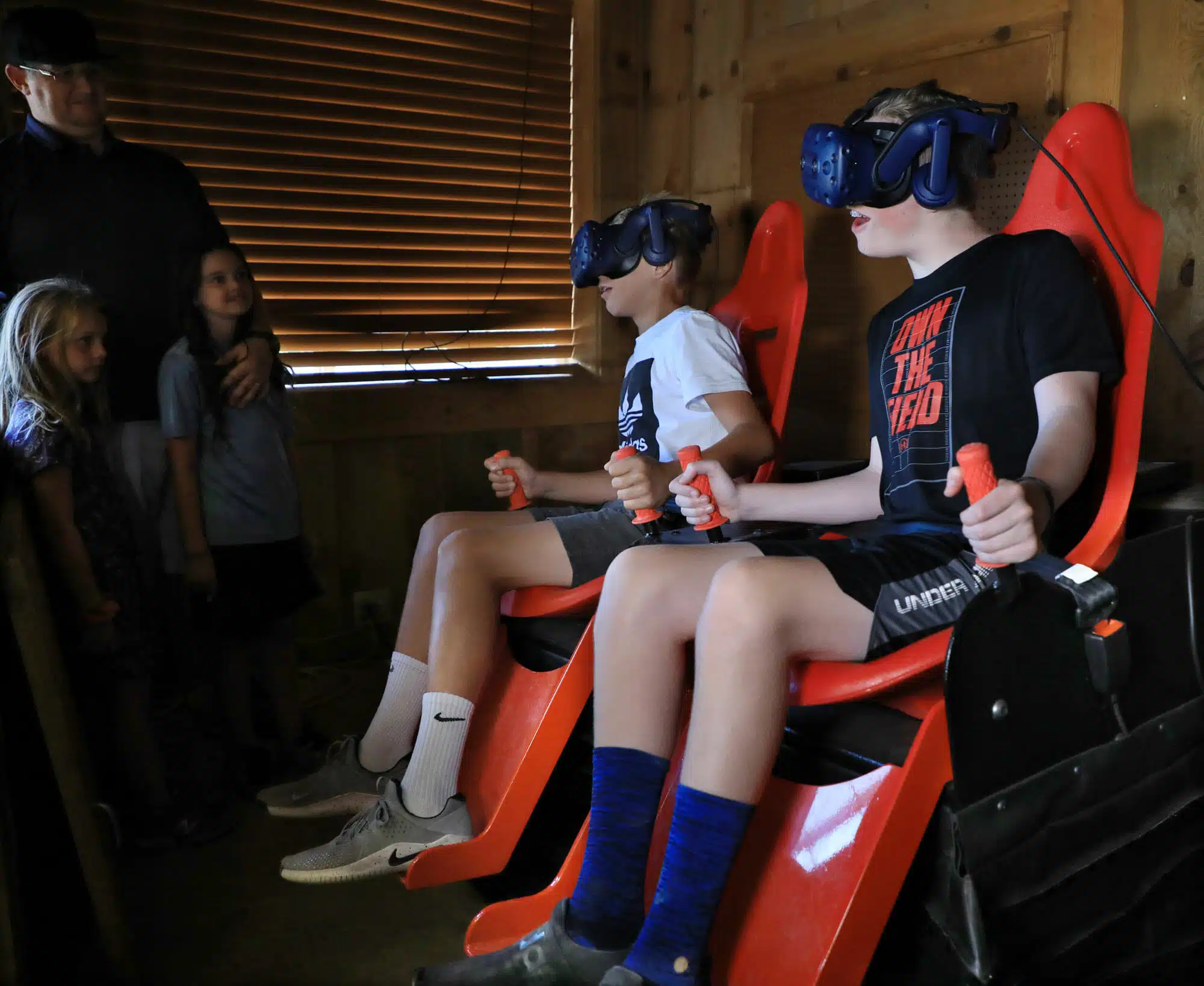 A virtual reality experience is the perfect way to enjoy Zion in the winter and stay warm while doing it. Zion Ponderosa offers a variety of VR experiences that are sure to be enjoyed by whoever participates. From immersing yourself in Utah's stunning scenery in our Soaring Southern Utah experience to Montezuma's Treasure Ride's wild mine-cart adventure, you can enjoy everything winter in Zion National Park has to offer with incredible VR experiences.
Massage
Winter is the most stressful time of year. From the gloomy weather to the anxiety that comes with the holidays, everyone is looking for ways to unwind and escape the pressures that come around in the winter season. What better way to relax on your trip to Zion National Park this winter than with a peaceful massage that will gently relax your muscles and calm your mind? Zion Ponderosa Ranch and Resort offers Therapeutic and Relaxation massages to make sure your experience is as peaceful as possible.
Ideal Winter Lodging
Vacation Homes
While visiting Zion National Park in the winter, you don't have to settle for a hotel or Airbnb. Beat the cold of a Zion winter and stay warm in one of Zion Ponderosa's Vacation Homes. Enjoy your activities and experiences during the day and return to the comforts of home and luxurious amenities when you're done. A vacation home is a perfect way to fill your need for an outdoor adventure while staying comfortable and warm.
Cabin Suites
Zion Ponderosa's Cabin Suites are located near Zion National Park and are perfect for those who don't want to be stuck in a boring hotel. With a private bedroom, full bathroom, living room, and a front porch that's perfect for taking in the beautiful views of Zion National Park in the winter, our Cabin Suites will make your winter getaway as comfortable as it is unforgettable.
Cowboy Cabins
With its signature green roof, a Zion Ponderosa Cowboy Cabin may not have all the same amenities as a Cabin Suite, but it still offers plenty of room for relaxing at the end of a long day of adventures. With a comfortable queen-size bunk bed, couch, and a front porch that lets you admire Zion's beauty, a Cowboy Cabin provides a cozy winter experience for your trip to Zion National Park.
Conestoga Wagon
Modeled after the pioneer wagons used in the 19th century, our Conestoga Wagons allow you to feel the experience of an old-timey wagon with the extra comforts needed for winter in Zion National Park. Equipped with heaters and wifi, each Conestoga Wagon can sleep up to six people comfortably. So take in all of Zion in the winter in this one-of-a-kind lodging experience.
Glamping
Combine the camping experience you crave with the comforts you need to survive a bitter winter night and you'll get Zion Ponderosa's Glamping Tents. Featuring a queen bed with warm blankets and linens and three twin beds, there's room for the whole family. Not only that, but the heater inside the glamping tent ensures you can stay warm and cozy even on the chilliest nights. A deck and an outdoor grill help to complete this experience and give you an ideal place to stay in Zion National Park in the winter.
Winter in Zion National Park
Winter in Zion National Park offers a unique experience that cannot be replicated by any other season. With a plethora of options for activities and lodging, there is no better time for your next trip to Zion than winter. Zion Ponderosa has you covered for all of your winter lodging and adventure needs. Contact us if you have any questions about visiting Zion National Park in the winter and we'll be sure to give you all the information you need to make your stay as memorable as possible.

Other Seasons in Zion National Park