When visiting Zion National Park in the Spring, you will witness the Zion landscape at its absolute finest. Flowers are starting to bloom in the canyon and the grasses and leaves bring a lush, green background to the area. If you come later in the spring, you will start to see color return to the plateau that surrounds Zion Ponderosa. The month of April is an incredible time of year to visit because the wildflowers will burst with splashes of vivid color and a possibility of seeing newborn wildlife as you explore the park on a Zion spring morning. 
Spring Weather in Zion
The Zion National Park spring weather can see a drastic swing that can be as much as 30°F. The average temperature range from March, April, May, and early June is 56°F to 69°F with lows as low as 25°F. With the unpredictability of the Zion National Park spring weather, you'll need to determine the best way to prepare for your journey to Zion National Park.
Zion National Park Spring Essentials
No matter the time of year you're visiting Zion National Park, you'll want to bring some essentials that will make your vacation more worthwhile.  These essentials will provide optimal comfort to you and your family as you enjoy Zion National Park in the Spring. Here are some Zion National Park spring essentials:
Layered Clothing

Hiking Shoes

Broad-brimmed hat

Sunscreen

Water

Emergency Kit
With the unpredictability of the Zion National Park spring weather, these essentials will prepare you in the best possible way.
Best Spring Activities
Canyoneering
There's not a better activity to undertake in Zion in the spring than Canyoneering.  Canyoneering provides an epic outdoor experience that combines rappelling, hiking, rock scrambling, and navigating into one unforgettable adventure.  Combined with the tremendous Zion spring weather, Canyoneering is sure to get your heart and blood pumping while taking advantage of everything a Zion spring has to offer. 
Hiking
Hiking in Zion National Park in the spring provides a backdrop of the most gorgeous views you will ever see.  Zion National Park and the surrounding areas offer varied hikes that are great for all skill levels and ages.  There are easier, more family-friendly hikes like the path to the Emerald Pools, or you can take on a much more adventurous hike to Angel's Landing.
Horseback Riding
Saddle up on horseback to experience the majestic and breathtaking view of Zion National Park in the Spring.  Zion National Park is one of the premier places for horseback riding and the Zion Ponderosa Ranch and Resort has the most scenic trails in the west!  Check out this iconic Western experience and check it off your Zion National Park spring bucket list. 
Paintball
If you want an activity to do in Zion in the spring that is unique and brings something different to the table,  the paintball course at Zion Ponderosa is sure to provide both of these needs. The 5-acre outdoor course has plenty of places to find cover to allow you to sneak up on your opponents and get the shot. So gather some friends and family and don't miss out on the fun.  
Scenic Helicopter Flight
If you want an exhilarating and blood-pumping Zion National Park spring activity, then take a ride on a scenic helicopter flight. You will witness stunning panoramic views of everything a Zion National Park spring has to offer. Soar to new heights with an awe-inspiring tour over the majestic landscapes that make up Zion National Park.  
Ideal Spring Lodging
Vacation Homes
Zion Ponderosa has a variety of Vacation Homes for you to enjoy on your Zion National Park spring trip. With the ability to accommodate a family of all sizes, Zion National Park in spring has never been cozier. With a wide selection of vacation homes to choose from, you are sure to enjoy Zion in spring in the most comfortable way possible.
Cabin Suites
If you want a unique Zion National Park spring lodging experience, Zion Ponderosa's Rustic Cabin Suites will help to elevate your Zion National Park stay. Equipped with a private bedroom, bathroom, living room, and a front porch that is perfect for taking in the beauty of Zion National Park, our Cabin Suites will make your Zion experience more worthwhile.
RV Camping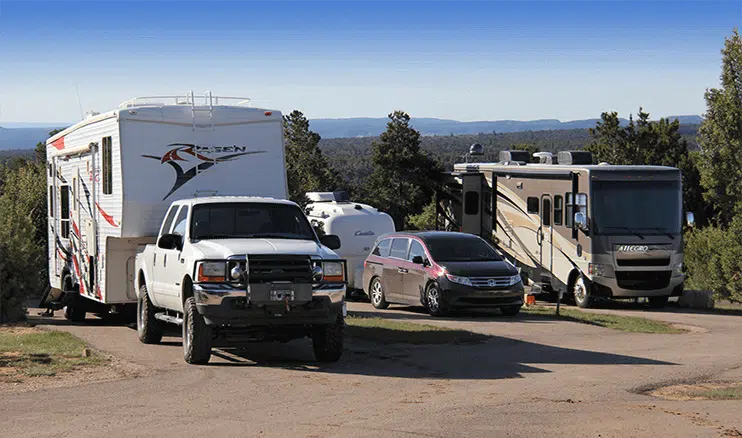 RV Camping at Zion Ponderosa is a lodging experience that brings the beauty of the Zion landscape right to your door. With plenty of spots to park your RV, you will get a front-row seat to the most beautiful night skies you will ever see. Our RV park includes wireless Internet, a coin-op laundry room, and a shower house. The RV park is framed by a vast forest with thousands of acres that you and your family can explore.   
Conestoga Wagon
With the feel of an old wagon, Zion Ponderosa's Conestoga Wagons provide maximum comfort and a unique lodging experience. Enjoy the clear, star-filled sky right outside your wagon. With all the essentials available, such as wifi and coin-op laundry, your Zion National Park spring vacation is sure to be memorable in this one-of-a-kind experience. 
Glamping
When you combine camping with a little glamor, you've got a Zion Glamping experience you won't soon forget. Our glamping tents provide wifi and are equipped with heaters for those colder nights. After spending the night in your glamorous tent, enjoy a nice breakfast at our on-property restaurant. The tent features one queen-sized and three twin beds that are perfect for the whole family.
Spring in Zion National Park
Spring is the perfect time of year to see the beginning of new life and the return of the beautiful colors that surround the landscape of Zion National Park. With a wide selection of options for lodging and activities, there is no better time to visit Zion National Park. Contact us if you have any questions about visiting Zion National Park in the spring and we will provide you with all the necessary information to make your experience at Zion National Park as unforgettable as possible.
Other Seasons in Zion National Park