Experiential Education Groups
GAIN A LEARNING EDGE ON LIFE
Surround yourself with unlimited LEARNING opportunities. Reach new heights of EDUCATION and EXPERIENCE a great understanding of the earth's vast and complex ecosystem. Gain CONFIDENCE with your fellow classmates in one of the world's great outdoor destinations.
---
Hello, I'm Michael Kane (PHD),
Educational Programs Coordinator
for Zion Ponderosa Ranch Resort.
Please contact me for assistance in developing your program and schedule, working within your budget.
Click on the "Request Info." button
below to send a request or
Call 801-558-9901
---
What our educational groups are saying!
"Zion Ponderosa was a superb destination for an experiential education retreat. Our retreat was to organize the development of a book project. Zion Ponderosa and the staff allowed us to focus entirely on the task at hand, have the opportunity for outdoor activities and inspiration, and attend to all of our needs for success. The food was truly outstanding, the attention to detail unmatched, and the support of the staff tremendous. We valued where we were as well. The lodges we utilized were full of character and a sense of home, the outdoor environment and proximity to Zion National Park afforded a balance of comfort and peace, and the opportunity to focus on our work. As a result, all participants were deeply satisfied, the book project is off and running, and we hope to return! The experience was absolutely flawless!" – – – Kelly S. Bricker, Professor and Director,Parks, Recreation, and TourismOffice: 801.585.6503Email: [email protected]

Three hours from Las Vegas & bordering Utah's Zion National Park on a forested plateau.
Educational Courses: Zion Canyon Field Institute
Activities: Horseback Riding,  Jeep Tours, Guided Hiking, Rappelling, Canyoneering, Climbing Wall, Swimming Pool, Zip Line, more…
Lodging: Camping, Cabin Suites • Vacation Homes • More …
Nearby Attractions
• Zion N.P., Bryce Canyon N.P., & Grand Canyon N. P.
• Grand Staircase Escalante National Monument
• Pipe Spring National Monument
• Coral Pink Sand Dunes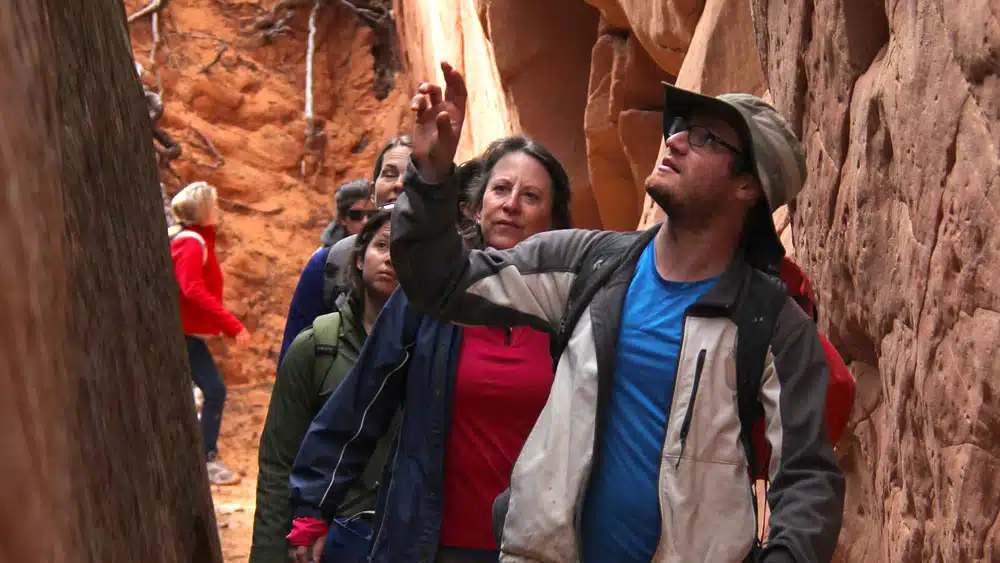 Envision educational opportunities among a stimulating forested plateau at Zion Ponderosa Ranch Resort. The ranch borders the Utah Federal lands of Zion National Park and the Bureau of Land management (BLM). These breathtaking vistas and magnificent slot canyons are truly a place of inspiration while teaching all that experience this unique environmental relationship between plants, animals, past and present human inhabitance and geological wonders. Your educational opportunities are met on our 4,000-acre Ranch Resort. With the most current learning methods of experiential education; "learning through experiencing" we will work with your class to provide detailed, rewarding educational experiences which are only found in this outdoor classroom environment. Through these learning experiences and adventure activities you will be able to focus on environmental learning, personal team building opportunities and the overall goals of student unity.
Zion Ponderosa is the perfect destination for your educational enhancement of Zion National Park and the surroundings areas of the Colorado Plateau. The Colorado Plateau extends from Central Utah to Northern Arizona and includes parts of Colorado and New Mexico. Zion National Park and the surrounding areas are filled with geological wonders and inspiring sites that were formed millions of years ago. Surrounding yourself in towering red rock canyons and a pristine wilderness environment that offers an open aired classroom that all students will learn and never forget.
During your stay at Zion Ponderosa Ranch Resort we will connect you with local and national park professionals whose classrooms and lecture halls are the vast canyons, formations, slickrock, and trails of magnificent Zion National Park. At Zion Ponderosa Ranch Resort, we welcome the opportunity to assist you in organizing your educational field trip and can review and detail all necessary arrangements (see details below). Connect with nature-Come hike in our classroom!
---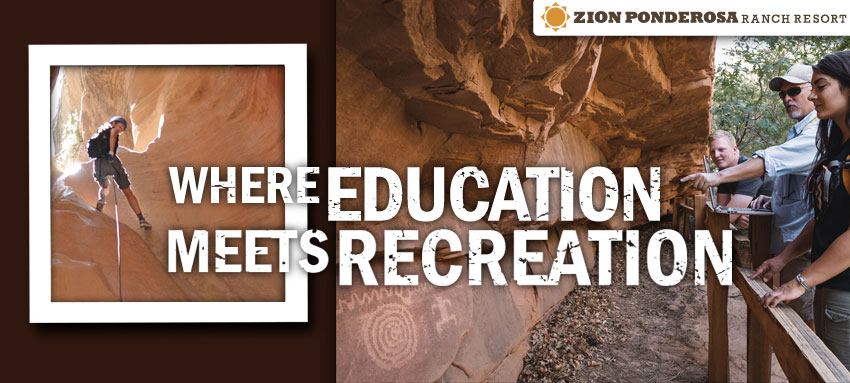 ---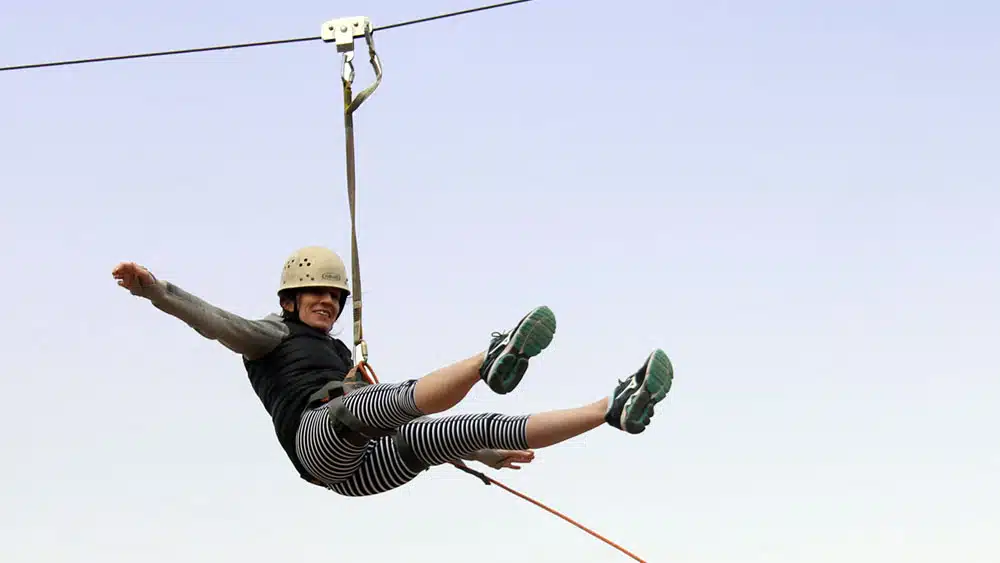 ---
Home Base
Stay with us on the eastern border of Zion National Park and enjoy access to 4,000 private acres to explore. Or venture off our property to America's most diverse scenery and topography, all within one to two hours drive from Zion Ponderosa.
Customized Packages May Include:
• Excellent Lodging, dining services , and world-class adventures.
• Experience adventures in a place that is simply un-matched in beauty, and grandeur.
• Customize your groups experience and let us assist you with your itinerary planning process.
---
---
Activities / Recreation
Venture into the forest or across the plateau to view incredible views from the top of Zion National Park, or experience our 4,000 acres with our long list of on-property activities and adventures. Guests can participate individually during free-time hours or we will customize group activities. These adventures can be for sheer enjoyment and relaxation, or they can have a specific educational learning purpose. View Recreation Activities & Adventures.
Meals to Match the Adventure: At Zion Ponderosa we take great pride in the quality of our dining services. From appetizers to full course meals, and everything in between, when it comes to food, it simply doesn't get any better than this. All menus are customized for each group or event. With the dedication to serve the finest and freshest foods, local vendors are used. Special dietary requirement requests of different types of food from vegetarian to vegan meals can be easily accommodated.
Available Meal Services
• In-Cabin / Home Chef Services • Group session (drinks, snacks, desserts, fruit, etc.)
• Event & Meal Catering and Buffet Style Meals
(Breakfast, Lunch, Dinner)
---
---
Lodging Options:
You'll enjoy the wide array of lodging options available to experiential education guests at Zion Ponderosa. There is literally a lodging solution that fits any budget.
• Camping, Cabins, or even Vacation Homes
Cabins
Cabin suites or cowboy cabins come with varying amenities, and are close to the main lodge and recreation areas.
What Our Guests Say:
"Well organized, flexible agendas, great lodging options. The most beautiful scenic setting."
– Jen – NYC
"When you go on a study trip there are so many puzzle pieces that you want to put together, so when you come back home you think, I've covered everything, and this is the place! This is the place where you can be a hiker, a poet, rest, because it's quiet and the air is clean. It's the combination of scenery, beautiful parks, …and the people, they are very friendly here." – Mehdi E. – Bethesda, MA
"We have organized study trips to the desert southwest for years, and Zion Ponderosa Ranch has always been a highlight of our trip. The accommodations are well suited to large groups, and contain comfortable furniture and decorations. The food service this year especially was great. Karmeron Aldous and Kenneth Williams, members of the catering team, especially deserve praise. They went out of their way to prepare 40 portions for all three meals each day. They successfully varied the options so they were not repetitive while also satisfying the desires of picky students. It would be difficult to overstate the satisfaction we had with the property and people this year. Amy, a recreation barn staff leader, helped provide memorable activities for our students, as well as a wonderful campfire on our last night. Thank you, thank you, thank you. We will return again next year."
"Extremely Talented and Caring Catering Crew!"
After my 4th year leading a trip of middle school students (our school has been coming for many more years than that!) and staying the Ponderosa Resort Ranch, this was the first year that we had our food catered directly to the large house we stayed in! Kameron Aldak and Kenneth Williams provided us with an incredible experience: truly delicious meals that accommodated for food allergies, and thoughtful, thorough service each and every day. This young duo is super talented and I look forward to (hopefully!) seeing them next year and to seeing what they get to do with what will surely be an incredible career in the industry! Thank you Kameron and Kenneth! :)"The house couldn't have worked better – really – we had EVERYTHING we needed there. I was concerned that we needed to travel through the tunnel every day and was second guessing if we should have stayed in Springdale….but my two colleagues were comfortable driving the bus on those windy roads and they LOVED where we stayed too so it all worked out. (The resort did all they could to keep the roads clear too….)
The house couldn't have worked better – really – we had EVERYTHING we needed there. Due to all the winter snow, Zion was absolutely gorgeous – really in all her splendor. Hiked the Sand Bench trail, the Canyon Overlook trial (on brilliant sunny and icy morning), the Riverside Walk, talked with a volunteer ranger at the mouth of the Narrows. Hiked the lower Emerald Pools and up to weeping rock in the rain – saw magnificent waterfalls. Visited Springdale for a coffee. I'm not done with Zion yet – must visit the kolob area too. Our only wish is that we did a 4th night of food service at the ranch….they made things so easy and made meals the kids loved. We were really impressed with our good internet connection – the students did a bit of research while there, and all my presentations were via Google. We also watched films (on outdoor study) and made very good use of the ping pong table and fooseball table. Thank you again for your hospitality – we enjoyed it so much. – Maggie