See Zion National Park from the Top Down!
UNPACK ONCE! Three hours from Las Vegas – Four hours from Salt Lake City
RAGNAR TRAIL RELAY
The Ragnar Trail Relay continues as a major annual event at Zion Ponderosa Ranch Resort. Several hundred teams consisting of four or eight people compete on this 120 mile long course that ranges over a forested plateau next to Zion National Park. This event takes place on private land that is part of Zion Ponderosa Ranch Resort which literally borders Zion National Park.
We invite you to read the press release here or learn more in our Ragnar blog post. You can visit the officialRagnar Trail Relay site here.
---
---
GREEN EFFORTS
Read about our recent efforts to take Zion Ponderosa to another level in conservation of resources. In 2011 we've made a great effort to recycle cardboard and cooking oil, and to grow many of our own vegetables and herbs for our dining services. Read more here or see photos on our Going Green bog post or PDF press release.
---
---
CANYONEERING
What is the world-class and once-in-a-lifetime experience, and how does Zion Ponderosa handle putting guests of all ages through narrows slot canyons?
Find answers with this release.
---
---
MAGAZINE FEATURE
Zion Ponderosa Ranch Resort was recently highlighted in St. George Magazine.
---
---
ADVENTURE RESORT BORDERS ZION PARK
Zion National Park, Utah, March 2, 2011 -There's a great opportunity that comes with living next to a national Park. At least that's the feeling of the folks who manage the 4,000 acre Zion Ponderosa Ranch Resort. "Our property runs against the eastern border of Zion National Park and it's an opportunity and a responsibility for us," says general manager Michael Kane. Mr. Kane holds an advanced degree in outdoor recreation from the University of Utah and he treasures the opportunity he enjoys at Zion Ponderosa. "With several thousand acres of private ground we have plenty of room for our guests to spread out and enjoy various activities. Add to that the ability to venture into the surrounding canyons for hiking, canyoneering, horseback riding and other activities, and our guest really have the outdoor world at their finger-tips."
Zion National Park stretches 30 miles in length and 15 miles across at its widest point. "There's so much ground to explore that you'll never run out of new things to see," suggests reservation manager Julie Millard. With Zion Ponderosa's location on the east side of Zion National Park, it is that much closer to what locals refer to as America's highest concentration of natural scenic wonders. One look at a map and it is quite obvious that the region is a treasure of scenery, with Bryce Canyon just 75 minutes away, the Grand Canyon north rim a two-hour drive and Lake Powell just 100 minutes away. "A good percentage of our guests make a half-day or full-day excursion to Bryce Canyon and many drive to other scenic attractions," says Kane.
Four world-class attractions in such close proximity is quite remarkable, but it doesn't end with national parks or national recreation areas. The region surrounding Zion Ponderosa is also home to Cedar Breaks, Pipe Spring and the Grand Staircase National Monuments along with several Utah State Parks and a good list of designated scenic highways and byways. Scenic Highway 9 passes through Zion National Park and nearby Scenic Highway 89 goes north to Bryce Canyon and south toward the Grand Canyon. National Scenic Byway 12 near Bryce Canyon is rated an All-American-Highway and Car & Driver Magazine has designated it as one of the top-ten scenic highways in America.
"The visitor to a national park is generally looking for a complete experience in lodging and services that matches their experience within a national park," adds Kane. "With our cabins, mountain homes and camping options on a forest plateau next to Zion, we truly offer the experience visitors are looking for."
---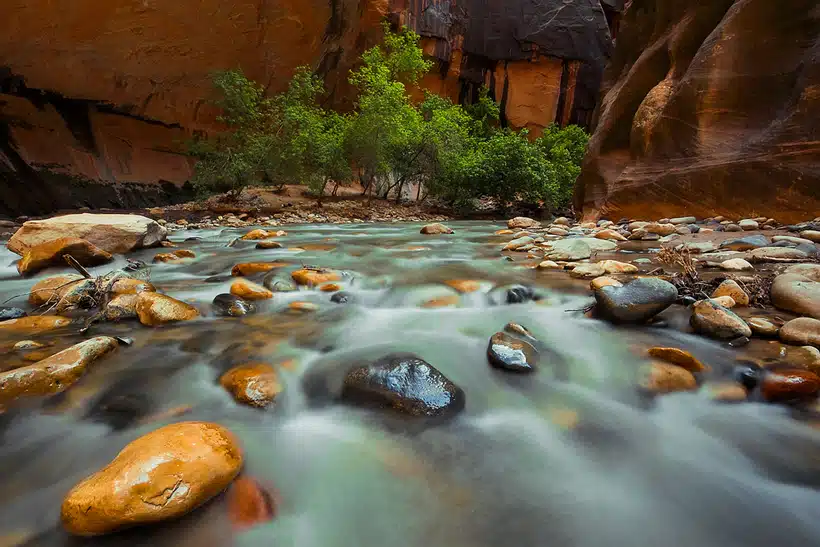 ---
PRESS / MEDIA TRIPS
Note: We are pleased to host travel writers who have an assignment for a publication with a sizeable reader base and demographic that is aligned with the visitor profile of our ranch resort, and who intend to make Zion Ponderosa a significant part of their story. Qualified writers, without an assignment, but with the ability to submit stories to appropriate media outlets may send qualifications with a request using our contact form on this site.
Press Trip opportunities available for qualified travel writers. Story ideas – may include the following:
• Zion National Park – A Mecca for Outdoor Adventure
• Zion National Park – Birthplace of Canyoneering (slot canyon exploration)
• America's Highest Concentration of Natural Scenic Wonders • Zion & Bryce Canyon –
• Contrasts in Geology
• Canyoneering – The New Outdoor Adventure
• Zion Ponderosa – Utah's Outdoor Adventure Base
• Zion Ponderosa Ranch Resort – Bordering Zion National Park
• The Grand Staircase – Grand Canyon, Zion & Bryce Canyon National Parks
• Scenic Highway Central – Utah Highways 9, 89. 12, 14 & 143 (3,000 to 11,000 feet)
Note: The media representative will be responsible for travel expenses to and from Zion Ponderosa Ranch Resort. Available options may include a tour of Zion and Bryce Canyon along with lodging, dining and guided activities (horseback, ATV tours, canyoneering, rappelling, climbing, skeet shooting, jeep tours, etc.).

To express your interest in a press trip and to be included on a mailing list for updates on this event, please send information about your qualifications and possible story outlets using our contact form on this site. Please address your message to Mark Wade.