Is Zion Ponderosa a dude ranch?
It's better than a dude ranch! Zion Ponderosa is a full-service private ranch resort on the eastern edge of Zion National Park. And if you're looking for a true western experience, we have that, too! Check out our horseback riding, wagon rides, and Dutch oven dinners.
What is there to do at Zion Ponderosa?
A better question might be what isn't there to do! We have a full range of on-property activities, events, and guided tours including: climbing wall, mini golf, trampoline bungee, zip line, ATV tours, guided canyoneering, guided hiking, hiking shuttles, horseback riding, Jeep tours, paintball, mountain biking, shotgun range, wagon ride, Dutch oven dinner, kid's camp, rodeo, evening activities, recreation barn, tennis, volleyball, horseshoes, and of course our two-tiered swimming pool and a hot tub.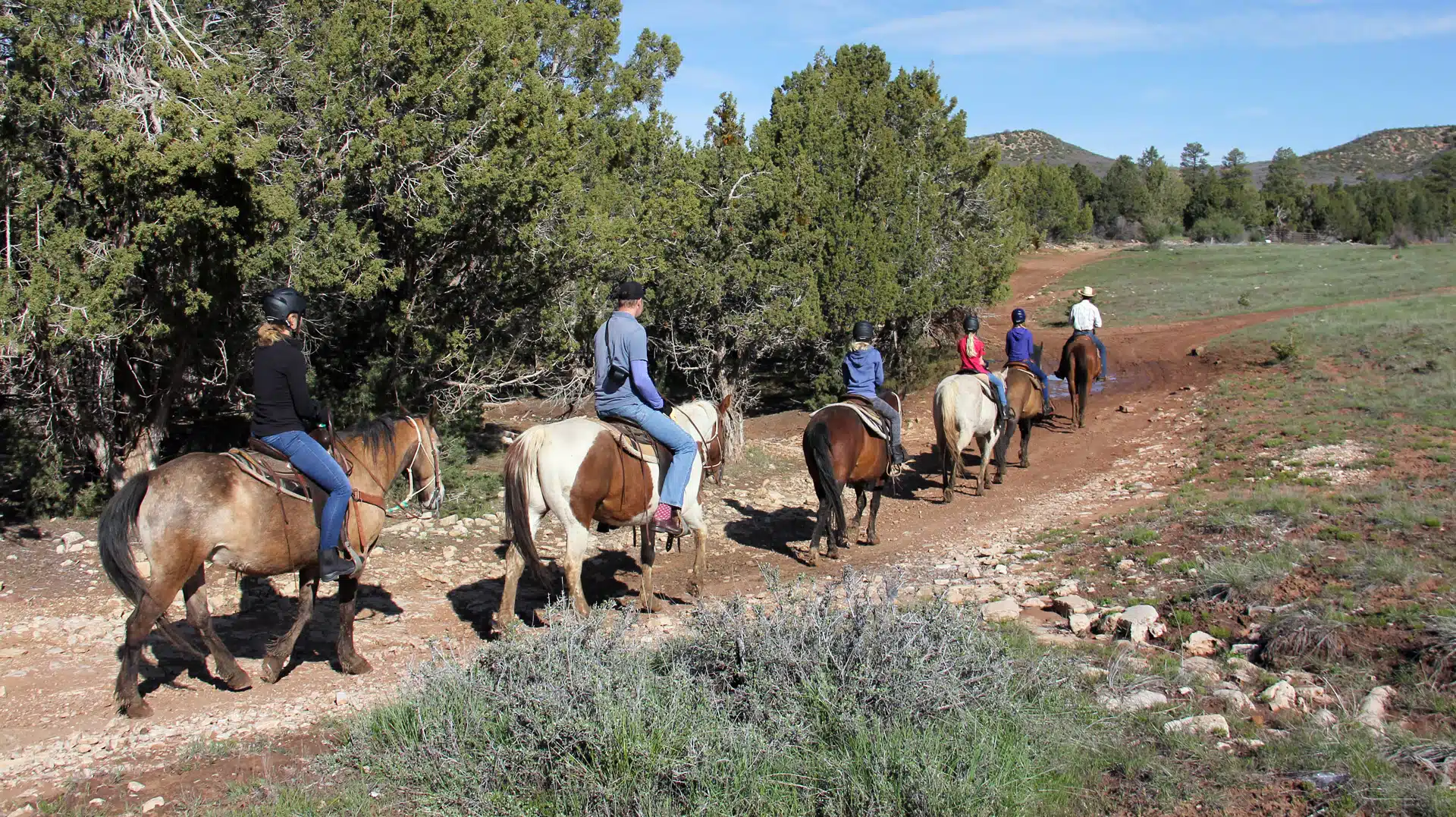 Are there weight restrictions on any activities?
For guest safety, there is a 250-pound weight limit on zip line, climbing, rappelling, and horse rides.
Can I bring my horse to Zion Ponderosa?
You are welcome to bring your horse to Zion Ponderosa upon confirmation with our wranglers. We can provide a corral area and water for a small nightly fee. Owners need to supply their own horse feed. Zion Ponderosa has several equestrian trails that you may enjoy with your own horse. Please coordinate with our recreation department before heading out on horseback.
Can I bring my dog to Zion Ponderosa?
Dogs are welcome at our campground. We do not allow pets inside cabins or vacation homes. Dogs must be leashed at all times. Keep in mind that dogs are not permitted inside Zion National Park.

Can I bring my own ATV?
Yes, you are welcome to bring your personal ATVs to enjoy the trails on Zion Ponderosa Ranch Resort.
Can my kids ride Zion Ponderosa's ATVs?
ATV tours are available for all guests aged 16 and older. Participants must have a valid driver's license or learner's permit. For riders under age 16: we offer medium-sized ATV's for riders between ages 12-15 years, to be used on a closed circular track. Smaller ATV's are available for riders between ages 8-11. All riders must wear a helmet at all times.

I want to go glamping at Zion Ponderosa—but will I be able to charge my cell phone?
Yes, there are outlets at our glampground. There is a pedestal outside each glamping tent with plugs, plus an extension cord that takes power into the tent with an electrical strip.
We don't have a tent, but love the idea of camping under the stars. What do you recommend?
Rent a tent from Zion Ponderosa! It's a great way to spend the night under the beautiful southern Utah stars, without lugging one around on your travels. We also offer Western wagons, glamping, cowboy cabins and cabin suites.


I'm looking for a location for my family reunion. Can you accommodate large groups?
Zion Ponderosa vacation homes are perfect for family reunions, corporate retreats, weddings, and other large group events. Our vacation homes range in size, and can accommodate from 8 to 40 people, depending on the home. Vacation homes are available for rent year-round.
I'd love to try the Women's Getaway Retreat, but I'm not a daredevil. Do I have to try every activity?
The Women's Adventure Retreat at Zion Ponderosa Ranch Resort has something for everyone, including optional field trips in place of certain adventures. If you want a down day, that's okay, too. The Women's Getaway Retreat is really about the opportunity to get away, try new adventures, learn more about yourself, and forge new and stronger friendships. Find out how to join the next Women's Adventure Retreat!

Are canyoneering tours available in winter?
Due to wet, icy, and slippery conditions in slot canyons, we do not offer canyoneering tours in December, January, and February.
How close is the nearest fishing spot?
It depends on the type of fish, but Quail and Sand Hollow Reservoirs are about 40 minutes away and good for bass fishing. Cedar Mountain (1 hour north) has several high-elevation lakes (Navajo and Panguitch) and several streams/creeks, all good for trout due to their cooler water temperatures.
Do you have cell phone service and Wi-Fi?
Yes, there is cell phone service and Wi-Fi available at Zion Ponderosa.
How close are you to Zion National Park?
Zion Ponderosa is located 7 miles from the east entrance of Zion National Park.

Is there an entrance fee for Zion National Park?
Zion National Park charges a $25.00 fee per car to access the park. The entrance fee is valid for one week. You also have the option of purchasing an annual pass for $80.00 that can be used for all national parks and monuments in the U.S.
Have a question not covered here? Give us a call at 435-648-2700!