---
---
Group & Corporate Retreats
Utah's Group & Corporate Retreat Location
Zion Ponderosa Corporate Retreats
Envision your group growing closer together
This corporate retreat location allows your team to enjoy life on a forested plateau, along the border of Utah's Zion National Park. A place of magnificence, motivation, and inspiration, that provides excellent lodging and dining services, and more recreational activities than any company or business retreat in Utah's National Park region.
---
---
---
Corporate, Education,
Events, and more.
To learn more about special options/offers for groups, select the "Request Info."
Use form below.
Zion Ponderosa Group & Company Retreats
Build trust with your family, educational group, or corporate retreat, as you encourage teamwork while you reach new heights together. Gain confidence within your group or organization while empowering individuals to contribute to common goals as you share an environment that is uniquely conducive to building and strengthening healthy relationships at a Utah retreat.
This visionary setting for a Utah corporate retreat location, or group gathering of any type, is Zion Ponderosa Ranch Resort.
Your business, lodging, catering and recreational needs are met on our 4,000 acre ranch that stretches along the border of Zion National Park.
---
---
EXPERIENCE SOMETHING NEW

Our Corporate retreat locations offer the greatest list of on-property activities and adventures. Guests in our business retreats or training events can participate individually during free-time hours or we will customize group and corporate activities. These adventures can be for sheer enjoyment and relaxation, or they can have a specific team-building or bonding purpose.
View Recreation Activities & Adventures.
---
---
GAIN A LEADING EDGE - BENEFITS BASED PROGRAMMING

With the most current learning methods provided by the University of Utah, Department of Parks Recreation and Tourism, we will work with your individual group or organization to increase your team's overall productivity. Our corporate seminar program and Utah retreats can help your organization increase sales, improve leadership, and establish an understanding of balance in life.
Through activities that foster these values as a result of Benefits Based Programming, our corporate retreat programs in Utah focus on team building with an end goal of unifying your staff.
In Benefits Based Programs, our staff designs and implements recreational programs with the intention of achieving targeted outcomes in your employees. We are a resort that will facilitate as well as educate while meeting the demands of your business.
Zion Ponderosa's Corporate Retreat Facilities:
Facilities: From conference rooms, hospitality tent, and ideal spaces in vacation homes we can create the ideal setting for your necessary meetings and gatherings.
Meeting Spaces We Offer:
- A 1,500 sq. ft. new Yurt.
- A small conference room
- A large tent
- Plus plenty of additional meeting spaces in our large vacation homes.
---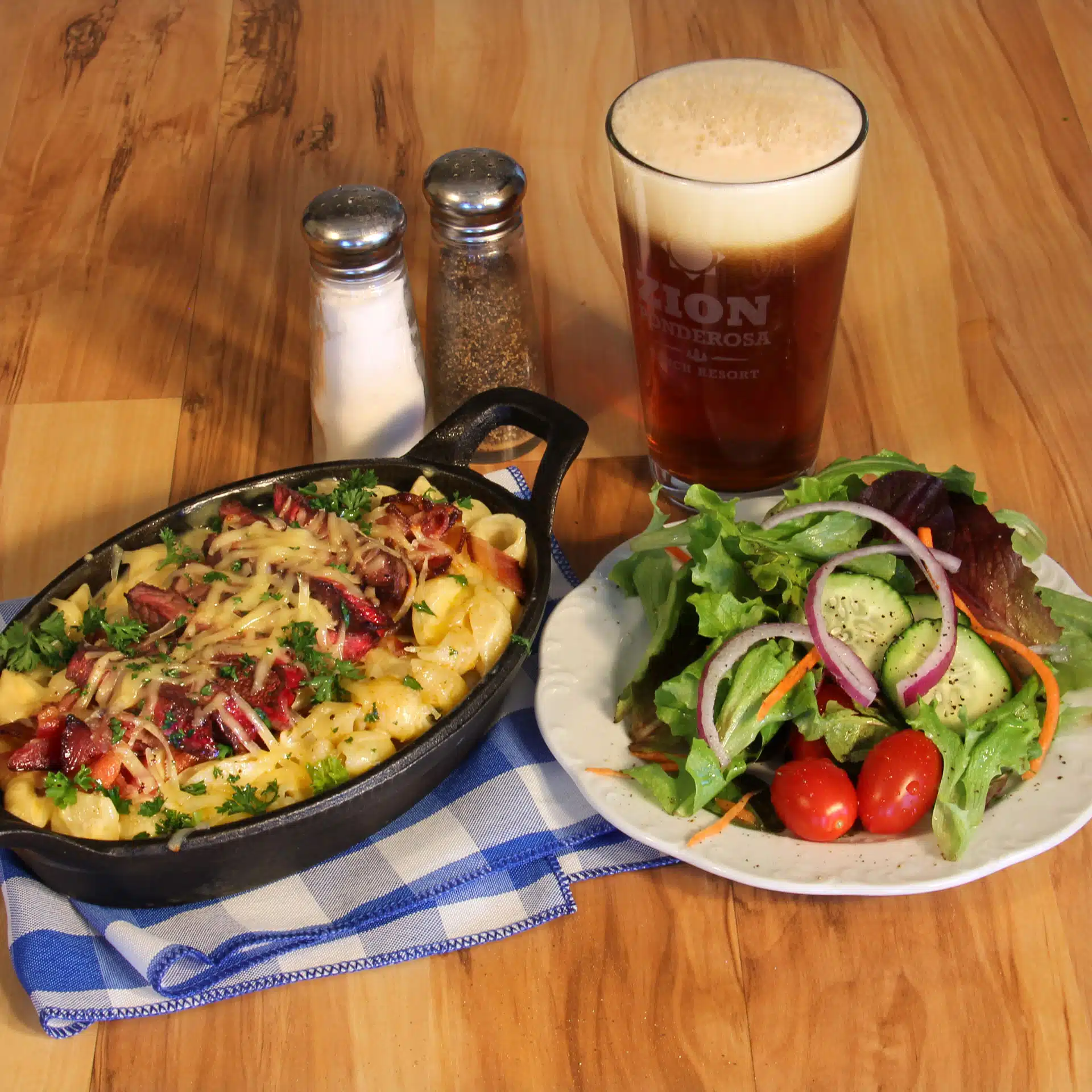 ---
MEALS TO MATCH THE ADVENTURE
At Zion Ponderosa we take great pride in the quality of our corporate retreat dining services. From appetizers to full course meals, and everything in between, when it comes to food, it simply doesn't get any better than this. All menus are customized for each event or corporate retreat. With the dedication to serve the finest foods, local meat vendors are used as well as our personal attended in-season vegetable garden.
Available Meal Services:
- In-Cabin / Home Chef Services
- Breakout session (drinks, snacks, desserts, fruit, etc.)
- Event & Meal Catering (Breakfast, Lunch, Dinner)
- Social Hours / Events
What Our Guests Say: "Heard it was the best! That was right! WOW! I loved it all! We will be back to see our good new friend - your Chef. Thank you so very much. Fantastic Customer Service. Really felt right at home."
---
---
Lodging Options for Business Retreats in Utah
VACATION HOME SUITES
(Bed & Breakfast Style)
Enjoy the comfort of your own private room/suite with locking doors within one of our vacation homes. You'll share a beautiful vacation home just as you would in a Bed & Breakfast setting and have access to the kitchen, living room area, deck/porch, and available bonus space.
These units are in a gated community approximately 500 yards away from the main lodge and conference area.
CABIN SUITES
Experience your own private cabin suite complete with personal porch, kitchenette, bedroom and living/dining area. These cabin suites are close to the main lodge and conference room.
What Our Guests Say:
"Zion Ponderosa was a superb destination for a retreat. Our retreat was to organize the development of a book project. Zion Ponderosa and the staff allowed us to focus entirely on the task at hand, have the opportunity for outdoor activities and inspiration, and attend to all of our needs for success. The food was truly outstanding, the attention to detail unmatched, and the support of the staff tremendous. We valued where we were as well. The lodges we utilized were full of character and a sense of home, the outdoor environment and proximity to Zion National Park afforded a balance of comfort and peace, and the opportunity to focus on our work. As a result, all participants were deeply satisfied, the book project is off and running, and we hope to return! The experience was absolutely flawless!" - Kelly - University of Utah / Parks Recreation Touris