Visitors travel from all over the globe to experience the Zion National Park's amazing and diverse hiking adventures. Zion has hikes for everyone—and we have suggestions for different hikes, based on your current mood!
IF YOU'RE:
–Up for adventure—and the experience of a lifetime
–Seeking a slot canyon experience
–Up for a long distance hike through water
HIKE: The Narrows
You're up for a true challenge and an all-day adventure! The Narrows hike is 9.4 miles (15.1km) and takes, on average, about 8 hours. This is a great hike for escaping the summer heat, as you'll be wading (and possibly swimming) through the cool water of the Virgin River for much of the trek. Dry gear or wetsuits recommended! To reach The Narrows, park at the Zion Canyon Visitor Center and take the shuttle to the Temple of Sinawava stop. A permit is required for all hikes into The Narrows.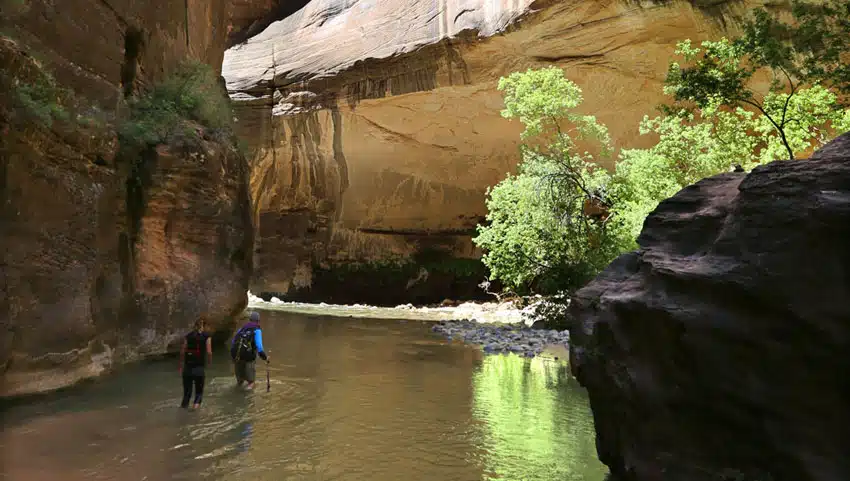 IF YOU'RE:
–Feeling good, but not up for a marathon hike
–Looking for safe trails but feeling a little adventurous
–Hiking with kids
–Want to see beautiful scenery and a gorgeous sunset
HIKE: Canyon Overlook
You feel like taking it easy while taking in some amazing scenery. The Canyon Overlook trail is a popular hike for families and offers up some amazing sunset views. If you plan to hike the Canyon Overlook trail at sunset, get there early to ensure a parking space. Canyon Overlook trail is 1 mile (1.6km) and takes less than an hour round trip. The trailhead is located on the east side of Zion National Park, closest to Zion Ponderosa Ranch Resort. You will find a small parking lot just before the Zion National Park tunnel.
IF YOU'RE:
–Feeling adventurous
–Want to head off the beaten path
–Aren't too nervous about heights (just don't look down!)
–Up for a mid-length hike
HIKE: The Hidden Canyon Trail
You feel adventurous! While a little less intimidating than Angels Landing, the Hidden Canyon Trail still offers a few chain-holding, cliffside experiences for avid hikers. The Hidden Canyon Trail can be family friendly for trusted children able to travel on narrow trails among steep drop-offs. To reach the Hidden Canyon Trail, park at the Zion Canyon Visitor Center and take the Zion Shuttle to the Weeping Rock stop. Hidden Canyon takes approximately 2.5 hours and is 2.4mi/2.9km long.

IF YOU'RE:
–Looking for an all-day adventure
–Up for a challenging hike
–Want to photograph Zion's natural wonders
–Hiking with a small group
HIKE: Kolob Arch Trail
You feel like traveling today for an all-day hike featuring the second largest natural arch in the world! This 140mile (22.5km) hike takes at least 8 hours. No more than 12 people in a group are allowed to hike to Kolob Arch at one time. To reach the Kolob Arch trailhead, you'll need to venture to the Kolob Canyon Visitor Center on the north side of Zion National Park.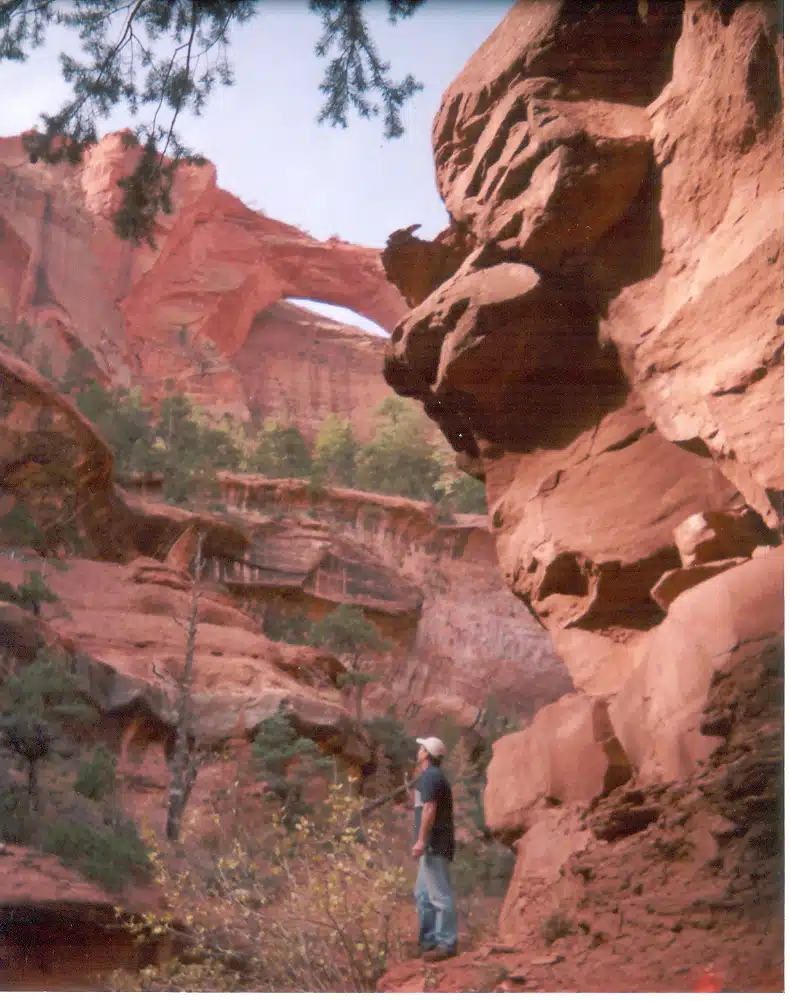 Find your perfect hike or join Zion Ponderosa for a guided hiking adventure!