The gifts are unwrapped, the decorations are put away, the holiday season is winding down. Now that the hustle and bustle of December is coming to a close, there's time to focus on peace and quiet. How will you be enjoying the rest of this winter? If you're thinking about visiting Zion, here are 8 reasons why you should!
1. Serenity
Winter is especially beautiful in Zion National Park, and it's definitely less crowded than other times of the year. That means lighter crowds on the trails and the ability to explore at a more leisurely pace. December, January and February are Zion's quietest months. The park shuttle is no longer mandatory, so you can drive your own vehicle inside the park and go at your own pace.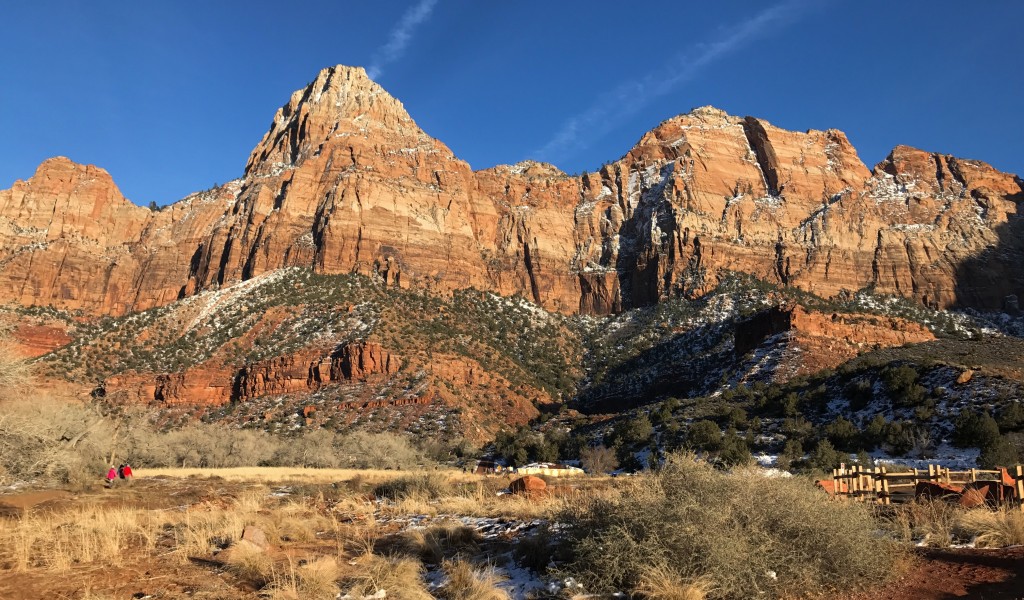 2. Wildlife
Fewer people in the park means a higher likelihood of wildlife sightings—and we're not just talking squirrels. Winter wildlife in Zion National Park includes deer, bighorn sheep, elk…you may even catch a glimpse of majestic Bald or Golden Eagles soaring overhead. Up at Zion Ponderosa, you'll often see mule deer and wild turkeys.
3. Weather
Winter weather in Zion canyon typically means 40-50 degree days and sunny, blue skies. While a rare cold front or winter storm can roll in and create trail or road closures, it's more of the exception than the norm. The best way to prepare for winter in Zion is to dress in layers, and be prepared with good boots in case you have to contend with some snowy weather.

4. Winter Sports
Bring your snowmobile, and enjoy the solitude of East Zion. Located at 6,500 feet, Zion Ponderosa is a winter wonderland when it snows. Our guests often enjoy snowshoeing or cross country skiing across our 4,000-acre property, right from the front door of their Zion Ridge vacation homes. We may not even have snow, in which case you can enjoy a cool weather hike to Observation Point or Cable Mountain.
5. The Narrows
Winter is a great time of year to enjoy hiking in Zion. Did you know you can even hike The Narrows in winter? While it's not the ideal time to brave the frigid waters, levels are typically lower than during spring, and hikers can rent water gear from year-round outfitters. The Narrows' frigid waters definitely require hiking in waterproof gear from head to toe—full dry/wetsuits, neoprene socks, canyoneering shoes—but the cold water also ensures a peaceful experience with few other hikers. Don't forget a walking stick, and a permit.
6. Guided Adventures
With advance notice, Zion Ponderosa can arrange guided hiking both in an around Zion National Park, guided canyoneering adventures, and horseback riding excursions.

7. Vacation Homes
Embrace the solitude of East Zion in cozy luxury. Zion Ridge 2016 winter rates start at just $259/night—PLUS, the third night is FREE! Reserve your luxury vacation home now and enjoy the winter serenity with family and friends.
8. Cabin Suites
This year we're opening our Cabin Suites during the following winter dates:
– Dec 15, 2016 to Jan 4, 2017
– Jan 12 to 17, 2017
– Feb 10 to 20, 2017
Breakfast is included for up to four guests per Cabin Suite, and recreation is available during these dates with advance reservations (weather permitting).
We invite you to visit Zion Ponderosa this winter, enjoy the solitude and family time, and embrace the serenity of winter in Zion! Make a reservation.
You may also enjoy: 5 Things To Do in Winter in Zion