Zion National Park, located in southwestern Utah, is one of the most visited national parks in the U.S., welcoming approximately 4.5 million visitors every year. While many of these visitors come to hike through its iconic red rock canyons, a large number of them also come for its world-class campsites.
If you're thinking about finding your own adventure in the park, there are a few things you should know before planning your trip.
Can I camp at Zion National Park?
Yes! Camping is permitted in designated campsites around the park as well as in nearby locations like Zion Ponderosa. Campsites can fill up quickly, especially during the park's busy seasons so it's best to reserve your spot ahead of time to ensure you have a place to stay.
Do you need a permit to camp in Zion National Park?
Yes! Any overnight stay in the park requires a permit from the National Park Service. 
Reservations are required and you can make it up to 3 months in advance. On the fifth day of every month, reservations become available for the next month. Be aware that many people try to reserve their spot on the 5th, so the system may be overloaded on that day.
There is a $5 non-refundable fee for online calendar reservation. There may be additional fees depending on the group size going with you. 
Why should I camp in Zion National Park? 
Visiting a national park is an experience. For some people, they want to enjoy all the beauty that the great outdoors offers—including those that happen during the evening hours when many people have vacated the park. 
The star-gazing opportunity abounds when you camp in Zion National Park. With little to no light pollution, you can discover galaxies and constellations that you rarely get to see. 
However, know that it isn't easy to reserve a campsite. During the morning hours, there are many people waiting for someone to vacate a campsite to claim it. Plus, there's always the possibility that one loud neighbor could ruin your camping experience. And don't forget most campsites don't give the option to shower after a long day of exploring the outdoors.
When is the best time to visit?
The best time to visit Zion National Park is during Spring or Fall when the climate is temperate. The weather in Utah is often unpredictable, so it's best to come prepared.
April through May and September through October are usually warm and sunny months, with temperatures ranging from 60 to 90 degrees. Although pleasant weather is typical for those months, the occasional rainstorm could blow in and bring some chilly weather and high water.
Should you choose to visit during the summer, you are likely to experience temperatures exceeding 100 degrees. Pack sunscreen, stay hydrated and reserve a campsite with shade. Because of the extreme hit, it's important to reserve the hiking and exploring for early morning or evening hours when the temperature drops.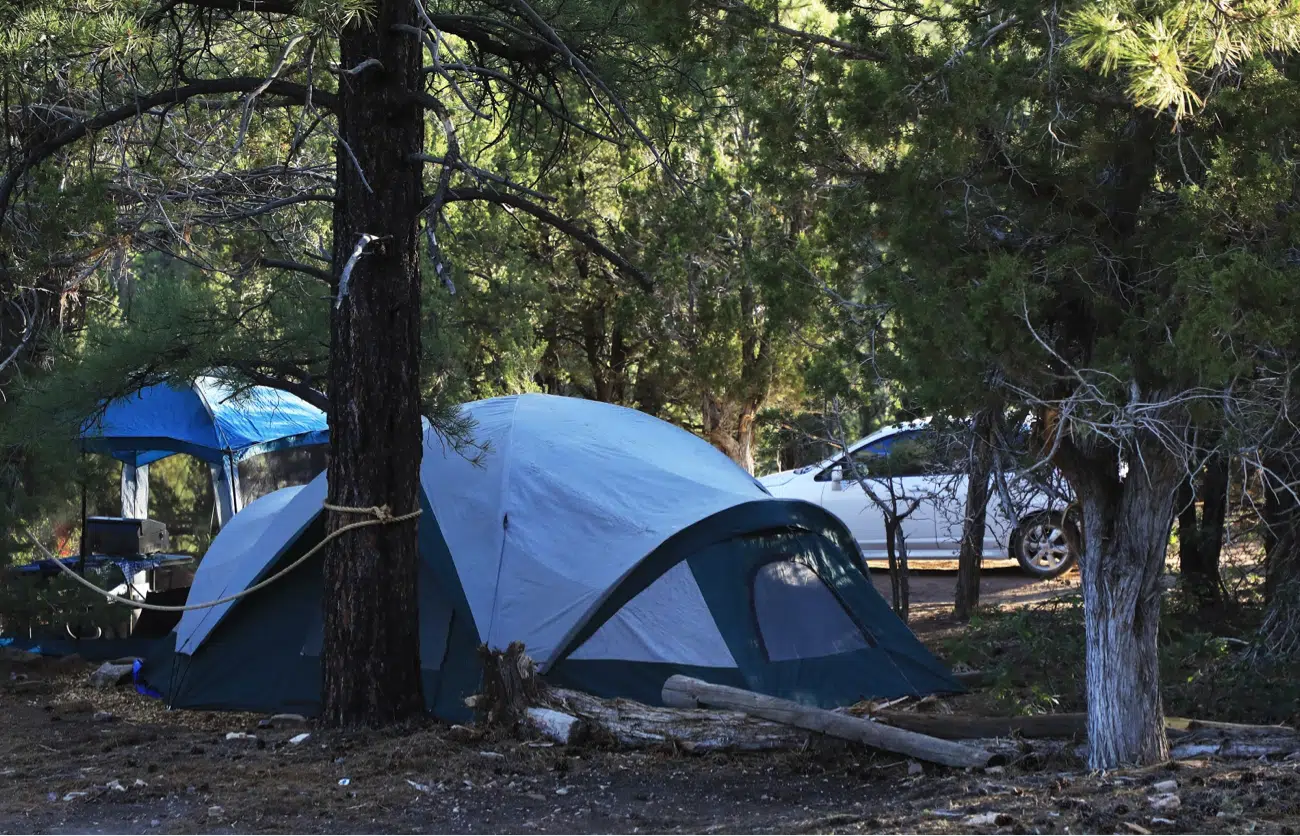 Why should I camp at Zion Ponderosa? 
There are many advantages to camping at Zion Ponderosa. Located on the east rim of Zion National Park, the campground is 2,500 feet higher than the valley floor. This means that it actually is much cooler during the summer months so you can enjoy a more restful sleep. You also get to experience the same beauty of Zion National Park from a different area of the Zion Wilderness. 
The campgrounds are very modern and you have access to hot showers in the shower house, picnic table and grill, wireless internet, and coin-operated laundry (washer and dryer). These modern conveniences are perfect if you're bringing along friends or family who are new to camping, or you need to have some touch points with the outside world during your visit. 
Zion Ponderosa also offers additional camping experiences with RV camping, Glamping in a tent, and Conestoga Wagon. As well as different recreational activities like canyoneering, swimming, and jeep tours. You can also enjoy a big country breakfast at the on-property Ray's Restaurant if you don't want to make breakfast during your visit.