The Sand Caves are a roadside attraction off Highway 89 accessible via a short hike. If you like unique stops like Belly of the Dragon, you'll also want to make the Sand Caves part of your East Zion adventures while visiting Zion Ponderosa. 
Once tunnels to harvest sand for glass production in the 1970s, the Sand Caves are a fun, easy hike to enjoy with the whole family. This southern Utah landmark features several large openings that allow sunlight to filter through for stunning photo opportunities.
Visiting Sand Caves and Moqui Cave Museum
The Sand Caves are located 0.4 miles south of the Moqui Cave Museum on the east side of Highway 89, between Kanab and Mt. Carmel Junction. The trail is located in between the Moqui Caves and the Best Friend Animal Sanctuary exit on HWY 89. Click here for directions from Zion Ponderosa and Orderville. 
You can see the caves from the road. Park in the pullout on the west side of the road. From the parking area, it's just a short .25-mile hike to the caves. The trail is dirt and unmarked.
Combine your visit with the Moqui Cave Musuem, a natural history museum featuring Native American artifacts, caverns and a large collection of dinosaur tracks. There is a fee to visit the museum but the hike to the caves is free. 
This short hike allows plenty of time to enjoy yourself as you explore the Sand Caves. Take time to soak in the combination of sandstone and sunlight, photograph your experience, and let kids play in the sand. While this hike is easy and family-friendly with only some scrambling required during the hike, there are drop-offs near the openings so keep an eye on little ones.  
Hiking Tips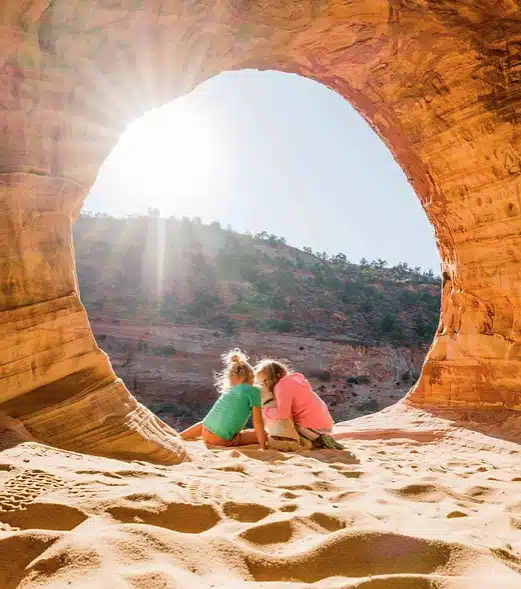 Reaching the caves. Approaching from the north side is the easiest spot to scale the surrounding rock wall. 
Be prepared. The trail is dirt and there's a section of wall to scale to reach the caves, so wear shoes with some traction. As long as you have the right footwear, it is a relatively simple hike.
Keep an eye on small children. With the drops, it is very important to keep a constant eye on small children. You could distract them from the edge by bringing sand toys which are perfect with the sand floors. 
Photography. For the best lighting, we recommend going into the caves an hour or two before the sun sets. If you want to keep exploring the caves, bring a flashlight to explore roughly 200 feet of caves.  
Leave No Trace. Don't add carvings to the sandstone or leave trash on the trail. Anytime you're in nature, please remember to follow Leave No Trace best practices.